By Amy Wolf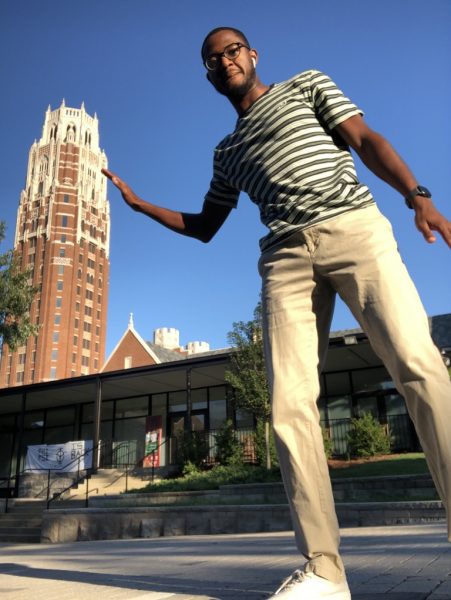 JaHyne "JJ" Johnson, BA'23, came to Vanderbilt as a QuestBridge Scholar, ready, as he said, to "do the work" and come out with a solid career path. What the chemistry major didn't realize then was that the opportunities he pursued through his classes, activities and Immersion Vanderbilt would allow him to write poetry, conduct research, dance in a ballet, launch a podcast and more.
"At Vanderbilt they want you to push yourself in a good way. They want you to make the most out of your experience," the Memphis, Tennessee, native said. "I definitely learned to break stereotypes and push boundaries. I am different, and that is great."
Johnson credits Dr. Rosevelt Noble, director of the Bishop Joseph Johnson Black Cultural Center, with inspiring him to see beyond his initial vision.
"During my first Harambee march on Move-In Weekend, Dr. Noble gave a speech and said, 'Some people come here and just go straight forward towards their degree, but they don't really explore or network. They don't set themselves up for full success.' That's when I knew I had to do more with this blessing," Johnson said.
LEANING INTO HIS ARTISTIC SIDE
While at Vanderbilt, Johnson not only excelled in his chemistry major in the College of Arts and Science, he took personal risks to open up his artistic side.
Through his Immersion Vanderbilt project, Johnson completed a personal and emotionally challenging collection of poetry called "Black Romanticism." He also took a screen-printing class and then created artwork for each poem.
Romanticism is a poetic movement of the late 18th and early 19th centuries with a focus on emotion and nature. Johnson said he wanted to write poetry that resembled Romanticism but tackled issues and feelings from the perspective of a young Black man in the 21st century.
"I wanted to put myself in those shoes and actually speak for my side of poetry," he said. "My poetry is a form of rebellion to a system and society that doesn't see me the way I see myself."
CONNECTING WITH OTHERS
The vulnerability Johnson accessed through his poems inspired him to launch a podcast, now available on Spotify, called The CROW's Nest, where he interviews male role models and creates a positive space for connection.
"This podcast radiates Black boy joy and fellowship hosted by a young Black man who likes to laugh, learn and love," he said.
VU POINTE
Johnson has always had an interest in expressing himself through words, but ballet presented a full-on challenge. While volunteering at first-year Move-In on The Martha Rivers Ingram Commons, he met a fellow student who led the student-run VUPointe Ballet Theatre. She joked that if Johnson came to tryouts for their production of The Nutcracker, the group would teach him ballet.
"I was the only guy among 30-plus girls, many who had been dancing since they were 3," he laughed.
Johnson ended up dancing for two seasons of The Nutcracker.
"It was difficult trying to keep up with classical music and learn so much," he said. "But I really enjoyed it, and, I mean, I kind of killed it!"
HELPING SOCIETY
Johnson is also making an impact through his chemistry major. While at Vanderbilt, he worked for several years in the lab of Steven Townsend, who holds the Stevenson Chair in Chemistry, focusing on the crisis of hypertension.
"Hypertension is recognized as the biggest contributor to the global burden of disease, especially for the African American community," Johnson said.
Over the past two years, Townsend and Johnson collaborated on a research project to synthesize next-generation anti-hypertensive compounds. Johnson received the chemistry department's Undergraduate Organic Chemistry Award in April 2023 for his efforts.
Johnson is now combining his chemistry skills with some newfound engineering know-how at Waters Corp. in Nashville. As the company's first intern in the field service engineer position, he installs and maintains liquid chromatography systems, a type of analytical chemistry instrument, throughout labs in Tennessee.
Johnson's goal is ultimately to do pharmaceutical research.
"With the work I'm doing now, I can be a double-edged sword for wherever I go because I have the benchtop skills to perform wet lab research, but now I can also understand and fix certain instruments in the lab," he said.
FAMILY SUPPORT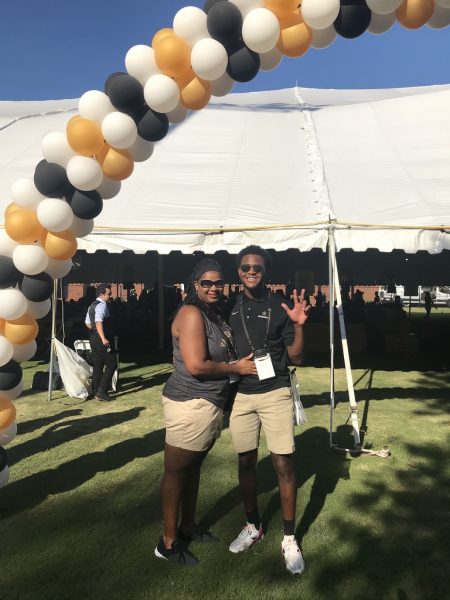 Johnson credits much of his drive and commitment in all avenues of life to his mom.
"I was raised in a single-parent household by a strong and loving mom who pushed me and my brother to make a difference in the world," he said. "She pushed us not to dread that we were born with black skin … and to use our blessings to be a light in the world for others to see. She always tells us, 'Be a voice, not an echo!'"
Johnson credits Vanderbilt with providing the environment and support to expand his creative ambitions further than he first imagined.
"I want the little Black boy in the audience watching me do ballet to feel a flame ignite in him that he can be up there in the spotlight," Johnson said. "I want a Black man to read my poems and feel that he can be vulnerable and open and his feelings can be accepted and valued out in the world, just like me."