Media Inquiries
Latest Stories
Mark Wallace, Louise B. McGavock Chair of Neuroscience, professor of psychology, is leading a five-year project to characterize how sensory and multisensory perception develops in children.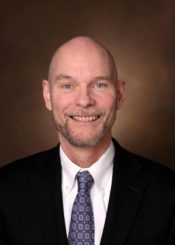 A faculty affiliate of the Vanderbilt Brain Institute, Wallace is teaming up with researchers David Lewkowicz, Micah Murray and Monica Gori from Yale University, Centre Hospitalier Universitaire Vaudois and Italian Institute of Technology, respectively, to answer foundational questions about how multisensory processes change across a person's lifetime.  
"We live in a multisensory world—continually bombarded with stimuli from multiple sensory modalities. As such, one of the major jobs of the human brain is to make sense of this sensory mélange, integrating information that belongs together and segregating information that does not," the researchers write. "Indeed, having information from multiple senses can dramatically improve performance in a host of domains, including detecting, discriminating and localizing objects and events." While the benefits are known in adults, there is far less awareness of how the human brain develops multisensory processes.  
The international research team will develop and conduct a longitudinal study focused on enrolling children from birth through age 20 and will include those representing the neurodivergent spectrum and from a host of environmental backgrounds, including children who are typically underrepresented in research. The anonymized data will be analyzed by the researchers to answer a variety of questions aligned to how multisensory processing develops in the brain. 
"This gap represents a tremendous knowledge void in our understanding of human development. … Such work would not only hold enormous basic significance in being the first true characterization of multisensory development, but would also have great significance in the applied, clinical and educational arenas," they write. 
The research team's results will be shared with the public and the research community via publications, academic articles and conferences. Wallace's work in the research areas of multisensory integration has been supported by a wide range of organizations including the National Institute of Health, the National Science Foundation. Current funding is provided by Reality Labs Research, a division of Meta. 
Research projects such as this are the impetus behind Vanderbilt's Dare to Grow campaign—a $3.2 billion comprehensive campaign, the most ambitious in university history. By investing in research, discovery and creative expression, visionary philanthropists will catalyze vital work across our labs, archives and studios. Learn more at vu.edu/daretogrow.