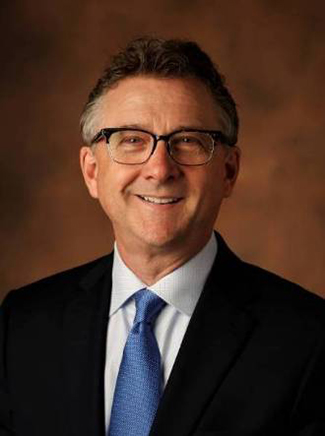 John M. Lutz, vice chancellor for development and alumni relations, has been reappointed for a five-year term beginning July 1, 2023, Chancellor Daniel Diermeier announced today.
Lutz has served in the role since April 2020, first as interim vice chancellor for development and alumni relations while concurrently serving as Vanderbilt's vice chancellor for information technology before being appointed to the Development and Alumni Relations position full-time in April 2021.
"As we continue to celebrate our 150th year as a university, Vanderbilt is stronger than ever thanks to the tremendous support of our dedicated alumni and donors around the world," Diermeier said. "John Lutz's strategic vision and deeply collaborative approach to engaging this diverse community—as well as our university as a whole—has fueled vital investment in the transformative educational experiences, groundbreaking research and discovery and radical collaboration taking place on our campus each day. I look forward to continuing our partnership as we dare to grow Vanderbilt into the great university of the 21st century."
In April Vanderbilt launched the public phase of Dare to Grow, the university's $3.2 billion comprehensive campaign and the most ambitious fundraising initiative in its history. The campaign takes its name from the university's motto, Crescere aude, and embodies three principal pathways for giving—Destination Vanderbilt, Discovery Vanderbilt and One Vanderbilt—designed to drive bold new levels of growth and to shape Vanderbilt's next 150 years.
More than $2.6 billion already has been raised toward Dare to Grow's goal, demonstrating the extraordinary commitment of the Vanderbilt community to the vision set forth for the university. This enthusiasm was evident on Vanderbilt's 2023 Giving Day, when more than 6,300 donors gave nearly $15.5 million to the university during the exciting daylong event.
Vanderbilt is also making transformative investments in its athletic programs through Vandy United, launched in March 2021. The initiative includes the creation of the Frist Athletics Village, made possible by an unprecedented philanthropic gift from Vanderbilt trustee Jennifer R. Frist, BS'93, and William R. (Billy) Frist; and the Ingram Center for Student-Athlete Success, funded with part of the lead gift to the Vandy United campaign made by longtime supporter and trustee John R. Ingram. In May, the university announced that Vandy United had achieved its initial $300 million fundraising goal—the largest campaign in the history of the athletics program.
The university continues its commitment to making a Vanderbilt education accessible and affordable to all admitted students through Opportunity Vanderbilt, a nationally recognized program that meets 100 percent of a student's demonstrated financial need through grants and scholarships rather than loans. The initiative allows all undergraduates to complete their Vanderbilt degree without student debt. Opportunity Vanderbilt contributed to The Princeton Review ranking Vanderbilt No. 1 overall in the "Great Financial Aid" category of its Best Colleges rankings for 2023.
And Vanderbilt seeks to engage alumni in creative and meaningful ways, such as the unprecedented triple Reunion hosted on campus in October 2022. More than 5,600 alumni and their guests returned to Vanderbilt for the first in-person Reunion celebration since 2019. After two years during which the COVID-19 pandemic prevented the annual gathering, all undergraduate classes that were originally scheduled for Reunion in 2020, 2021 and 2022 were invited to campus to reconnect at more than 80 events. Vanderbilt Law School, School of Medicine, School of Nursing and Owen Graduate School of Management also celebrated Reunion activities during the weekend. Vanderbilt's Reunion 2023 is scheduled for Nov. 2–5.
Lutz first joined Vanderbilt in 2013 as vice chancellor for information technology and chief information officer, a role in which he served until April 2021. Lutz created the university's first unified IT organization and led significant enhancements to Vanderbilt's cybersecurity profile. To ensure strategic and efficient deployment of resources, he organized and led the first-ever cross-university governance process for IT and business projects to allow prioritization across various departments and schools.
In addition, he co-led the selection and implementation program for the full replacement of university human resources and finance systems with a modern cloud-based system and led the launch of a comprehensive customer relationship management system. Lutz also composed and executed a comprehensive plan in support of the reorganization of the university and Vanderbilt University Medical Center for infrastructure, networks and applications.
Before joining Vanderbilt, Lutz served as president of IBM Canada, where he was responsible for setting the strategic direction and overseeing the day-to-day operations of the IBM organization in Canada. He started his career with IBM in 1984 after interning at the T.J. Watson Research Center. Over his 29 years at IBM, he held a wide variety of positions, including roles as general manager of IBM's Global Financial Services Sector and as executive assistant to IBM Chairman and CEO Louis V. Gerstner Jr. A native of Southern Ohio, Lutz holds an A.B., magna cum laude, in computer science and linguistics from Harvard University.
"There has never been a more exciting time to engage with Vanderbilt University—from the remarkable impact we have on students' lives, to our trailblazing discoveries, to our steadfast commitment to collaborate on solutions to the world's most pressing challenges," Lutz said. "I am immensely proud of our talented Development and Alumni Relations team that works to assure all members of the Vanderbilt community feel connected to these efforts, and I am very grateful to our global network of alumni, parents and donors who make these advancements possible. Together, we can build on this extraordinary momentum to take Vanderbilt to even greater heights."