On a weekend blessed by perfect fall weather, more than 5,600 alumni and their guests returned to Vanderbilt Oct. 6–9 for Reunion, the first since 2019. After two years during which the COVID-19 pandemic prevented the annual gathering, all undergraduate classes that were originally scheduled for Reunion in 2020, 2021 and 2022 were invited to Come Back and Give Back to Vanderbilt, to reminisce and to reconnect at more than 80 activities and events. Vanderbilt Law School, School of Medicine, School of Nursing and the Owen Graduate School of Management also celebrated with their own Reunion activities. Chancellor Daniel Diermeier was presented with the Reunion check totaling $138,891,434 at halftime of the homecoming game against the Ole Miss Rebels. Among the three cohorts celebrating, 22 undergraduate classes set new fundraising records.
Festivities kicked off on Thursday night under a star-filled sky at Nissan Stadium with a performance by Shawn and Wanyá of Boyz II Men. Friday activities included campus tours, an innovation fair and open house at the Wond'ry, Vanderbilt's Innovation Center, and a conversation about leadership with Candice Lee, vice chancellor for athletics and university affairs and athletic director, and head baseball coach Tim Corbin at Hawkins Field.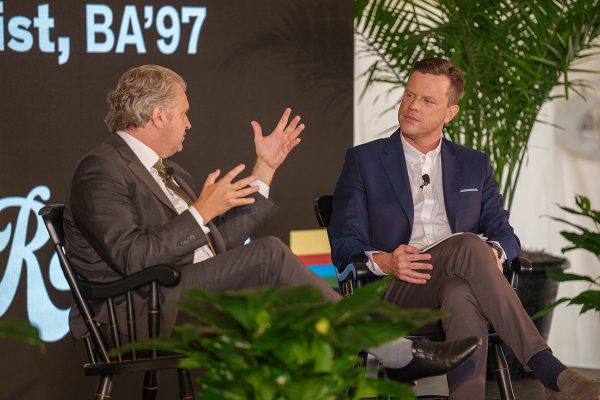 Prior to a question-and-answer session on Friday moderated by Willie Geist, BA'97, host of Sunday TODAY, Diermeier gave an update on the state of the university. In the context of the upcoming Sesquicentennial, he talked about the university's future—its investment in undergraduate and graduate education, in athletics, and in civil discourse and open expression.
"We have high aspirations. We have had a wonderful 150 years, and in our next 150 years, we will go with optimism and in a strong position. But we will need you. We will need your support," he told the standing-room-only crowd. "We need the support of our alumni—your ambassadorship—to tell about the great things that happen at Vanderbilt, because we are a community for life."
Friday afternoon events ranged from alumni authors signing their books to the always-popular Commodore Classrooms, with topics covering college admissions, student athletics, climate change, and the science of beer and coffee. A block party at the newly redesigned West End Neighborhood included Greek open houses leading up to Friday night's class parties. Additional events included the LGBTQIA+ Association of Vanderbilt Alumni (LAVA) Big Drag Bus Nashville Tour and numerous departmental and affiliate group events.
Blue skies welcomed tailgaters eating Nashville hot chicken to the homecoming game Saturday afternoon with Ole Miss. While the game didn't end as Vanderbilt fans would have liked, the revelry continued as the Reunion Cup was presented at halftime to the undergraduate classes based on outstanding giving participation, attendance and volunteerism: 2020 Cohort–1985, 2021 Cohort–1981 and 2022 Cohort–1992.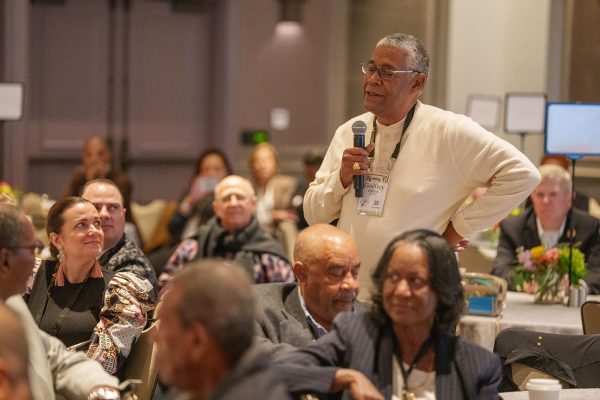 On Sunday, the weekend was capped off with a celebration of the late Perry Wallace, who would have been a member of the Class of '70 Quinqs, followed by brunch and the 50th Reunion Induction hosted by Diermeier. Other alumni said their farewells at the Bluegrass Brunch and Market.
Stay connected with Vanderbilt by continuing to be an ambassador for the university. Volunteer to pay it forward to current students and alumni, or get involved with the newly created Career Advancement and Engagement Center. Learn more about the many engagement opportunities for alumni via the Vanderbilt Alumni Association.
Register via SpotMyPhotos by Oct. 23 to have photos of you from Reunion Weekend 2022 sent directly to your mobile device.
View the Facebook album of photos from Reunion Weekend 2022.