Beginning Monday, July 17, 25th Avenue from Blakemore Avenue to Jess Neely Drive will close to vehicle traffic. The intersection at 25th Avenue and Jess Neely Drive will remain open. 
The 25th Avenue Garage will be open, but access it from 25th Avenue will close. University-affiliated parkers should enter the garage from Highland Avenue, and medical center-affiliated parkers should enter the garage from 24th Avenue. The VandyRide stop in front of Morgan House on 25th Avenue South will move to 24th Avenue South, lot 24. 
This closure is part of Vanderbilt University's Central Utilities Initiative, which supports construction projects in the Frist Athletics Village. The initiative will update utilities in support of Vandy United projects, the residential colleges planned for 25th Avenue South and other university projects.  
Alternative routes will be established around the construction. Please refer to the below maps for routes that are open to vehicles, pedestrians and bicyclists. If you go to the area, please watch for directional signs, follow the guidance of on-site flaggers and security personnel, and plan for potential delays. 
Vehicles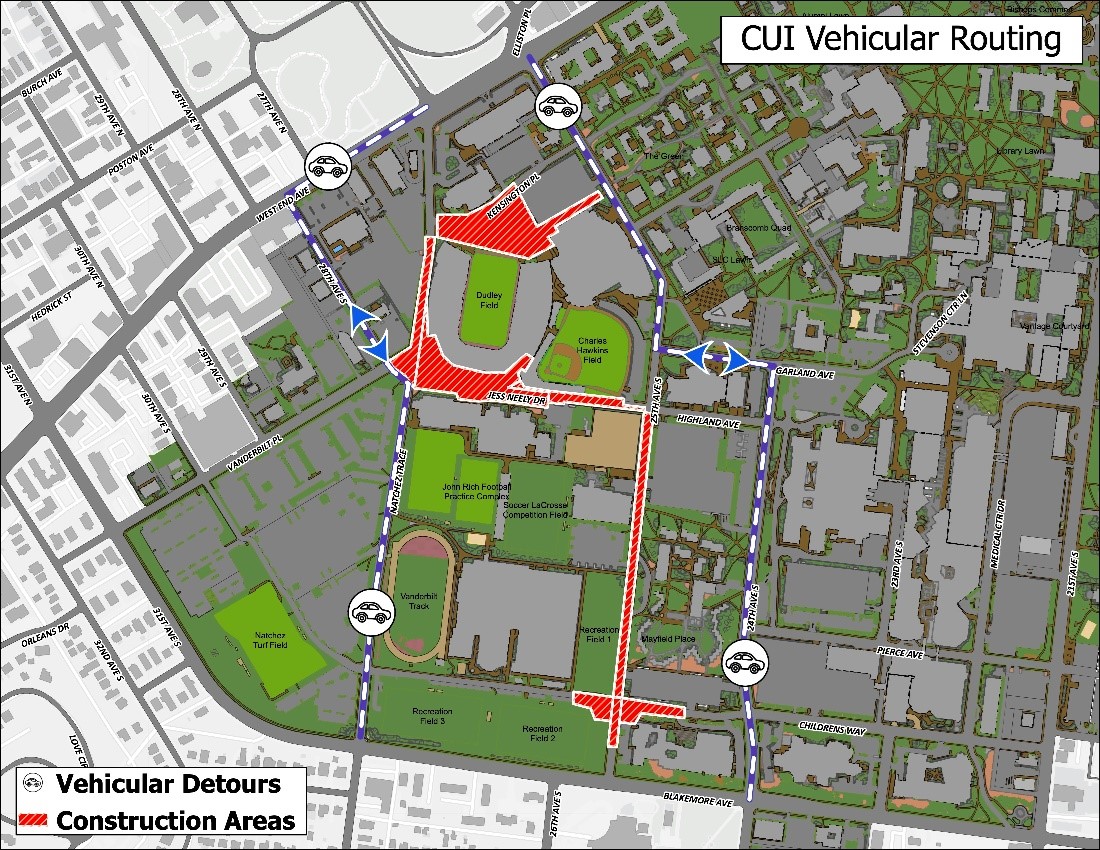 25th Avenue will only be open from West End Avenue to Jess Neely Drive/Highland Avenue.

 

There will be no through traffic on 25th Avenue to Blakemore Avenue. 

 

Jess Neely Drive is permanently closed to vehicle traffic.

 
Pedestrians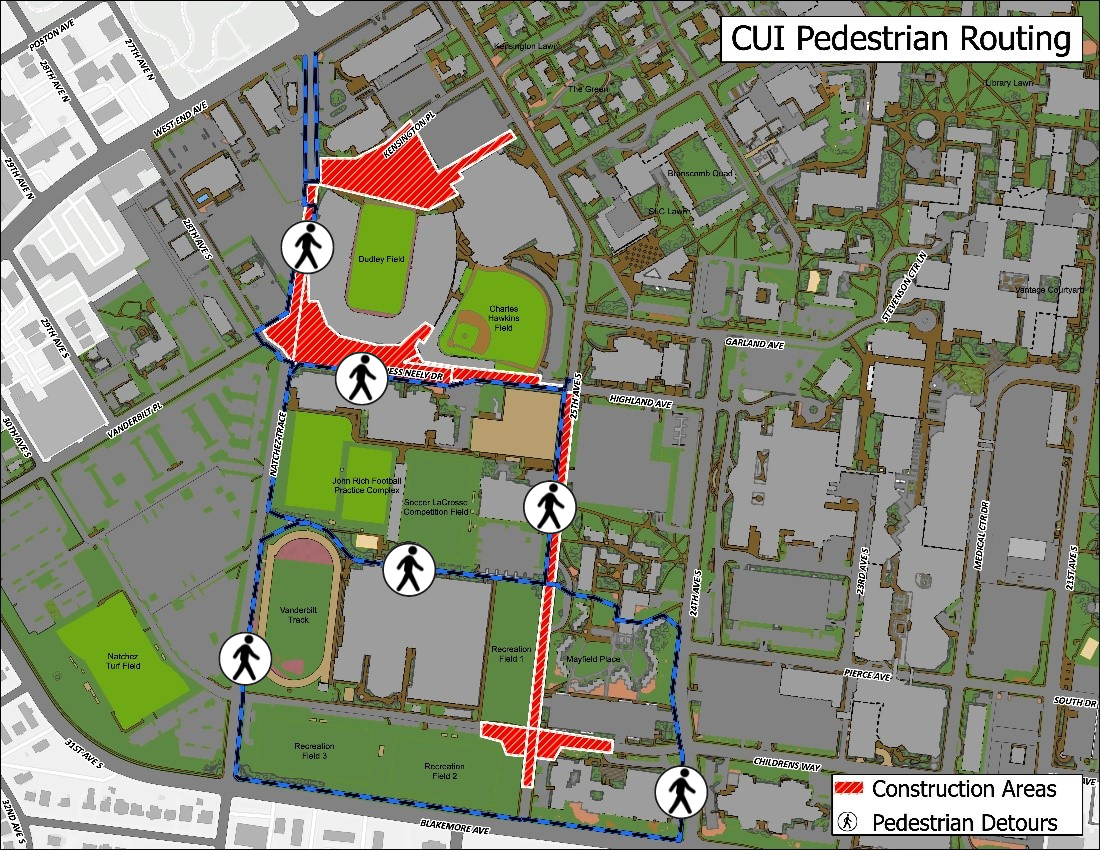 Pedestrians should follow posted detour signs.

 

On 25th Avenue, one side of the street will remain open between Children's Way and Highland Quad.

 

South of the Highland Quad, pedestrians should detour to 24th or Natchez Trace. Be aware of any construction changes that close one side of the street. 

 

There will be a crosswalk between the Student Recreation Center and Highland Quad, and it will shift location as construction progresses. Flaggers, temporary ramps and signs will help people navigate the work zone.

 

A temporary, accessible sidewalk will be built next to Jess Neely Drive to maintain pedestrian access on the south side of Jess Neely Drive.

 
Bicyclists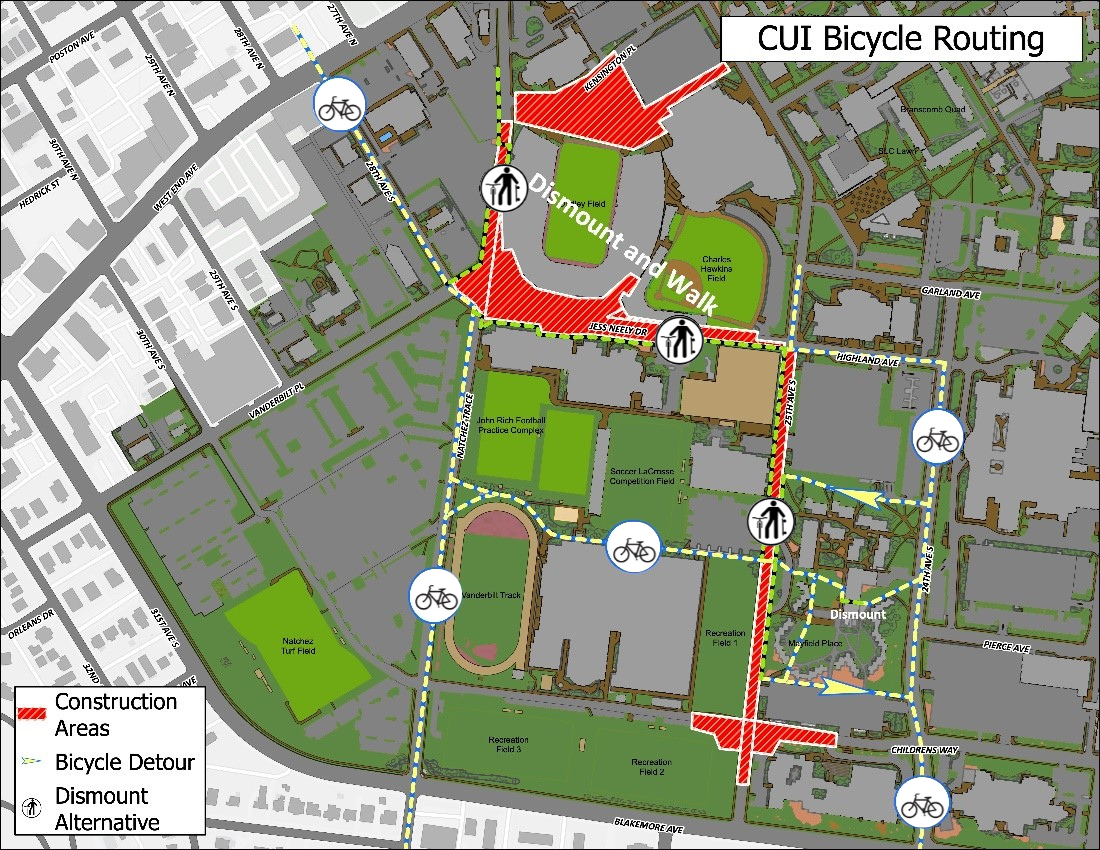 Bicyclists will be asked to slow down, dismount and walk along Jess Neely Drive and in restricted areas. Please follow instructions posted along the approved routes.

 

Non-dismount access to campus will remain open, detouring along 24th or Natchez Trace, crossing through the Highland Quad.

 
***All routes are subject to change; watch for updates.   
Highland Access Road 
The pathway around Highland Quad (see image below) will be widened with gravel to add space for pedestrians and to accommodate emergency vehicles. These pathways are not for public vehicle use.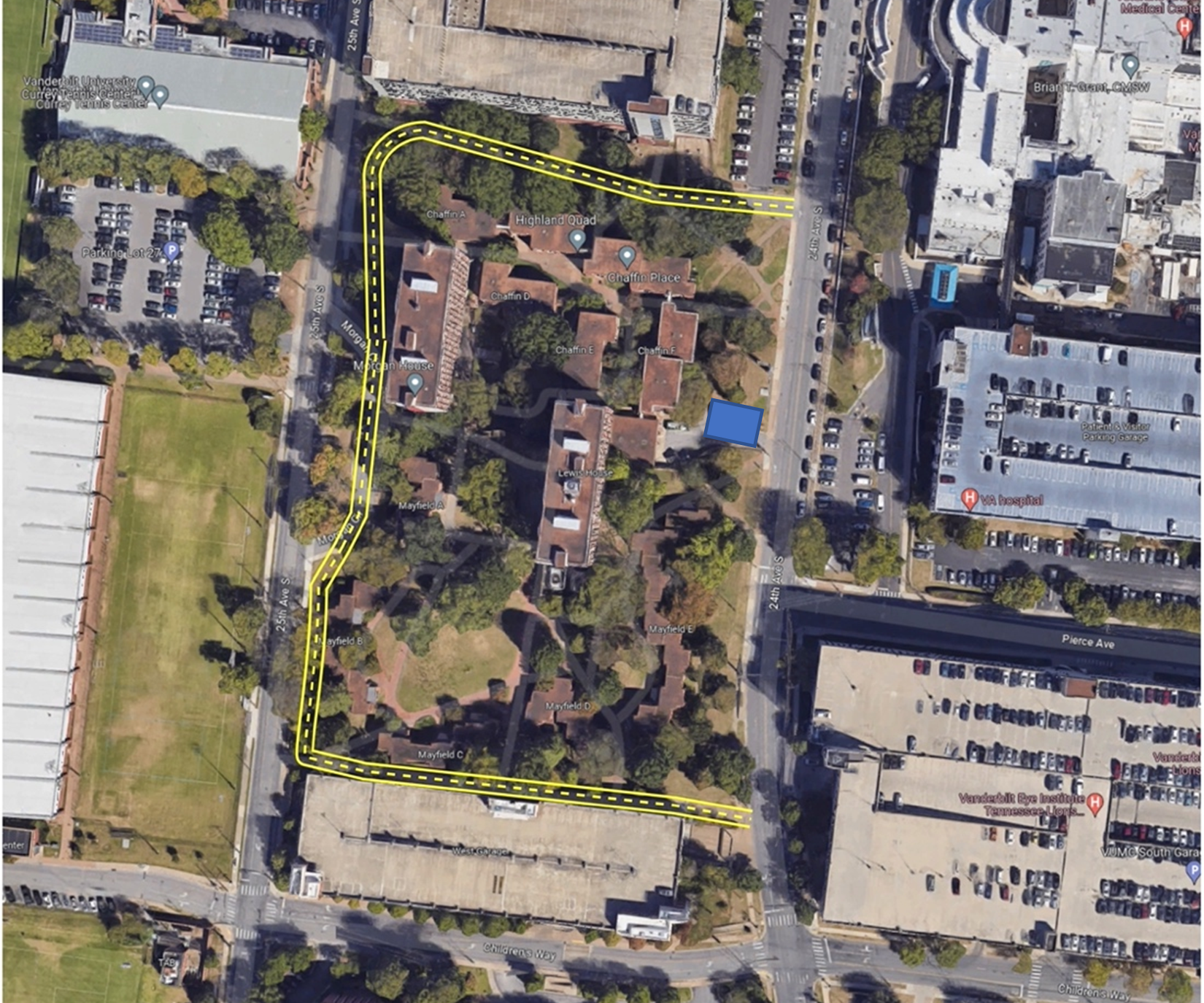 During move-in for the 2023–24 school year, Highland Quad residents will be allowed to drive on this pathway. After move-in, only emergency vehicles will be allowed on the pathway, and bollards will be reinstalled.  
Highland Quad residents can use lot 24 off 24th Avenue for deliveries and for ride-share pickup and drop-off. Fifteen-minute parking spaces will be available for delivery drivers. 
The Central Utilities Initiative was announced in January 2023 and will enhance the resiliency and redundancy of utility systems on campus. The new power plant and improved distribution lines called for in the initiative will increase capacity for utility generation. The Highland Power Plant, designed to achieve LEED certification, is being built on the recreation field on 25th Avenue South, next to the David Williams II Recreation and Wellness Center.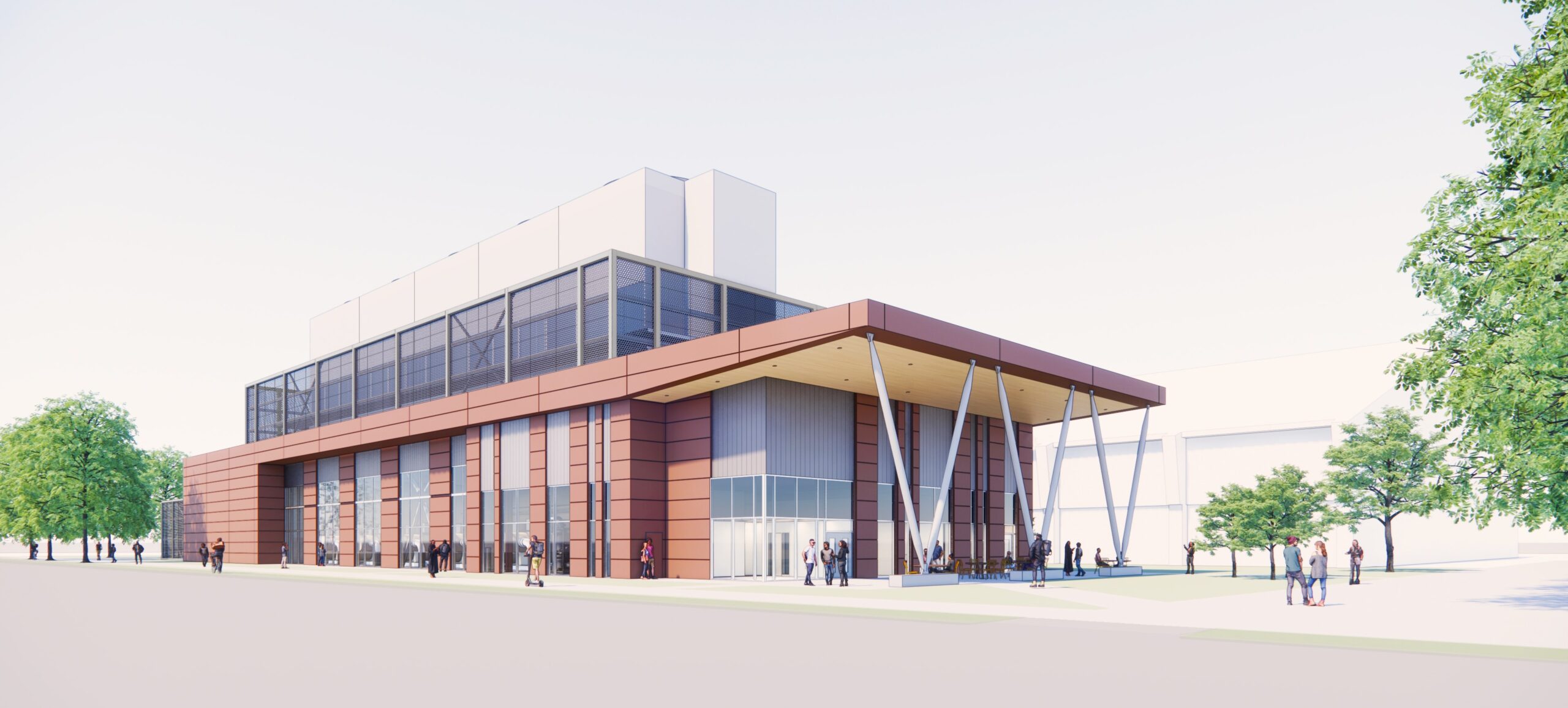 Similar to the Phase I construction project in the Peabody Neighborhood in 2020, CUI will convert the original underground steam distribution system to hot water, saving considerable energy, and install chilled water lines, supporting the university's sustainability goals. In alignment with Vanderbilt's FutureVU vision, the project also will include road improvements, the burying of overhead utilities and an enhanced pedestrian-centric environment—comparable to the transformation of the West End Neighborhood in 2019. 
View more information about the project on the Central Utilities Initiative website and see updates on the project timeline 
Email the Campus Planning and Construction Department with questions or concerns.