Media Inquiries
Latest Stories
In April, at the outset of its yearlong Sesquicentennial celebration, Vanderbilt launched a bold giving campaign called Dare to Grow, which aims to empower and support students, advance pathbreaking discoveries and promote radical collaboration across the university. As its volunteer co-chairs, trustees Steven Madden, BS'91, and Mark Mays, BA'85, will help bring the campaign's goals to life by liaising with their fellow Board of Trust members as well as the university's broader base of campaign volunteers.
Elected to the Board of Trust in 2016 and 2013, respectively, Madden and Mays share deep ties to the university—as philanthropists, alumni and Vanderbilt parents, having both served with their wives, Kelly and Patti, BS'86, on the Parents Leadership Committee. Madden graduated from Peabody College with a major in human and organizational development and is a long-standing leader in the industrial, automotive, aerospace and related industries. He is currently the chairman and CEO of several organizations. Mays, who studied economics and mathematics at the College of Arts and Science, spent several decades at Clear Channel Communications before his current roles as CEO of Rocking M Capital and a principal of Mays Family Enterprises.
Here Vanderbilt Magazine talks with Madden and Mays about their passion for giving back and about what this landmark campaign means for the future of Vanderbilt.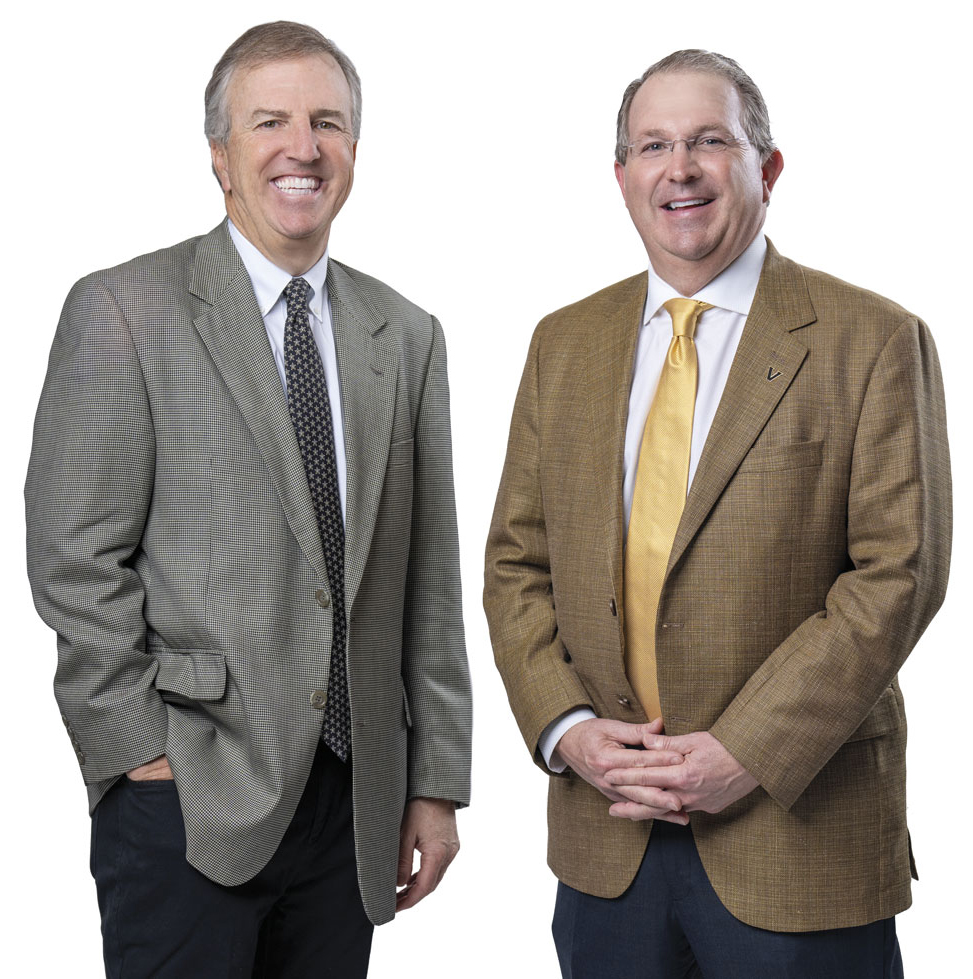 Why is now the right moment to launch a giving campaign?
MM: We're poised for success, and there's really no better investment of charitable support. The plans are in place to put every dollar to work, whether it's for student support, an academic program or wherever your passion lies. I focus my support on the students because the Vanderbilt experience is just incredible, but you can find a way to influence and impact whatever your particular passion may be—research or athletics support, perhaps. The collaborative spirit that touches every aspect of the university makes things possible here that just aren't at our peer institutions, or other organizations in general. It's a real moment in time.
What appealed to you about the opportunity to serve as its co-chairs?
SM: My experience at Vanderbilt impacted my entire life. It set me on my career path and shaped much of my perspective. Now I have seen two of our children graduate from this same university, and they had valuable life experiences as students as well. I believe iron sharpens iron, and the opportunity to engage with university leadership as a campaign leader—having the chance to listen, learn and share ideas to broaden the reach of excellence—I just couldn't pass that up.
MM: Vanderbilt means so much to the entire Mays family. My wife, Patti, and I met as students, and we have two children who are current students, with four who have already graduated. It was a natural decision for me to serve in a role like this at such a pivotal time in Vanderbilt history. We're celebrating 150 years and laying the foundation for the next 150 years. It's an incredible chance for me, for us, to pay it forward by laying the groundwork for the future.
One of the campaign's focus areas is access and empowerment. Could you elaborate on what impact the campaign will have on Opportunity Vanderbilt?
SM: What we hope to see for Opportunity Vanderbilt is greater and expanded investment. We certainly want to increase the amount of scholarship support available to award to students, but we also hope to expand that support to cover more of the experiences that make Vanderbilt so unique. Any student who aspires to a Vanderbilt education, and is qualified to attend, should have access to this special place, and they shouldn't have limitations on the types of learning opportunities they can participate in because of financial capacity.
How will the campaign help drive discovery and innovation at the university?
MM: Excellence and collaboration are intertwined and ingrained here unlike any other institution, and this campaign will give us more opportunities to bring together faculty, students and staff who may have never worked together on new projects. Combining thought leaders from widely varying areas allows us to tackle problems that can only be solved through totally new ideas, and every idea could lead to something great that gets utilized immediately or leads to an important discovery down the road. Funding for research like this really supports every aspect of the university—research, education and reputation. This campaign could place us firmly on the international stage as a trusted organization working to make life better.
Support for athletics is another area of focus. How will the campaign align with Vandy United and expand upon that vision?
SM: The Dare to Grow campaign really marks a new day at Vanderbilt, and so does Vandy United. The investment in resources that promote teamwork, collaboration, determination and excellence in every part of our lives is really what both efforts are all about. Vandy United was launched with the vision of transformative impact on athletics programs and student-athletes, and Dare to Grow has that same vision on an institutional level. We're changing the game—literally and figuratively. Clearly, enjoying exciting and competitive sporting events will also enhance our student and alumni experience.
How can alumni and other members of the Vanderbilt community support the university's mission beyond making a gift?
SM: There are many ways alumni can get involved. They can volunteer, either with their local Chapters or by working with the alumni relations office to find the right fit. Our Career Center and the Wond'ry (our innovation "front door") connect students with internships, entrepreneurial support and job opportunities—so supporting those efforts would be a great way to get involved. There are also opportunities to present at workshops and volunteer in the Commodore Recruitment Programs, which connect first-year student applicants with alumni, and other programs that can help our community members engage in meaningful ways.
Learn more about alumni opportunities.
MM: Those same opportunities are open to parents as well. The Parents and Family Association can help identify ways to get involved. My primary advice is to visit as much as possible: Experiencing campus firsthand provides such a great understanding of what your student sees, how they live and what they have access to. Also, attend Family Weekend. The events really showcase the university's culture and give us exposure to key leaders and faculty members. And perhaps consider hosting a Commodore Launch party for new Vanderbilt families in your area. Your insight into that first year can really provide a helping hand for others experiencing it for the first time. As parents, we bring such an interesting perspective among the broader Vanderbilt community, and we're one another's best support system.
Learn more about parent opportunities.
---
Steven Madden and Mark Mays were interviewed by Seth Robertson, editor-in-chief of Vanderbilt Magazine.