Vanderbilt University's Office of the Vice Provost for Research and Innovation hosted a Regional Innovation Showcase, bringing together research and innovation experts from nine universities based in Tennessee and Kentucky. The event, held at the Vanderbilt Student Life Center on April 27, provided an opportunity for the participants to connect, collaborate and share the latest developments in research and innovation within the region with each other and with guest of honor Erwin Gianchandani, assistant director of the National Science Foundation's Directorate for Technology, Innovation and Partnerships (TIP) that was founded in 2022.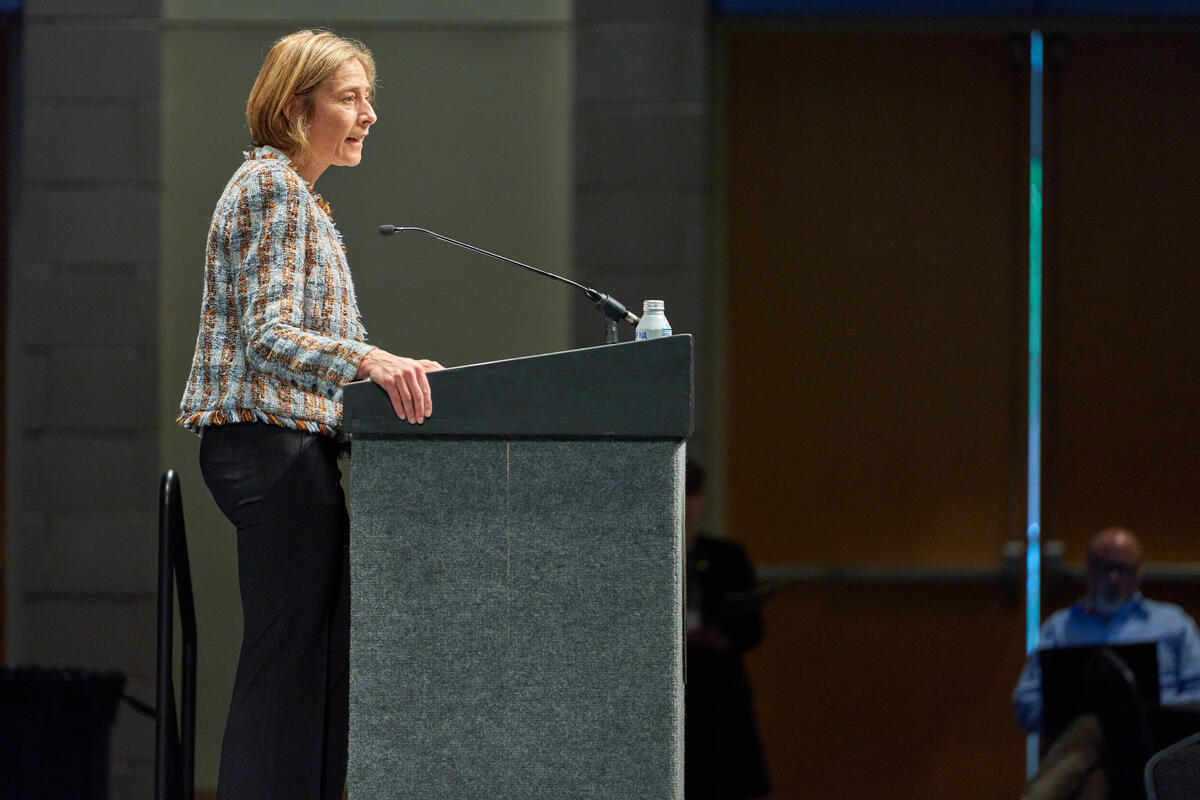 In her remarks, C. Cybele Raver, provost and vice chancellor for academic affairs, stressed the importance of collaboration to drive innovation, saying, "It's easy to talk about the power of collaboration, but it's important to walk the walk to actually yield impact, innovation, and output from those conversations." Raver emphasized that radical collaboration across disciplines, fields and universities is necessary for profound societal transformation and impact through cutting-edge discovery.
The event featured a keynote conversation with Erwin Gianchandani moderated by Vanderbilt's Padma Raghavan, vice provost for research and innovation, and Deborah Crawford, vice chancellor for research, innovation and economic development at the University of Tennessee.  Also featured was a panel discussion on regional innovation, translational pathways and workforce development moderated by Kevin Gardner, executive vice president for research and innovation at the University of Louisville, with panelists Michael Aikens, director of innovation and entrepreneurship at Tennessee Tech University; Cody Behles, director of research and innovation at the University of Memphis; Sajid Hussain, associate vice provost for innovation and information technology at Fisk University; Ian McClure, associate vice president for research, innovation and economic impact at the University of Kentucky; Quincy Quick, associate vice president for research and sponsored programs at Tennessee State University; and Anil Shanker, senior vice president for research and innovation at Meharry Medical College. In addition to panels, the showcase's 170 registrants also participated in a poster session with over 30 faculty and student presenters from the participating universities.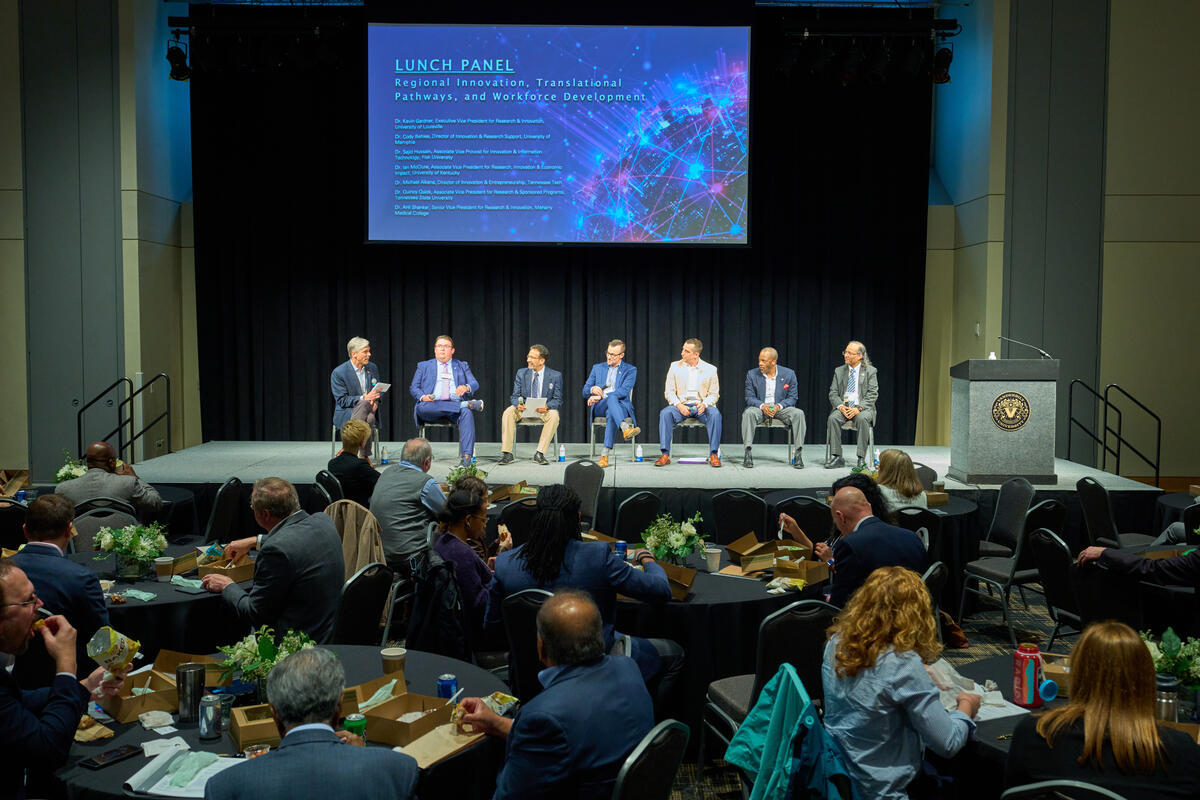 Padma Raghavan opened the event with a welcome to Gianchandani and highlighted the important role that collaboration among the participating universities plays in advancing innovation and economic growth across the region.
"Over 75 years ago, in 'Science the Endless Frontier,' Vannevar Bush wrote, 'research is the pacemaker of technological progress.' Not only does this hold true today, it is now well recognized that research is also the place-maker for technological progress that drives regional innovation and economic growth," Raghavan said. "It is exactly this placemaking power of research that brings us all together today to advance our many collaborations related to programs from the NSF's newly established TIP directorate including the engines on mobility, advanced manufacturing and the Midsouth I-Corp Hub for inclusive innovation."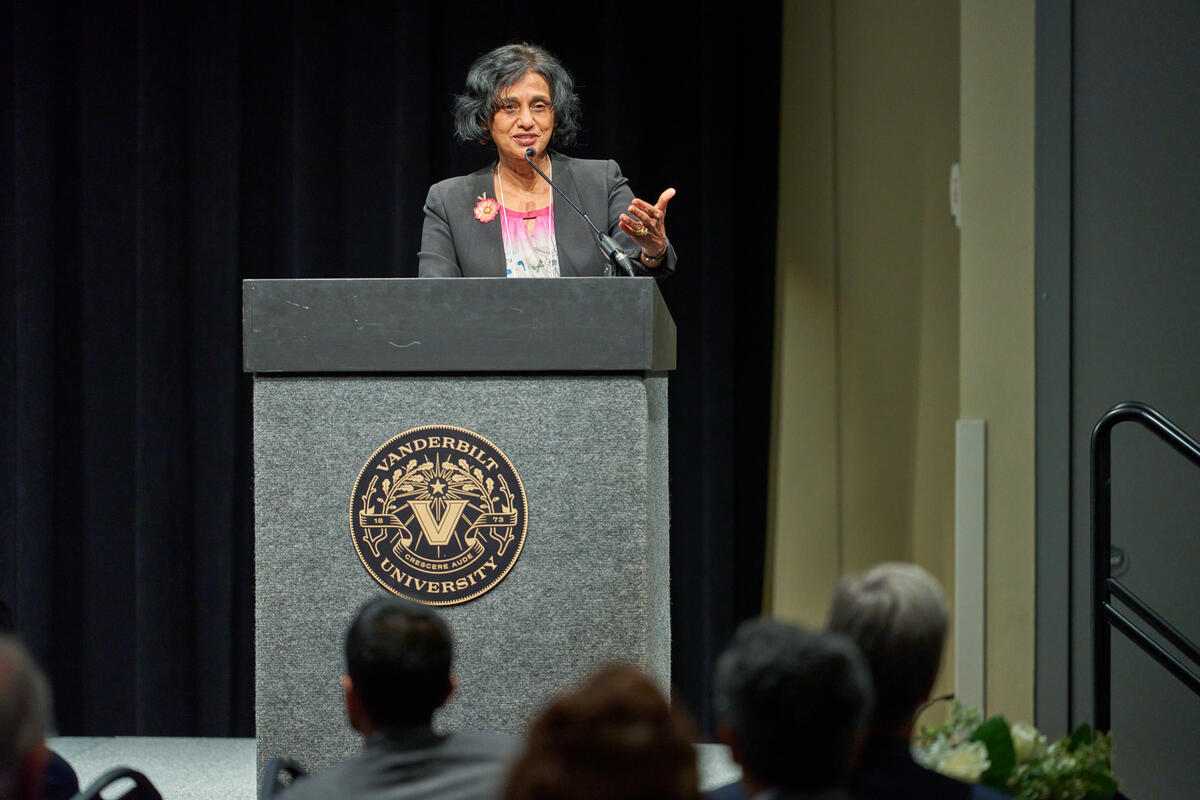 During the keynote conversation, Gianchandani spoke about his role leading the TIP directorate, which is tasked with advancing U.S. competitiveness through investments that accelerate the development of key technologies and address pressing societal and economic challenges. He underscored the importance of engaging the full breadth and diversity of talent across the country to address these challenges and improve lives, saying, "At the end of the day, America's diversity is a unique strength for this nation," as well as NSF's continuing commitment to supporting the full continuum of research and innovation activity from foundational, curiosity-driven research to translational and use-inspired research.
Gianchandani also had a message for the students who participated in the showcase, encouraging them to "dream big and work hard; find great mentors and colleagues who can help shine the light for you" to have a tremendous impact on the world.
The Regional Innovation Showcase provided an opportunity for the participating universities to strengthen their collaborative efforts and drive innovation in the region, furthering their shared goal of creating a better future through use-inspired research and discovery.