Maria Ressa, an internationally acclaimed journalist who was awarded the 2021 Nobel Peace Prize for exposing government corruption and human rights violations in her native Philippines and for defending free and accurate speech worldwide, called on the Vanderbilt Class of 2023 to seek truth and facts despite the "toxic sludge" of misinformation manipulating social media.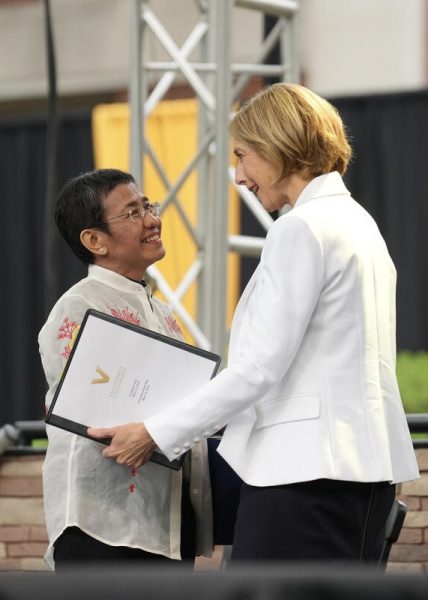 "Without facts you can't have truth. Without truth you can't have trust," said Ressa, Time magazine's Person of the Year in 2018 and part of Time's 100 Most Influential People in the World in 2019.
Ressa is this year's recipient of Vanderbilt's Nichols-Chancellor's Medal, one of the highest honors given by the university. She delivered the Graduates Day keynote address on The Martha Rivers Ingram Commons Lawn May 11 as part of a two-day event celebrating the university's Commencement.
In her address, Ressa urged students to draw an ethical line now to shield them from moral lapses or manipulation.
"Every choice you make defines who you are. Character is created in the sum of all these choices, so choose the values that define you," she said. "Do it now because when you're tested, and it will come if it hasn't already, you have to know the lines you've set."
Ressa also urged students to create a strong and supportive community, yet be aware of "the mob" that can form when emotion is mixed with misinformation.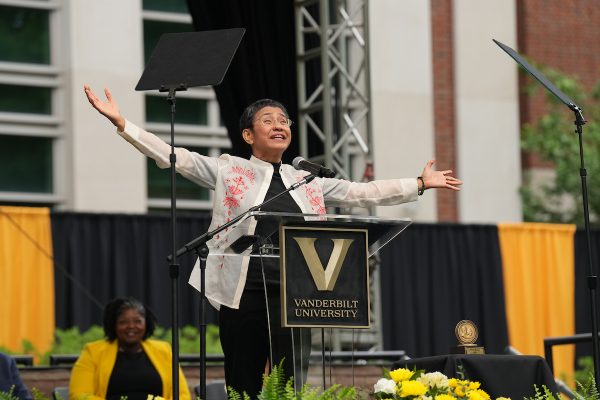 "Social media mobs are the norm now. Remember that lies laced with anger spread fastest on social media," she said.
A longtime champion in the fight for democratic freedoms, Ressa encouraged Vanderbilt students to actively support and repair democratic principles in the U.S. and around the world. She stressed to the audience not to let the ease of artificial intelligence, apathy and misinformation dull their ambition to make the world better.
Chancellor Daniel Diermeier introduced Ressa before her remarks, noting that her championing of free and accurate speech mirrors Vanderbilt's commitment to free expression.
"In countries around the world and here in our own, factions bent on stifling debate and dissent—or on spreading misinformation for political gain—are ascendant, with powerful technology at their disposal," Diermeier said. "Countering them requires that all of us, in the circumstances of our own lives, show the kind of commitment and courage that Maria Ressa has demonstrated throughout her extraordinary career. Her example should embolden and inspire us all. And at Vanderbilt, we have a fierce and long-standing commitment to free expression, open inquiry and civil discourse."
"You will determine how our democracy will survive and evolve," Ressa said. "Remember that you are creating the future. Now, please make sure it's the future you want."
THE NICHOLS-CHANCELLOR'S MEDAL
Recipients of the Nichols-Chancellor's Medal are individuals who define the 21st century and exemplify the best qualities of the human spirit. The annual award was created and endowed by Vanderbilt Law School graduate Ed Nichols and his wife, Janice, in honor of Edward Carmack Nichols and Lucile Hamby Nichols.
Read about the previous honorees here. >>
FOUNDER'S MEDALISTS
New this year, Provost and Vice Chancellor for Academic Affairs C. Cybele Raver announced the Class of 2023 Founder's Medalists during the Graduates Day event rather than the main Commencement ceremony.
Since 1877, Vanderbilt has awarded a gold medal to the student graduating with first honors from each of the university's 10 schools and colleges. The awards are named after the university's founder, Cornelius Vanderbilt, who made a contribution to endow the medals in their first year.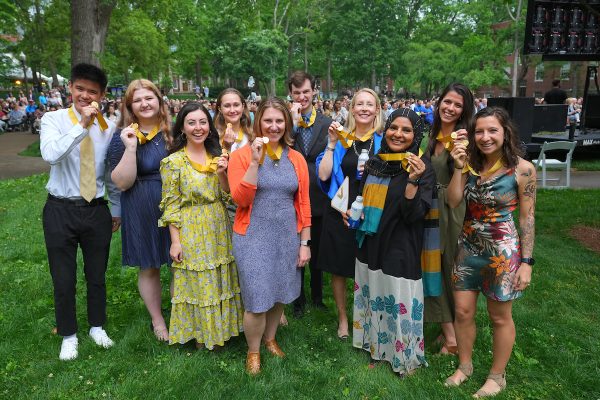 The 2023 Founder's Medalists are:
College of Arts and Science: Estelle Shaya
Blair School of Music: Jack Edward Allen
Divinity School: Danielle Garrett
School of Engineering: Patrick Darmawi-Iskandar
Graduate School: Veronika Kondev
Law School: Mary Teague
School of Medicine: Ayesha Muhammad
School of Nursing: Jill Kinch
Owen Graduate School of Management: Ashley Detherage
Peabody College: Sara E. Johanson
Read more about the 2023 Founder's Medalists and their accomplishments here. >>
INTERFAITH AND ALUMNI COMMUNITY WELCOME
Raver also introduced representatives from the Vanderbilt Interfaith Council and other faith groups, Vanderbilt Student Government President Amisha Mittal, graduate student speaker Leah Lomoki Lomotey-Nakon, Seniors Give Back Fund representative Morgan Patty and Vanderbilt Alumni Association President Anu Pardeshi to deliver words of support for the members of the Class of 2023.
"If you are here today, it means you pursued and succeeded in academic excellence during uncertain times," said Lomotey-Nakon. "Let us take a deep breath of gratitude, for we are here."