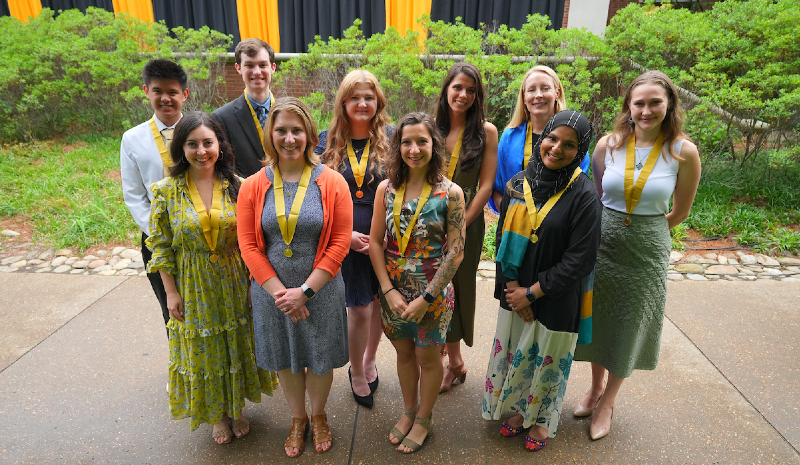 Vanderbilt University has named the Class of 2023 Founder's Medalists.
Since 1877, Vanderbilt has awarded a gold medal to the student graduating with first honors from each of the university's 10 schools and colleges. The awards are named after the university's founder, Cornelius Vanderbilt, who made a contribution to endow the awards in their first year.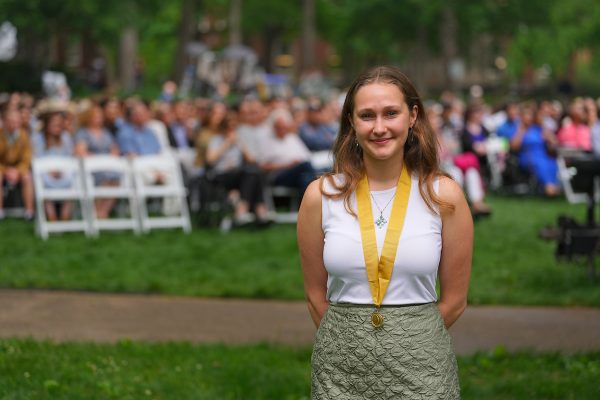 Estelle Carole Shaya, from Wooster, Ohio, is this year's Founder's Medalist for the College of Arts and Science. She is graduating with a bachelor of arts. Shaya majored in Earth and environmental sciences and Latin American studies. The summer after her junior year she volunteered with the Andean Information Network, a human rights group in Bolivia, an experience supported by the Simon-Collier Grant from the Vanderbilt Center for Latin American, Caribbean and Latinx Studies. She helped advocate for victims of the 2019 post-election violence in the region by translating the Independent Interdisciplinary Group Report on this violence and reports from the Andean Information Network on torture. Her translations helped the nonprofit group spread information and combat misinformation. At Vanderbilt she was editor-in-chief of Vanderbilt's satirical magazine The Slant and a member of the College Scholars Council and the Vanderbilt Association for Women Geoscientists. After graduation, she will go to Brazil on a Fulbright English Teaching Assistant award. She hopes to attend law school in the next five years to advance her goal of advocating for victims of sexual and gender-based violence.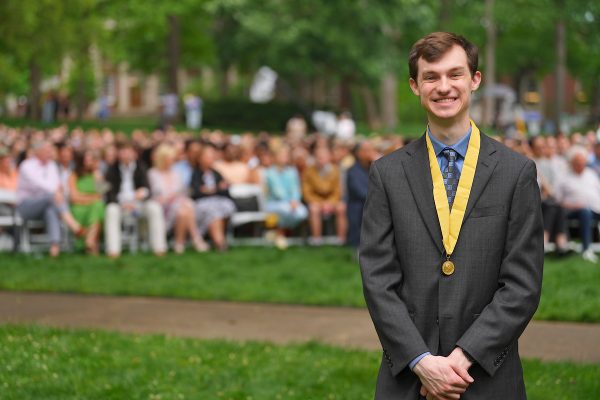 Jack Edward Allen, from Nashville, Tennessee, is this year's Founder's Medalist for the Blair School of Music. He is graduating with a bachelor of music. Before attending Vanderbilt, Allen participated in the Blair Academy precollegiate program. His work with his Blair professors during high school sparked his desire to pursue a music career. While completing a major in piano performance and minors in saxophone and German studies, Allen was president of the Vanderbilt Piano Society and vice president of Nightingales in the Wings, a performance-based volunteer organization that provides music to hospitals and senior living facilities. He also supported Blair first-year students as a Blair Segue mentor. He was a volunteer teacher at the W. O. Smith Music School, which strengthened his resolve to eventually teach piano at the college level. He finds joy in teaching skills for expression and connection, skills that were particularly meaningful for him as he dealt with the death of his father in December 2021 after a yearlong battle with cancer. After graduation, Allen will pursue his master of music in piano performance at Indiana University's Jacobs School of Music.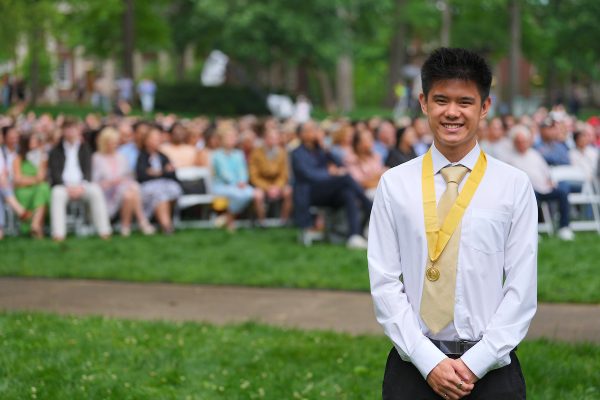 Patrick Kanan Darmawi-Iskandar, from San Francisco, California, is this year's Founder's Medalist for the School of Engineering. He is graduating with a bachelor of engineering. Darmawi-Iskandar studied electrical and computer engineering and was a SyBBURE Searle research fellow at the Institute for Space and Defense Electronics, where he examined the effects of radiation on carbon nanotube field-effect transistors. His hands-on experience with cutting-edge electronics and his participation in the inclusive, passionate and tightknit SyBBURE research community encouraged him to consider pursuing a doctorate. At Vanderbilt he was president of the Amateur Radio Club and helped organize numerous STEM outreach events, including connecting children at Monroe Carell Jr. Children's Hospital at Vanderbilt with astronauts on the International Space Station by radio. After spending the summer as an associate engineer at SpaceX, he plans to pursue his Ph.D. in electrical engineering and computer science at the Massachusetts Institute of Technology as a Department of Defense National Defense Science and Engineering Graduate Fellow. Darmawi-Iskandar's parents are first-generation immigrants, and he plans to work hard to make them proud and take advantage of all the opportunities they made possible.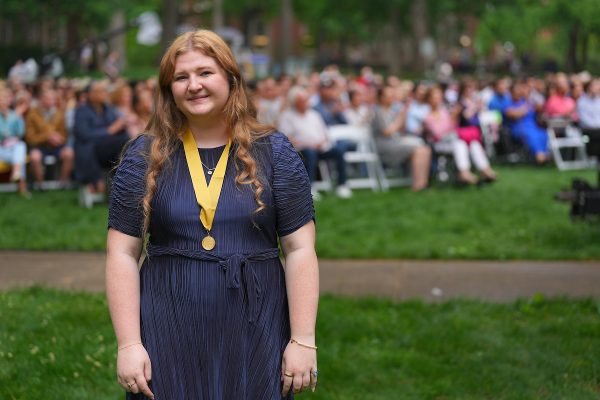 Sara Elizabeth Johanson, from Greenville, South Carolina, is this year's Founder's Medalist for Peabody College. She is graduating with a bachelor of science. Johanson combined her interests in travel, learning and service while completing her studies in early childhood and elementary education and international education policy. In the summer of 2022, she taught English at a nonprofit school in Athens, Greece, working with refugee teenagers without English experience through the Peabody Scholars program. She learned to hone her teaching skills and discovered a passion for working with emergent bilingual students. Johanson was a Cornelius Vanderbilt Scholar, a Peabody Scholar and the Kappa Delta Pi international education honor society president. She also was a three-time VUceptor, mentoring more than 70 first-year students. For her work in the community, Johanson won the Peabody Diversity and Inclusion grant in collaboration with Nashville Book Connection, a program that nurtures elementary students' reading of culturally responsive books. After graduation, she will teach kindergarten at Nashville's Glenview Elementary School with a class of mostly emergent bilinguals and will finish the last semester of her master's program in international education policy and management.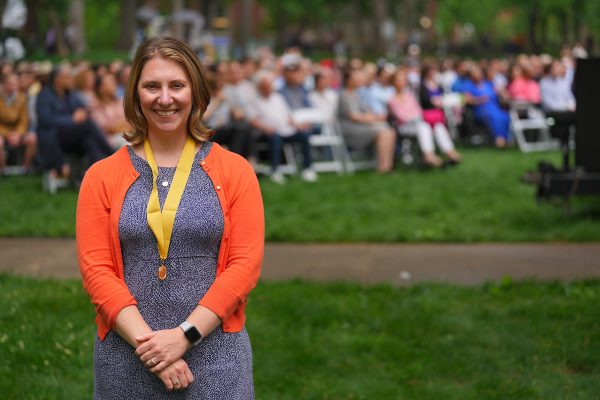 Lauren Danielle Garrett, from Richmond, Virginia, is this year's Founder's Medalist for the Divinity School. She is graduating with a master of divinity. Garrett earned her bachelor of arts at William & Mary and her master of public affairs at the University of Texas at Austin. At Vanderbilt she studied ministry, with a concentration in pastoral and prophetic congregational leadership. Through her field education placement at the First Unitarian Universalist Church of Nashville, she developed a deeper understanding of ministry beyond the pulpit, focusing on church membership and religious education. Courses in ethics and the sociology of religion were especially important for her intellectual and vocational formation, and she earned honors for her master's project, "Contemporary Pilgrimage and the Sacralization of the Self: Walking the Way of St. James in a Neoliberal World." She was a Carpenter Fellow, helping to run the Queer Faith and Policy Learning Cohort, and vice president of the Divinity School's student government association. Garrett will be moving to Portland, Oregon, to begin a congregational internship at the First Unitarian Church of Portland. When she is not preparing for ordination, she enjoys reading, hiking, planning pilgrimage trips and spending time with her wife, Mari, and dog, Jo March.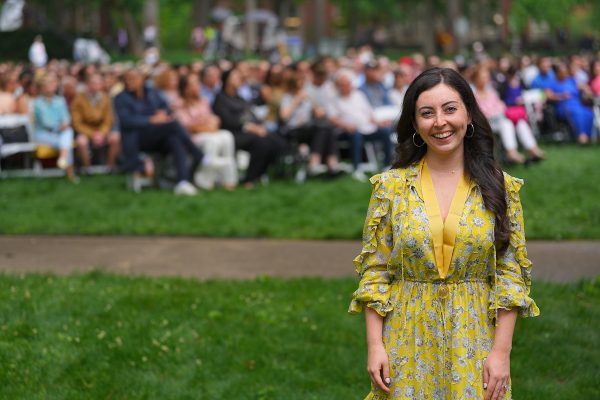 Ashley Margaret Detherage, from Zionsville, Indiana, is this year's Founder's Medalist for the Owen Graduate School of Management. She is graduating with a master of business administration. Now a double 'Dore, Detherage earned her bachelor of science in child development at Vanderbilt in 2017. Before attending Owen, she was a nurse at Vanderbilt's Neonatal Intensive Care Unit, which was a formative experience for her career. The concentrations for her MBA studies at Owen were health care and operations and analytics. While at Owen, she completed an independent study with a local health care startup, which inspired her to approach strategic health care problems from a new perspective. On campus, she helped educate and mentor business students interested in health care as president of the Vanderbilt Business Healthcare Association. One of the highlights of her Owen career was her work with Nashville's Sexual Assault Center via the Owen Board Fellows program, which allows Vanderbilt MBA students to serve as nonvoting board members at nonprofits for a year. After graduation, she will continue as a board member with the center, and in the fall she will join the Nashville office of Boston Consulting Group.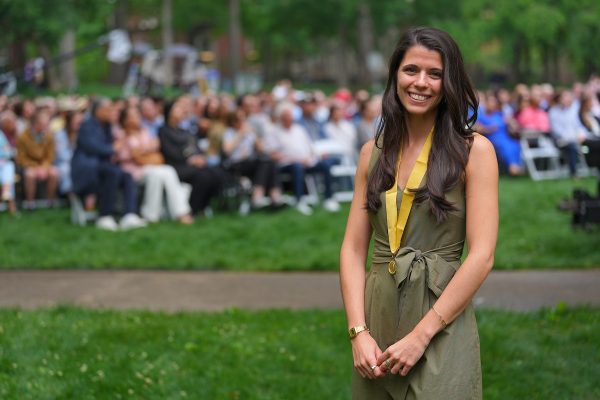 Mary Alexandra Dennard Teague, from Charlotte, North Carolina, is this year's Founder's Medalist for the Law School. She is graduating with a doctor of jurisprudence. After earning her bachelor of arts at Davidson College and before starting law school, Teague worked in the Baltimore City Public Schools as a high school history teacher and at a legal nonprofit in New York devoted to child advocacy. During her first year at Vanderbilt Law School, she took Property Law and was hooked. So, during her second and third years, she devoted most of her elective course credits to studying property, land use and environmental law. Teague was senior managing editor of Vanderbilt Law Review, winner of the Myron Penn Laughlin Note Award, vice president of the American Constitution Society, and vice president of the Voting Rights and Advocacy Society. She received Scholastic Excellence Awards (highest grade) in Property, Contracts and American Legal History, as well as the Lightfoot, Franklin & White Best Brief Award. After graduation, Teague will be working in real estate law at Gibson Dunn in New York.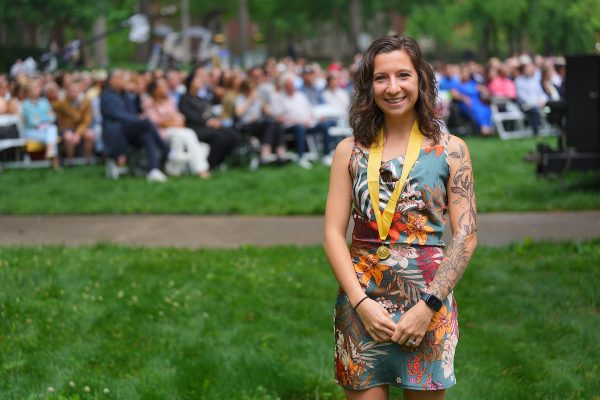 Veronika Kondev, from Nashville, Tennessee, is this year's Founder's Medalist for the Graduate School. She is graduating with a doctor of philosophy in neuroscience. Kondev earned a bachelor of science in biological sciences from the University of Chicago. At Vanderbilt, she has not only promoted a positive lab environment, she also has been an endless source of new ideas, creative approaches to test hypotheses, and relentless motivation to conduct rigorous experimentation. She has already contributed significantly to our understanding of the role of the endogenous cannabinoid system in regulating fear and anxiety behavior. She was awarded a Ruth L. Kirchstein Predoctoral Individual National Research Service Award from the National Institutes of Health. And in a field in which graduate students average two to three publications, Veronika will have more than 20 publications from her time at Vanderbilt. Her integration of high scientific achievement with compassion and hard work gives her the potential to make a great impact as a scientist and a leader. After graduation, Kondev will begin a postdoctoral fellowship at Icahn School of Medicine at Mount Sinai in New York City.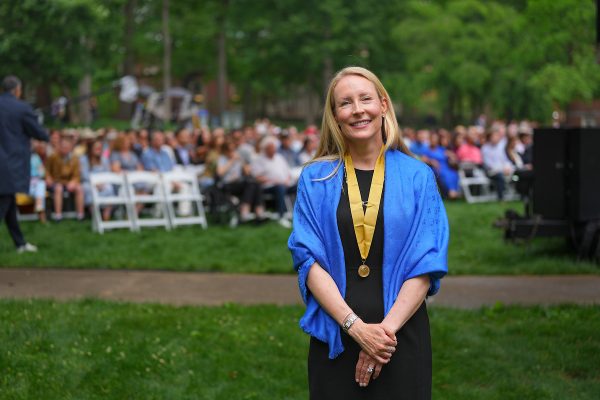 Jill Savola Kinch, from Nashville, Tennessee, is this year's Founder's Medalist for the School of Nursing. She is graduating with a doctor of nursing practice. Kinch earned a master of management in health care from Owen Graduate School of Management, where she was named a Student World Shaper, and master's and bachelor's degrees in nursing from the University of Texas at Austin. Since 2015, Kinch has been director of advanced practice at Monroe Carell Jr. Children's Hospital at Vanderbilt, a role she continued while working toward her D.N.P. degree. Her doctoral project focusing on care for children undergoing tracheostomy will ultimately enhance the care of these vulnerable patients. Kinch also is committed to removing barriers to health care access. Her drive to change our health care delivery systems to better serve all our citizens led to her work with the Tennessee Nurses Association and efforts to shape public policy through advocacy. After graduation, Kinch will continue as director of advanced practice at Children's Hospital and will focus on developing their pediatric organ transplant services.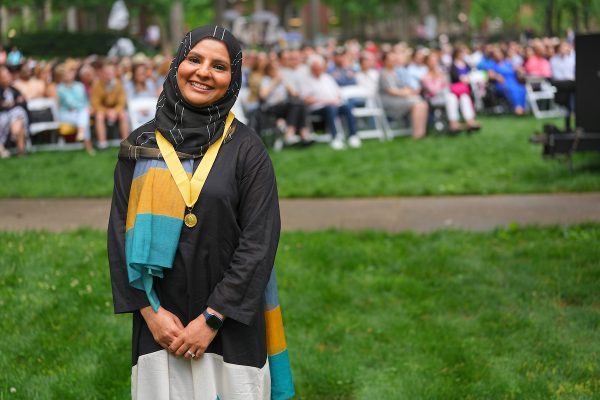 Ayesha Muhammad, from Karachi, Pakistan, is this year's Founder's Medalist for the School of Medicine. She is graduating with a doctor of medicine and a doctor of philosophy in human genetics. Muhammad is a gifted clinician, a focused scientist, a dedicated educator and a natural leader. She earned a bachelor of science in chemistry at Yale, becoming the first woman in her paternal family to graduate from college and the first in her family to study outside of Pakistan. She has made an impact at Vanderbilt in many roles, including her work in the Medical Scientist Training Program, board-level leadership at the student-run Shade Tree free clinic, service co-chairing the Flexner Dean's Lecture Series, and sitting on the Vanderbilt Appellate Review Board. She received a two-year predoctoral award from the American Heart Association and has eight peer-reviewed publications and 22 presentations, to date. She was one of 10 students admitted into the Vanderbilt Program in Interprofessional Learning, which teaches effective collaboration within interprofessional teams. After graduation, Muhammad is pursuing a career in anesthesiology at the University of Michigan Hospital in Ann Arbor, where she will continue clinical practice and research as a physician-scientist.