Media Inquiries
Latest Stories
LaunchTN is teaming up with Vanderbilt University to champion innovation and commercialization of breakthrough technologies in Tennessee.
With the new partnership, LaunchTN and Vanderbilt will work collaboratively to support, engage and attract high-growth startups. They will also seek to bring more innovative solutions to market with increased activities around technology transfer and commercialization.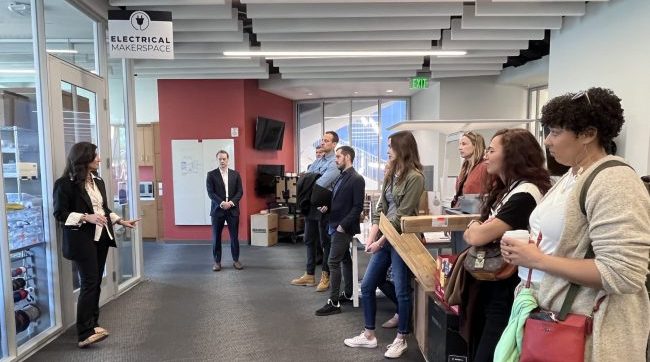 Vanderbilt, a world-renowned research institution, received 1,070 research awards totaling $294 million in fiscal 2022. Many of these awards are research opportunities with high commercialization potential. This new partnership will connect and extend Vanderbilt's and LaunchTN's supporting networks to help these research projects commercialize and reach their target markets.
"We are proud to make this investment in Tennessee's innovation ecosystem," said Vanderbilt University's Vice Chancellor for Government and Community Relations Nathan Green. "At Vanderbilt, we are always looking for ways to bring our world-renowned research and expertise to founders seeking to build and grow companies here. This important partnership with LaunchTN will allow us to leverage our expertise with their statewide network of resources for maximum impact."
Three Vanderbilt Offices — Government and Community Relations, the Wond'ry, Vanderbilt's Innovation Center, and the Center for Technology Transfer and Commercialization — made the collaborative investment in LaunchTN.
With the investment, Vanderbilt becomes a LaunchTN advocate for 2023, which includes recognition at LaunchTN events and in promotional and communications materials, as well as engagement with LaunchTN as a thought partner and in leadership opportunities. Vanderbilt and LaunchTN will also co-produce an exclusive event that reflects their shared missions.
"We are all invested in innovation and bolstering Tennessee as a startup-friendly state," added LaunchTN Development Director Emily Masters.
David A. Owens, the Evans Family Executive Director of the Wond'ry, has worked before with LaunchTN on innovation-focused initiatives. "We are excited to continue the Wond'ry's work with Launch Tennessee," he said. "Our shared passion for supporting strategic innovation to solve the world's problems provides a strong base for this ongoing collaboration."
"This partnership is a great example of our efforts to drive industry collaboration and bolster entrepreneurship in our community," said Alan Bentley, assistant vice chancellor for technology transfer and enterprise development and LaunchTN board member.
About LaunchTN
LaunchTN is a public-private partnership that supports entrepreneurship and economic development with a goal to make Tennessee the best state in the country for startups. As a 501(c)3 nonprofit, we are uniquely positioned to provide direct investment, while also supporting collaboration among founders, investors, researchers, private sector institutions and government. We foster entrepreneurship, technology advancement and workforce development through capital access, commercialization, mentorship, marketing and partnerships.
About the Wond'ry, Vanderbilt's Innovation Center
The Wond'ry provides the tools and resources for students, faculty, staff, alumni and community members to bring ideas to life. The Wond'ry focuses its efforts in four primary practice areas—entrepreneurship, social innovation, making and design, and innovation and design research. It offers state of the art makerspaces, workshops, microgrant opportunities and programs designed to provide inclusive support for everyone from budding entrepreneurs to community changemakers. The Wond'ry welcomes university-affiliated people from all backgrounds, disciplines and abilities, empowering them to develop innovative and creative solutions that change the world. The Wond'ry is also the home for the newly formed National Science Foundation Mid-South I-Corps Hub. This hub unites nine universities across four states under a unified vision to build an inclusive innovation corridor across the Midsouth.
About Vanderbilt University Government and Community Relations
The Division of Government and Community Relations is responsible for the university's advocacy work with all branches of government and for leading community initiatives and fostering and supporting community engagement. It is GCR's role to inform and educate officials and community leaders on Vanderbilt initiatives and ensure the maintenance of good relationships at the local, state and federal level, as well as to activate the Vanderbilt community to engage policy officials. We are an advocate, we facilitate and we help fund community organizations that align with Vanderbilt's mission.
About Vanderbilt University Center for Technology Transfer and Commercialization
The Center for Technology Transfer and Commercialization's mission is to provide professional commercialization services to the Vanderbilt community, optimizing the flow of innovation to the marketplace and generating revenue that supports future research activities, while having a positive impact on society.