Vanderbilt University's Division of Government and Community Relations and Office of Data and Strategic Analytics have launched a project aimed at highlighting Vanderbilt's impact in all of Tennessee's 99 state House and 33 state Senate districts.
The project, called the District Impact Report, is an interactive dashboard that showcases the university's economic, social and cultural contributions to communities across the state.

The website provides users with a district–level breakdown of Vanderbilt's impact, including data on employment, financial aid, community engagement and alumni presence. Users can explore how Vanderbilt is making a difference in their district, through various organizations and departments.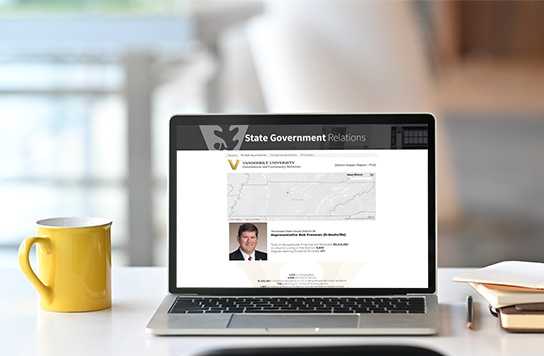 The District Impact Report is part of the sustained effort by the university to engage with policymakers at the Tennessee General Assembly. Vanderbilt has a long history of working with communities all across this state and is committed to continuing that in the years ahead.
"The District Impact Report is a great reflection of the reach that Vanderbilt University has across all three Grand Divisions of Tennessee," said Daniel Culbreath, assistant vice chancellor for state government relations. "It is a tremendous tool that we can utilize in our advocacy efforts with state policymakers."
This project would not be possible without our campus partners and their willingness to provide data that helps bring this together. While the data is not exhaustive, the aim is to highlight the significant relationship between Vanderbilt and our state. A second phase of this project will include an interactive map highlighting the university's impact in each of Tennessee's nine congressional districts.
For more information on the District Impact Report, explore the dashboard online. To find out who represents you in the General Assembly, visit their searchable map online and enter your address.