Media Inquiries
Latest Stories
Vanderbilt University joined Silicon Ranch Corp., Nashville Electric Service and Tennessee Valley Authority on April 11 to "flip the switch" on the Vanderbilt I Solar Farm, a 35-megawatt solar facility in Bedford County, Tennessee.  
The solar facility is a significant step by Vanderbilt toward the ambitious goal it announced in 2019 to power its campus entirely through renewable energy and become carbon neutral by 2050. The renewable energy generated from the Vanderbilt I Solar Farm will offset approximately 70 percent of the university's annual indirect greenhouse gas emissions from electricity purchased through Nashville Electric Service, or the equivalent of enough power to help serve more than 6,000 homes for one year. A planned second solar farm in Moore County, Tennessee, is projected to supply enough renewable energy to mitigate the remaining 30 percent of emissions.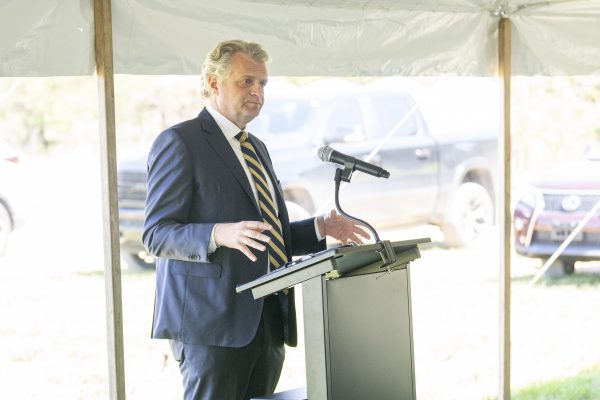 "The Vanderbilt I Solar Farm not only represents a major step toward our own goals at Vanderbilt, but also provides a model of collaborative, forward-thinking solutions that we hope other organizations will adopt and replicate across this country," Chancellor Daniel Diermeier said. "We look forward to the educational and research opportunities this project and our pursuit of carbon neutrality will yield for our faculty and students at Vanderbilt. We thank Silicon Ranch, NES and TVA for supporting us on this bold journey. We also want to express our profound gratitude to our partners at Bedford County. Without the cooperation of our policymakers at the local, state and federal level who have partnered with the university in support of our sustainability initiatives, this kind of vital work would never be possible."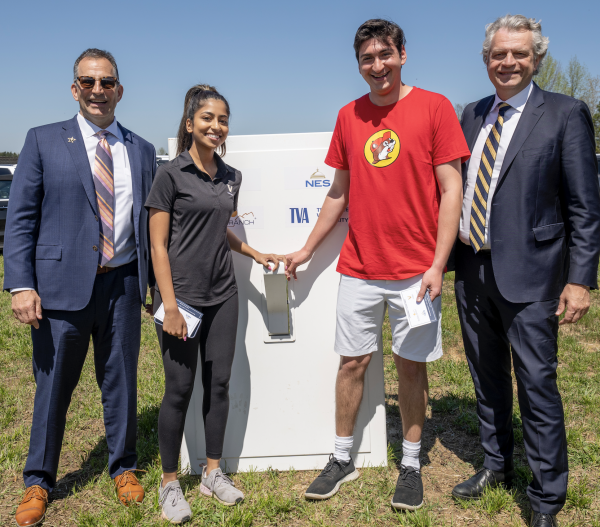 Nashville-based Silicon Ranch, one of the nation's largest independent power producers and a community-focused renewable energy company, developed and funded the project and hired more than 250 craft workers to build the solar facility. The company also will serve as the long-term owner and operator, a disciplined approach Silicon Ranch takes with every project it develops.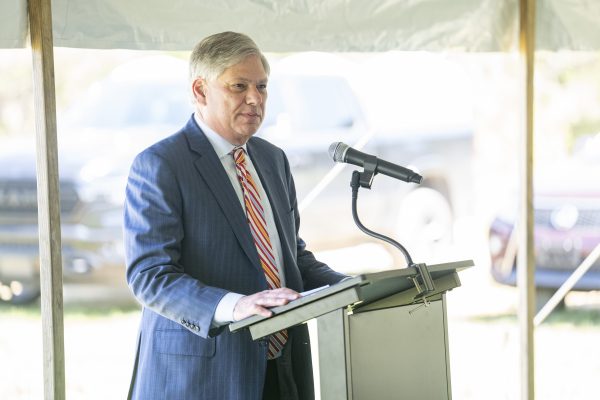 "The Vanderbilt I Solar Farm demonstrates what is possible when we work together with a shared vision for the region, and Silicon Ranch is grateful to Vanderbilt for its leadership and to TVA for its strong support of this meaningful renewable energy investment in Bedford County," said Matt Kisber, co-founder and chairman of Silicon Ranch. "I am a proud alumnus of Vanderbilt, as are many of our colleagues, and we are thrilled to dedicate this meaningful project today. We also wish to thank the leadership of Bedford County and the Shelbyville-Bedford Partnership for their collaboration and for welcoming us into this community." 
First announced in 2020, the Vanderbilt I Solar Farm is the result of a landmark agreement as the first project contracted under TVA's nationally recognized Green Invest program, which matches demand for green power from diverse commercial, industrial and institutional customers with new utility-scale solar projects in the Tennessee Valley.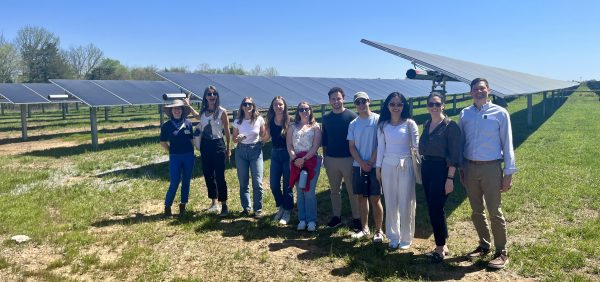 As both the landowner and operator, Silicon Ranch will remain invested in and committed to the continued success and economic viability of the surrounding community. The company invested more than $50 million to install the Vanderbilt I Solar Farm, and over the years to come the project will generate millions of dollars in new tax revenue for Bedford County to support local infrastructure and schools, among other community-identified priorities. In 2022, Silicon Ranch also donated 30 acres of its project site to the city of Shelbyville and Bedford County to support the recruitment of Duksan Electera America Inc., which is investing $95 million to build its first manufacturing facility in North America, creating more than 100 jobs. 
"This solar farm is a success story on so many different levels," said Eric Kopstain, vice chancellor for administration. "Not only is it helping Vanderbilt achieve its sustainability goals, it's also an opportunity—thanks to Silicon Ranch, TVA and NES—to produce meaningful environmental and economic outcomes for our neighbors in Bedford County and the wider Middle Tennessee region. That's radical collaboration at its finest—bringing our different perspectives together to accomplish not just one goal, but many."