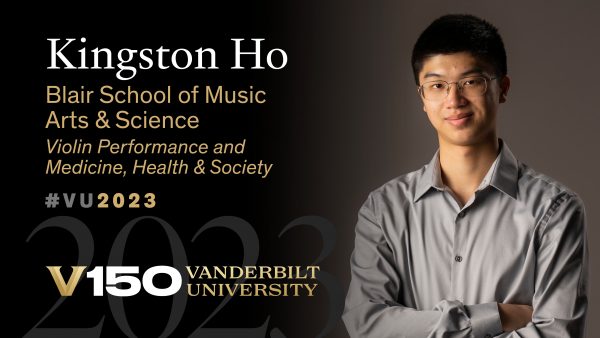 By Amy Wolf
Kingston Ho doesn't just play beautiful music—he's studying how his brain and body make those melodies happen.
The New Jersey native and award-winning violinist with multiple prestigious international competitions under his belt chose to double major in violin performance at the Blair School of Music and in medicine, health and society in the College of Arts and Science.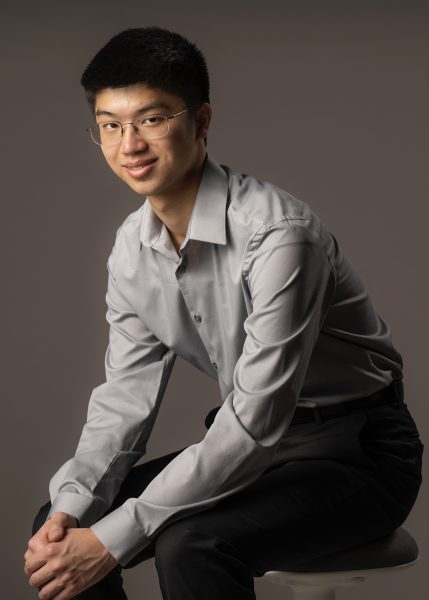 "My high school had a strong health sciences focus," Ho said. "If I had gone to a conservatory-only school, I would've missed out on my other interest. Vanderbilt gave me a perfect combination of the two so I could explore both paths and enrich myself in both of those subjects." 
DARE TO GROW
Ho, a recipient of the Anne Potter Wilson Honor Scholarship at the Blair School, started playing violin when he was just 5 years old. Since that time, his interest and talent have developed into a distinguished musical career.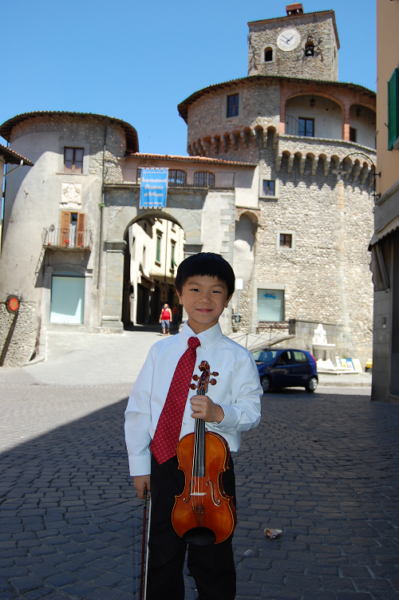 In October 2021 he advanced to the semifinals of the highly competitive Premio Paganini competition in Genoa, Italy, as the only representative from the United States.  
"I really pushed myself because I had 12 pieces to prepare, and there was only a three-month turnaround from when I found out that I got in and when I actually competed in Italy," he said. "I worked incredibly hard so that I could feel, whatever happened, I would be ready on stage when the time came." 
Ho's competitions have taken him around the world. Since the Paganini competition, he also earned spots at the Carl Nielsen International Violin Competition in Denmark and the Fritz Kreisler International competition in Vienna, both in 2022.
In June 2023, Ho will travel to New Zealand as one of 16 musicians to earn a spot in the quarterfinals of the Michael Hill International Violin Competition. 
He has also won numerous state and regional competitions, including winning the Vanderbilt Concerto Competition two years in a row. 
"A pivotal moment for me was winning the Vanderbilt Concerto Competition for the first time in my sophomore year," he said. "I saw that all the work I was putting in really paid off. And senior year, I loved being able to play with the orchestra. That was really special for me." 
He's also a multiyear member of the National Youth Orchestra of the USA and won fellowships to the Aspen Music Festival for the 2021 and 2022 summer program, in which he played in the Aspen Festival Orchestra and Aspen Chamber Symphony.  
THE FAB FOUR
Ho credits Vanderbilt with helping to create an environment where he could grow as a musician and a person. 
"I've gotten a lot more comfortable with myself and with performing and collaborating with other people, whether it's at Blair or on the campus itself," he said.  
Ho said he is most thankful for the friendships he's formed through music. 
"Blair is a really special place because of the welcoming community, especially my quartet. We're all part of the Class of 2023, and we've been a group for four years. We've grown together as musicians and as friends," he said. 
THREE QUESTIONS …
WHAT WILL YOU MISS?
"I've made lifelong friends here, and they are really special. After I graduate, I hope to see some of them again in the future. But I think that sense of community—of all of us being here together and also with our professors. I will especially miss my violin professor, Cornelia Heard. I think I'll miss my time with her a whole lot." 
SEND-OFF MESSAGE TO THE VANDERBILT COMMUNITY
"To Professor Heard, thank you so much for all your support and help throughout the last four years. Without your help, I wouldn't be the same person and violinist I am today. To my friends and classmates, wishing you success and happiness in your future careers and life!" 
VANDERBILT IS … 
"I would say Vanderbilt is a special place, but I also think it's an inspiring place and a supportive and inclusive community."