UPDATE: Blair junior Kingston Ho advanced to the semi-finals of the Premio Paganani competition during the elimination rounds on Oct. 16–17 as the only representative from the United States. The semi-final round, requiring each candidate to perform a 55-minute recital program, was held Oct. 19–20.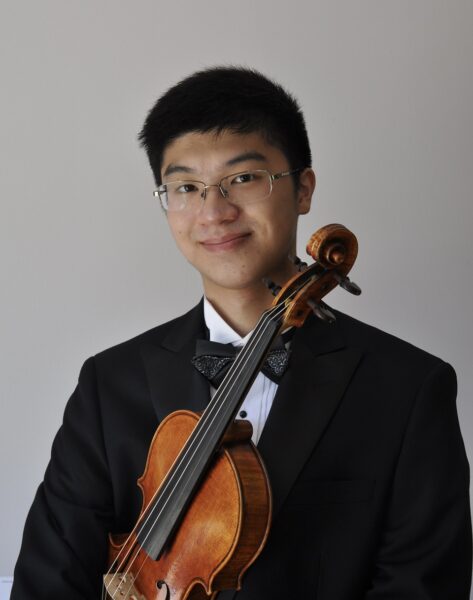 Third-year student Kingston Ho's soft-spoken and unassuming manner belies the vigor and intensity of his violin performance. That performance earned him a spot among only 32 competitors selected to enter the Premio Paganini competition, which occurs every three years. Ho is the first student in Vanderbilt University history to participate in this prestigious international competition.
"Kingston's selection is a huge honor for him—and also an honor for the Blair School of Music and Vanderbilt University," said Cornelia Heard, who is Ho's violin professor, chair of the strings department and Valere Potter Chair at the Blair School of Music. "Kingston has a dazzling facility in the virtuoso works, but he also has a tender, expressive side that gives his playing range and depth. I think he is well positioned for a strong showing at this exclusive competition."
The competition will be in Genoa, Italy, from Oct. 15 to 24, 2021, and consist of three rounds. Ho's audition required playing two Paganini caprices and the first movement of a Mozart concerto.
"The requirements are extensive and challenging, but fortunately Kingston already has a large repertoire and is a fast learner," Heard said. For the competition itself, Ho has prepared the following repertoire:
First round: Sonata No.2 in A minor BWV 1003 (Grave and Fuga) by Johann Sebastian Bach; Caprices 1, 10, 17 by Niccolò Paganini
Second round: Caprices 5, 9, 24 by Niccolò Paganini; Violin Sonata No. 1 in G Major by Johannes Brahms; Variations on an Original Theme by Henryk Wieniawski; Un'Ala Soffice, Infinita by Carlo Boccadoro
Final round: Violin Concerto No. 1 by Niccolò Paganini, Violin Concerto in D minor by Jean Sibelius
"I'm very excited about being selected for the Paganini competition," Ho said. "But even if I don't win, it's just a great experience overall. I'm looking forward to the challenge of preparing all of my pieces, meeting the other performers, and just enjoying the journey."
Ho started playing violin at age 5 and has won numerous state and regional competitions, including the Vanderbilt Concerto Competition last spring with Bartok's Second Concerto. He is a three-time member of the National Youth Orchestra of the USA and won a full fellowship to last summer's Aspen Music Festival, where he played in the Aspen Festival Orchestra and studied with Robert Lipsett.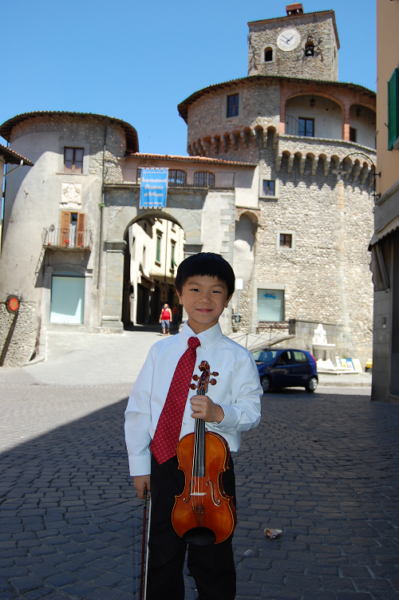 Interestingly, Ho's first international trip was to Italy for a music festival at the age of 6.
"It feels a little bit like things have come full circle now that I am returning to Italy for one of the biggest competitions in the world," said Ho, who is double majoring in violin performance and medicine, health and society. The New Jersey native would like to become a professional violinist with a world-class orchestra while teaching violin on the side. Currently, Ho volunteers with the W.O. Smith School, where he gives private violin lessons to two students free of charge.
"Kingston contributes to the Blair community in myriad ways and is a leader at the school," Heard said. "We are fortunate that he felt Vanderbilt offered what he was looking for in his collegiate experience."
The winner of the Paganini competition will receive €20,000; the opportunity to play a concert in Genoa on "Il Cannone," the violin designed by Guarneri del Gesù (1743) that belonged to Niccolò Paganini; and a one-year artist management contract with Shanghai Utopia Media Agency.