By Lauren Carnahan 
In a crossover between science and art, students, staff and faculty from Vanderbilt, other universities and Vanderbilt University Medical Center worked together on the shared goal of improving the ill-fitting hospital gowns that patients often wear. Initially proposed by Vanderbilt University School of Medicine student Noah Thompson Orfield, the idea was explored within the Medical Innovators Development Program course Innovation Activism and Altruism, led by Charleson Bell, director of entrepreneurship, biomedical innovation and the NSF Mid-South I-Corps Hub at the Wond'ry. The Wond'ry's Fiber Arts Build Lab (FAB Lab) was involved in the process.  
"I was bothered by the number of patients I saw in ill-fitting hospital gowns that exposed them to the world," Orfield said. "We started talking with Alex Sargent Capps about how to use the FAB Lab space to design clothing that encourages autonomy, trust and compassion while also respecting the uncertainty, vulnerability and grief that come with hospitalization."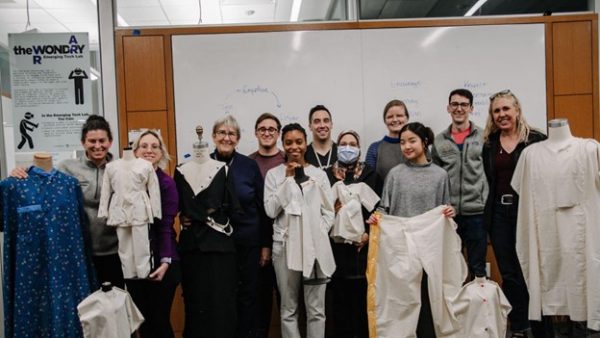 Orfield's team used discussions with patients to identify the core problems with traditional hospital gown design. To enhance the design process, Shannon North, director of design technology at Workwear Outfitters, was brought in to the workshops to provide assistance with Browzwear VStitcher, a 3D software program used to capture each team's concepts and to provide full-scale patterns that can be used for prototypes.
"Seeing the designs in 3D form brought them to life and let me see the practicality of it," Fisk University sophomore Amarachukwu Iyke-Osuji said. All students received a 3D rendering of their prototype upon completion of the workshop.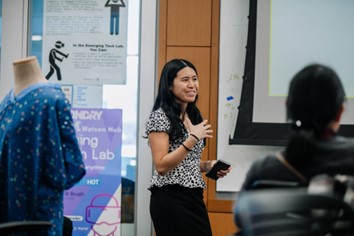 More than 20 people engaged in the prototyping design sprint workshops. They received additional insights from guest speakers, including Dr. Lealani Acosta, associate professor of neurology at VUMC and a board-certified neurologist. She read her recently published poem about hospital gowns, which appeared in the journal Anesthesiology last year. Vice Chancellor for Outreach, Inclusion and Belonging and Chief Diversity Officer for Vanderbilt University Dr. Andre Churchwell attended and shared some of his knowledge of fashion history. He also led a discussion with participants on how clothing can affect someone's sense of self.  
This collaboration between areas, and between the fields of art and science, was inspiring, according to participants. "You rarely get to see that blend between art and medicine as well as active problem solving," Vanderbilt student Gina Yu said.     
At the end of the design sprints, the participants presented their work to attendees, including Dr. Ryan Buckley, assistant professor of clinical medicine and a member of the Quality Pillar Workstream for the VUMC Section of Hospital Medicine. "Designing in a vacuum, without insight into why a hospital gown needs to be designed in particular ways, is not productive. Giving the students immediate, hands-on feedback was essential to the process and product of the design sprints," Capps, the FAB Lab director, said.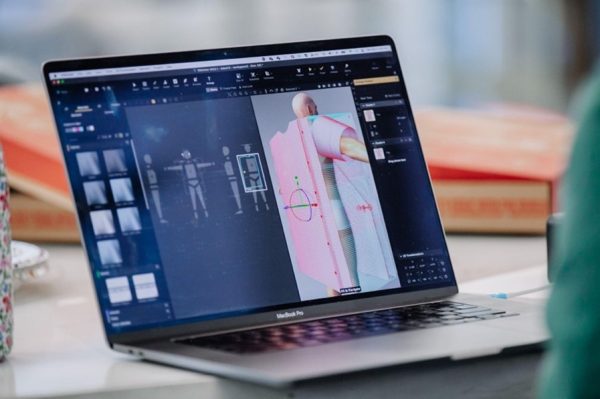 Each team made the most of the strengths, talents, insights and ideas that members brought to the project, and their final presentations demonstrated this hard work and collaboration. Wond'ry workshops are intended to produce inclusive innovation among fields, backgrounds, tools and experience, something that resonated with the participants.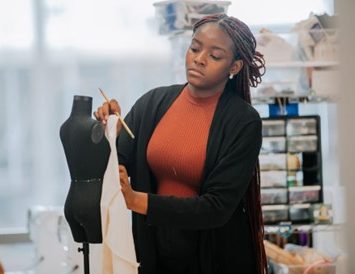 "Seeing how different people from different sectors contributed to this project was eye opening and inspiring. It showed me that everyone's input is useful and unique. We had doctors, designers and engineers on this project, and everybody had an important role to play," Iyke-Osuji said. 
Plans are being made to create full-scale prototypes of the teams' designs and present them to doctors and nurses for feedback and testing. The goal is to make gowns that will be worn by testers, so their feedback can influence future prototypes.  
"There were definite improvements with real-world implications," Buckley said. "However, once a design can be identified as the best possible candidate, another stage of innovation will be required. To break into this niche market, some production and entrepreneurial cycles of innovation will be needed—luckily we have the capacity to assist through this entire continuum at the Wond'ry."