Media Inquiries
Latest Stories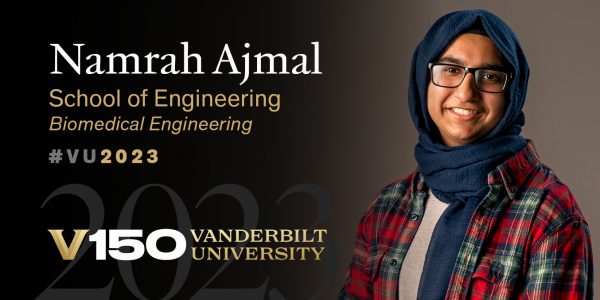 By Amy Wolf
As Middle Tennessee resident Namrah Ajmal wrapped the soft fabric of her hijab around her head and tucked it securely into the neck of her Vanderbilt sweatshirt, she felt a sense of confidence and peace in her strengthening Muslim identity.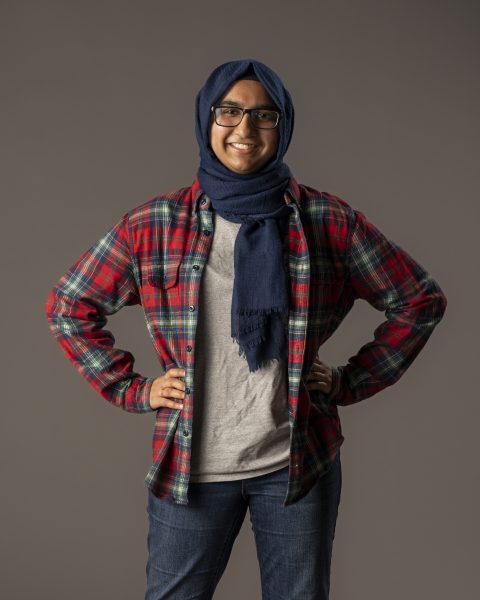 This ritual is new to the biomedical engineering major. She is a lifelong Muslim, but she started wearing a headscarf only midway through college.
"Wearing a hijab is an opportunity to own my identity in public and to very subtly correct misconceptions about my religion," said Ajmal, who helps lead the Muslim Student Association and Vanderbilt Interfaith Council.
"When I go around, I am a strong, intelligent and independent woman. The head covering is not a sign of oppression; it's a sign of strength. And personally, it's me owning this part of my identity and showing it to the world," she said.
CREATING COMFORT AND BELONGING
Ajmal admits that in her teenage years, she focused more on trying to blend in. Even though she strived to be outgoing those first days at Vanderbilt on The Martha Rivers Ingram Commons, it was scary for her.
"I imagined that I was going to bake pies and bring them to all my floormates on the Commons, but I couldn't get up the guts to do it," she sighed. "Thankfully over the year, my floor had a chance to get really close."
Creating that kind of comfort and community is why Ajmal said she became a resident adviser. She is head RA for Rothschild College.
"I am outgoing in a quiet way. I really like to meet the floor, but I do it on a one-on-one basis, so I have this opportunity to form a personal connection and not just pop up in social settings," she said.
"I want to actually get to know them for who they are and how they live their lives. And then further down the road, once we have this connection, I think they actually do come to me sometimes with issues that are a little heavier."
SHARING LOVE OF SCIENCE AND MATH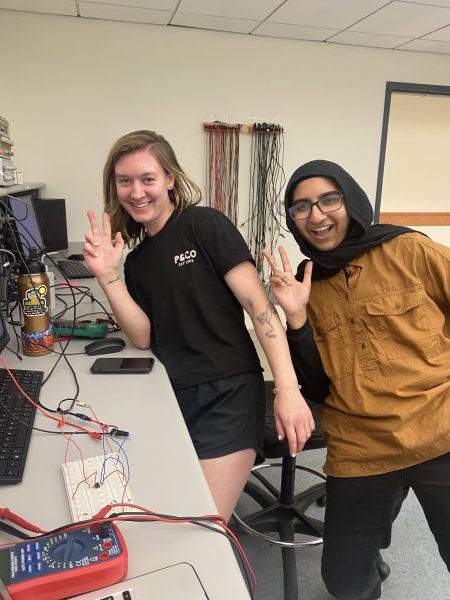 Ajmal's dream is to become a doctor so that she can cultivate this sense of belonging and safety for her future patients, especially children. She has worked as a research assistant for the Vanderbilt Children's Learning Lab, as a volunteer at the Susan Gray School, as a team leader with Vanderbilt Student Volunteers for Science and as a tutor for Metro Nashville Public Schools with BrightPath tutoring.
"I love having these opportunities to actually make a difference and share my love of science and math," she said.
Ajmal said her dreams came more into focus after shadowing a pediatric oncologist at the Vanderbilt University Medical Center, with the help of the Health Professions Advisory Office.
"It was inspiring seeing how doctors go about treating very serious diseases and very serious issues in a way that is still light enough that it's digestible for the child," she said.
ENGINEERING COLLABORATIONS
Collaborating with unique personalities is a skill she honed with the help of professors and classmates in the School of Engineering.
"I will say, hands down, my favorite thing about the biomedical engineering major is that it is incredibly collaborative," she said. "And the teamwork in the classroom has led to some of my closest friendships."
THREE QUESTIONS…
WHAT MATTERS MOST TO YOU NOW?
"I came in thinking school mattered the most—meaning my grades, academics, classes. I think I'm going out thinking that the people in my life matter the most. There have definitely been times when I've had to choose between meeting a deadline and supporting a friend, and I will always choose supporting the friend. I think that's where my priorities are."
WHAT MAKES VANDERBILT SPECIAL TO YOU?
"What makes Vanderbilt special is that it's become a home. I have my chosen family, my friends here. I think part of that feeling comes from building a number of special communities."
WHAT MESSAGE DO YOU HAVE FOR THE VANDERBILT COMMUNITY?
"I'd have to say a big thank you! Every single person I have met and interacted with on this campus has been an instrumental part of my Vanderbilt experience, and the people here are what I'm going to miss the most after I graduate. It just wouldn't have been the same without them. It wouldn't have been the same without y'all!"