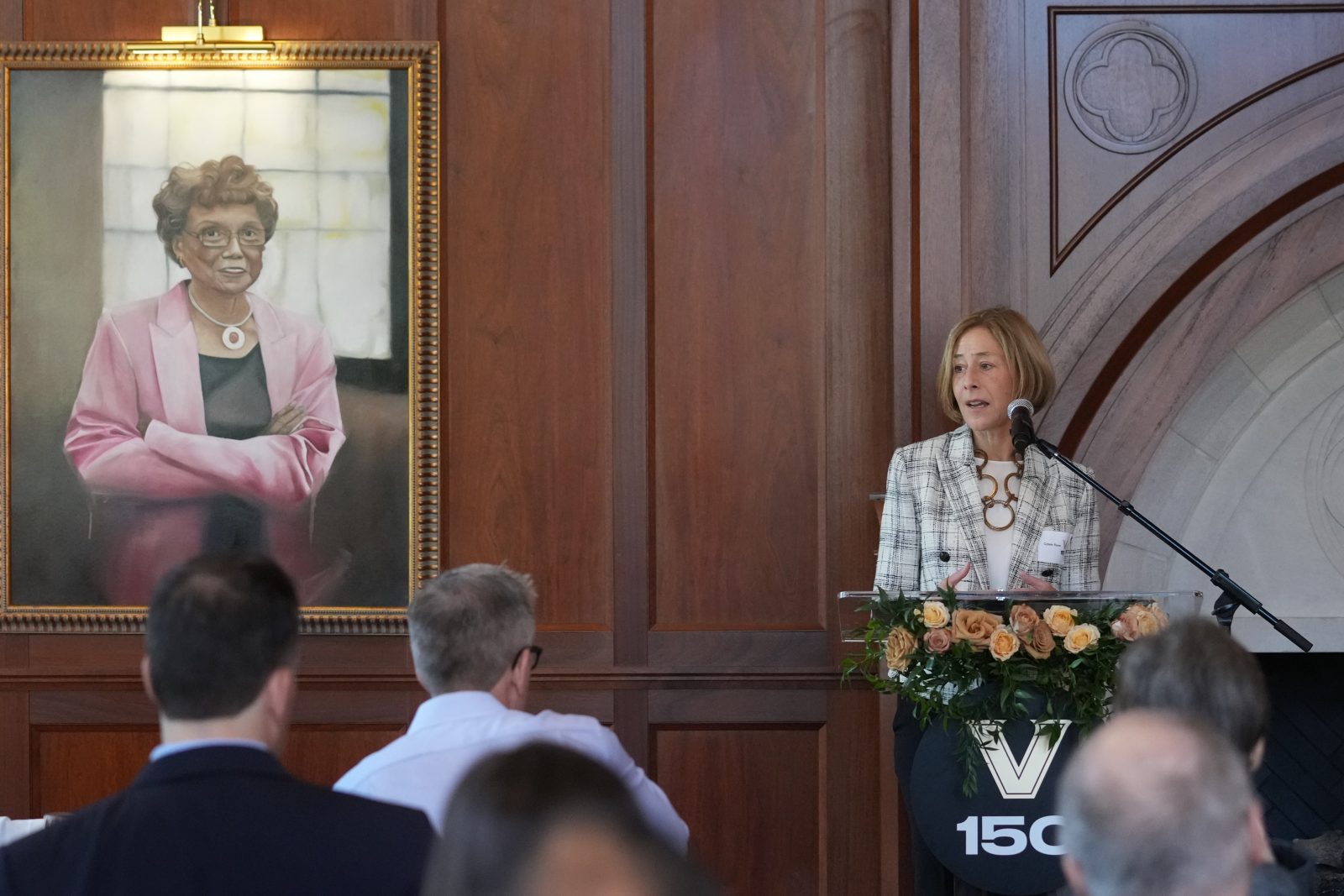 Six pioneering members of the Vanderbilt community who played significant roles in the university's history were honored at a portrait unveiling and reception as part of festivities kicking off Vanderbilt's yearlong Sesquicentennial celebration.
The latest portraits in the Vanderbilt Trailblazers initiative on view at E. Bronson Ingram College March 25 were those of the Rev. Beverly Asbury, Susan Gray, Russell G. Hamilton, Janie Greenwood Harris, Tommie Morton-Young and Susan R. Wente. Harris was in attendance at the event, as were the family members of Gray, Hamilton and Morton-Young. Portrait artist Donna L. Woodley was also in attendance.
"These individuals made our university a more equitable place. In so doing, they expanded our capacity as a powerhouse hub for innovation and discovery," said C. Cybele Raver, provost and vice chancellor for academic affairs. "They helped cultivate the radical collaboration and trans-institutional approach that can only happen in an environment where everyone feels supported and positioned for success."
The Vanderbilt Trailblazers initiative recognizes individuals in the Vanderbilt community who have broken barriers and made a positive impact both at the university and in society at large. Established in 2018, the portrait series seeks to expand the visual narrative of Vanderbilt's history and create welcoming, inclusive and accessible spaces with art that recognizes, reflects and celebrates the diversity within the Vanderbilt community. Through this project, the Trailblazers' legacy and heritage is preserved for future generations of students, staff and faculty.
"The Trailblazers represent key moments in our 150-year history," Raver said. "They are a constant reminder to us all to push boundaries and reach our full potential as scholars, leaders, mentors, peers and the trailblazers of our own pressing time."
The 2023 Vanderbilt Trailblazers
Portraits located in the E. Bronson Ingram College Great Room
The Rev. Beverly Asbury (painted by Sam Adoquei) received his undergraduate degree from the University of Georgia before enrolling at Yale Divinity School, where he earned a master's of divinity in 1953. Asbury became an ordained Presbyterian minister and held various appointments in North Carolina, Missouri and Ohio before being hired by then-Chancellor Alexander Heard. As university chaplain and director of religious affairs, Asbury founded Vanderbilt's Holocaust Lecture Series. Called the "With-it Chaplain" by students, Asbury was a lifelong advocate for racial justice, LGBTQ+ rights and interfaith understanding.
Susan Gray (painted by Donna L. Woodley) earned her master's and Ph.D. in psychology at Peabody College in 1939 and 1941, respectively. Holding the distinction of Peabody's first female psychology professor, Gray co-founded the Vanderbilt Kennedy Center and the nationally renowned Early Training Project. Her work is a model for early childhood development, and Gray is credited with inspiring President Lyndon B. Johnson's Head Start program. In 1986, the Kennedy Center's Experimental School was renamed the Susan Gray School in her honor.
Russell G. Hamilton (painted by Sam Adoquei) was hired by the university in 1984 to lead the Graduate School as dean of graduate studies and research, becoming the first African American to lead a Vanderbilt school or college as dean. He established the Graduate Student Travel Grant Program to help students with expenses when they traveled to present their research and initiated the Graduate Student Research Day. Under his guidance, the university made great strides in recruiting African American doctoral students and supporting them through the completion of their degrees.
Janie Greenwood Harris (painted by Donna L. Woodley) earned her law degree at Vanderbilt Law School in 1964, becoming the school's first female African American graduate. With a 37-year career spanning the federal government and corporate sector, Harris spent the first 12 years of her career working as an attorney for the Department of Defense, Department of Labor, Office of the Solicitor, U.S. Missile Command and the Government Accountability Office before transitioning to corporate law in 1976. In 1998, she was appointed by the U.S. secretary of labor to a four-year term on the Advisory Council on Employee Benefit Plans. In addition to her professional achievements, Harris has served in leadership positions in various community and civil rights organizations.
Tommie Morton-Young (painted by Jared Small) was the first African American student to graduate, in 1955, from Peabody College. In addition to holding several positions in government and higher education, she served as a lifelong activist for women, minorities and the disadvantaged. Morton-Young was active in numerous civic organizations as well as the Tennessee Judicial Council and the Davidson County Democratic Party. She was the first woman to chair the North Carolina Advisory Committee to the U.S. Commission on Civil Rights and founded the African American Genealogical and Historical Society of Tennessee and North Carolina.
Susan R. Wente (painted by Jared Small) was the first woman department chair in cell and developmental biology at Vanderbilt University. She served as the first woman provost and vice chancellor for academic affairs and was the first woman to lead the university in an interim capacity or otherwise. Her time at Vanderbilt was distinguished by her advocacy for women in science and the importance of equity and inclusion across all academic affairs. She is currently serving as Wake Forest University's 14th president.
Portraits of the 2019 Vanderbilt Trailblazers hang in the E. Bronson Ingram College corridor and include Kate Lupton, Dorothy J. Wingfield Phillips, K.C. Potter, David Williams II and Muhammad Yunus. The inaugural 2018 Trailblazers portraits include those of Bishop Joseph Johnson, the Rev. James Lawson, the Rev. Walter R. Murray and Perry Wallace.
The Vanderbilt Trailblazers Committee, which includes students, faculty and staff, oversees the initiative, determines honorees and decides where the depictions of Trailblazers will be permanently housed at the university.
Visit the Vanderbilt Trailblazers website to learn more about the initiative.
To read more about significant people, places and programs in Vanderbilt's history, visit the Sesquicentennial website.