Vanderbilt's residential colleges and the Margaret Cuninggim Women's Center will host New York Times bestselling author Julie Lythcott-Haims later this month; Lythcott-Haims will be a Patterson Fellow and will deliver this year's lecture on women, leadership and engaged citizenship. The lecture, "Your Turn: How to Be an Adult," will be on Thursday, March 23, at 5 p.m. in Alumni Hall, room 202. The Career Center, Student–Alumni Relations, Student Affairs and the Vanderbilt Child and Family Center are co-sponsoring Lythcott-Haims' visit to Vanderbilt.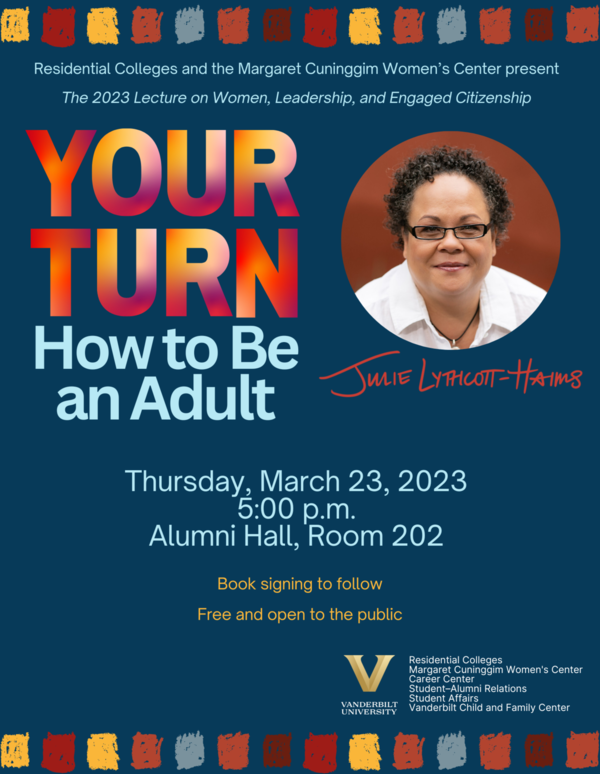 Lythcott-Haims' first book, How to Raise an Adult, gave rise to a popular TED Talk. Her second book is the critically acclaimed and award-winning prose poetry memoir Real American, which illustrates her experience as a Black and biracial person in white spaces. Her third book, Your Turn: How to Be an Adult, has been called a "groundbreakingly frank" guide to adulthood.
Lythcott-Haims holds degrees from Stanford, Harvard Law and the California College of the Arts. Before pursuing a career in writing, she served as Stanford University's dean of freshmen for a decade. She currently serves on the boards of Black Women's Health Imperative and Narrative Magazine and on the Board of Trustees at California College of the Arts. She was recently elected to the city council of Palo Alto, California. 
In addition to delivering her lecture, which is free and open to the public, Lythcott-Haims will meet with the Parenting Group at noon in Divinity 127 for "How to Raise an Adult," a lunchtime discussion on parenting. Please register here for the event; lunch will be provided.