Vanderbilt University, whose campus was first referred to as an arboretum in 1879 and is home to nearly 200 species of trees and shrubs, has flourished for nearly 150 years as a green spot amid Nashville's ever-expanding urban footprint. Now campus planners have developed an official tree replacement policy to ensure that Vanderbilt's tree canopy is preserved whenever building projects are initiated or trees die naturally.  
In line with canopy goals outlined through FutureVU, the university's land use framework for future development, the new policy will help campus partners think critically about designs that would avoid removal or damage to the root zone of significant trees. If trees must be removed or the root zone damaged, the policy provides guidelines for how to replenish the canopy.  
"All of Nashville, especially our Vanderbilt community, benefits from the 150 years of tree planting and stewardship on our campus," said James Moore, university landscape architect. "This policy is a recognition of that legacy and a new tool to help our partners plan their projects while planning for the future of the arboretum."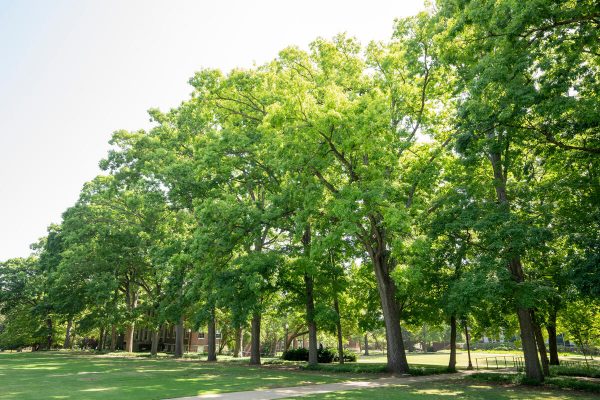 "Prioritizing sustainability is one of our primary goals, particularly in terms of our FutureVU initiative," said Eric Kopstain, vice chancellor for administration. "The new tree policy allows us to plan for sustainability, not only in considering the effect on the campus environment and tree canopy, but also in terms of wood that may be used from any trees that have to be removed." 
Project managers working on new construction now will submit a worksheet to the university landscape architect at the beginning of the project that outlines its impact on the site's trees before finalizing design and budget. If it is determined that a tree is impacted negatively, the sheet will detail the species and diameter of the tree to be removed, as well as what may happen to the wood.   
If a project cannot replant all the required trees within its boundary, the policy provides for the creation of a "tree bank" so that trees may be planted elsewhere on campus. These funds can also be used to support the campus landscape, improvements to infrastructure on the landscape or to sponsor planting and maintenance of trees in the wider Nashville community. This work will be summarized and reported back to the Arboretum Advisory Committee. 
The university landscape architect also will inspect all removed trees to decide if logs may be used for fabrication of furniture or other items. All new building projects, with oversight by steering committees, are encouraged to look for opportunities to reuse wood, either from the university's stockpile or from trees removed during construction. For example, red oaks that were removed for the Owen Graduate School of Management expansion were used to build conference room tables for the addition. For hardwood trees, the reuse process can take a full year from the cutting of the tree; it must be allowed to dry before pieces are fabricated from the wood. Because of this timing, it is important to start the planning process early so that appropriate and thoughtful consideration is given to how the wood is used.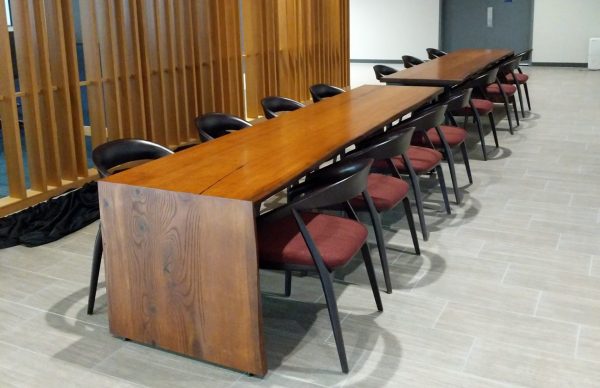 The Bicentennial Oak, which was Vanderbilt's oldest specimen at around 250 years old, fell Nov. 12 due to age-related decay. Wood from the bur oak—which was five feet in diameter—has been salvaged. Because of the significance of this special tree, a committee has been formed to assess possibilities for how to use the wood. Those plans will be announced later, along with a plan to commemorate the oak and its historic importance to Vanderbilt.    
Mike Perez, associate vice chancellor of facilities, said the establishment of the tree replacement policy will ensure that the campus canopy will not only be sustained but will continue to grow. "This policy encourages thoughtful design and construction methods to protect our mature trees. And it will provide a guide, using minimum standards, for the replacement of trees to support the future canopy of our campus and neighboring communities."