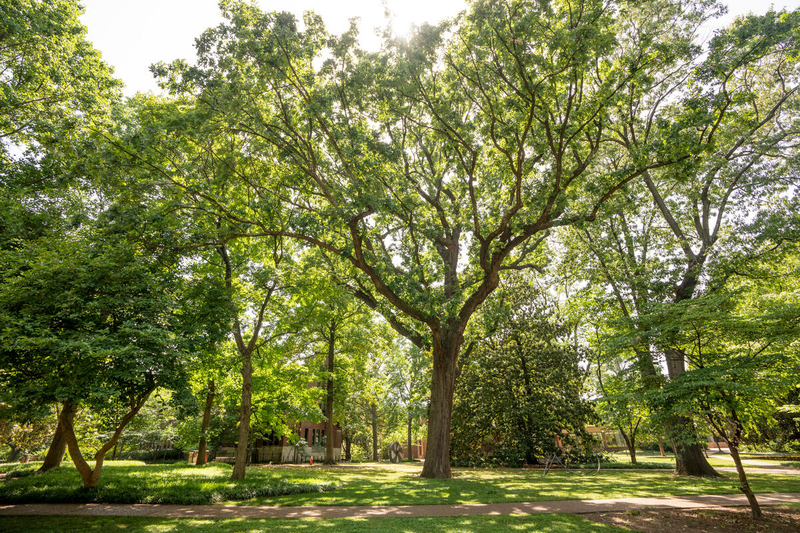 The Bicentennial Oak, the only tree on Vanderbilt's campus known to predate the founding of the university, succumbed to age-related decay and fell Nov. 12. Estimated to be some 250 years old, the bur oak was one of the most recognizable trees on campus, serving as a landmark near Garland Hall for generations of Vanderbilt community members.
As the Facilities Department has worked to safely remove debris and clear pathways in the area where the tree once stood, the remaining salvageable wood is being collected for possible reuse. In addition, the university is developing plans for the site that will commemorate the oak and recognize its historic importance to Vanderbilt.
"I was deeply saddened to learn about the loss of our beloved Bicentennial Oak. My friend and colleague James Moore emailed me on Sunday to share the sad news," said Eric Kopstain, vice chancellor for administration. "As we think about how to memorialize this majestic tree, we have an opportunity and responsibility not only to reflect on our past, but also to plan for the future, preserving and enhancing the historic park-like setting of campus for generations to come. Our FutureVU initiative will play an integral role in steering those conversations, and input from our community will guide our efforts."
Recognized as a landmark tree by the Tennessee Urban Forestry Council, the Bicentennial Oak was one of the three largest trees in the Vanderbilt University Arboretum before it fell. Its pillar-like trunk was 5 feet in diameter, and its branches buttressed a crown 100 feet wide.
In spite of its impressive age and size, the Bicentennial Oak nearly didn't survive past the 1960s. The tree was slated to be cut down in 1969 when the university planned a new social sciences complex in the center of campus. Students, however, intervened and formed the Save Open Space Committee in opposition to the project. Plans for the social sciences complex eventually were abandoned, extending the tree's remarkable life another 50 years.
The breathtaking sweep of history that the Bicentennial Oak witnessed over its lifetime was one of the many reasons why University Landscape Architect James Moore recently chose it as one of his favorite trees on campus. Not long before it fell, he shared the following observation about the tree while giving a tour of the arboretum.
"I like to stand underneath this tree and try to imagine the landscape around us when this tree just started to grow," he said. "Take a moment to picture it. This was farmland, with very few structures or other trees. This tree has persisted through 250 years of history, provided shade and beauty for at least 10 generations of Tennesseans, and outlasted the construction of everything you see around you. You can even see a large scar up the side of the trunk that we think was the result of a direct lightning strike. The survival of this tree is an incredible feat of persistence and strength."