Media Inquiries
Latest Stories
by Ann Marie Deer Owens
Growing worries among Grundy County, Tennessee, residents about cancer outbreaks within families, churches and neighborhoods have propelled a community partnership that draws on Vanderbilt University's strengths to develop environmental and health self-assessment tools.
"We are grateful to Vanderbilt for helping us obtain resources like water testing and GIS mapping that we could not access with only our small group of volunteers," said Crystal Rymer, a board member of the Grundy County Cancer Research Organization. Her husband died at age 40 from colon cancer three years ago. Rymer, a lifelong resident of Grundy County, said that cancer has affected every home on the road that circles her community.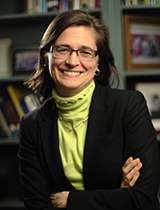 Brooke Ackerly, a Vanderbilt political scientist with a strong interest in environmental justice, is leading Vanderbilt's cross-disciplinary efforts to help Grundy residents collect relevant data. Ackerly learned of the residents' concerns while enjoying the county's beautiful natural areas. "After becoming friends with community members affected by concentrations and frequencies of cancer, I reached out to my colleagues in the College of Arts and Science," she said. "We came together as part of a Grand Challenge Initiative on global ecology and health to bring Vanderbilt expertise in support of a community-driven project."
This important project perfectly exemplifies the purpose of the Grand Challenge Initiative: to address the pressing challenges facing our community and our world," said John Geer, Ginny and Conner Searcy Dean of the College of Arts and Science and professor of political science. "In addition to engaging residents to help address a critical health concern that will impact their futures in meaningful ways, this effort also offers valuable educational opportunities for our students' immersive learning projects."
Christopher Vanags, director of the Peabody Research Office in the Peabody College of education and human development, and research assistant professor of earth and environmental sciences, joined Ackerly for discussions with the Grundy County Cancer Research Organization. "My role is based partly on my experience in hydrology and development of environmental monitoring instruments, but Grundy County is an area where I enjoy hiking with my children alongside creeks," Vanags said. "I had a personal as well as professional interest from the start."
Vanderbilt faculty at Grundy County High School
Vanags, along with Stevenson Professor of Chemistry John McLean and Katrina Leaptrot, PhD'18, research assistant professor of chemistry, are among Vanderbilt faculty who have traveled to the Grundy County High School cafeteria to teach biology and chemistry students about the science behind diagnostic tests on drinking water.
"With the Grand Challenge Initiative, we put a priority on citizen science to preserve the community leadership of projects and encourage public participation in scientific endeavor," McLean said. "I'm thrilled that we can help high school students not only embrace STEMM subjects, but also give them agency because many of them have relatives affected by cancer."
Leaptrot led a group of six Vanderbilt undergraduates who designed and put together about 200 water test kits for their formal immersion project. One of the benefits of distributing the test kits at Grundy County High School is that it is the only high school for the county, so a random sampling across a wide area is feasible.
"Each kit has a number on it that is linked to the test strips so that when the Grundy high school students submit their results, we can trace it back to the individual kit," Leaptrot said. "We used commercially available strips to test water for chlorine, alkalinity, sulfate, copper, iron, nitrate and more."
The study is developing ways to reach both a broad sampling across the county and an oversampling of data in suspected environmental toxicity hotspots. This provides the community with background knowledge about environmental risk factors, greater confidence in the current status of their environment and an understanding of how past conditions might affect the present.
Digital story mapping key research tool
"We know that significant strip mining occurred in Grundy County through the years and that some mining sites were later used for dumping—possibly adding to the environmental risks," Rymer said. She appreciates the insights already gleaned through the Digital Story Mapping Project led by Stacy Curry-Johnson, Vanderbilt librarian for geospatial data and systems. Curry-Johnson worked with Vanderbilt undergraduates and Metro Nashville Public School 10th and 11th graders in the School for Science and Math at Vanderbilt to build the story map.
"To create a story map, we take multiple data sets and ingest them into the software, creating 'layers' that can be used for interactive learning and preliminary analysis," Curry-Johnson said. "For example, we can look at what direction water is flowing based on terrain data. That information can begin to inform, perhaps based on locations of mines and farms, what communities or neighborhoods would be of interest to conduct testing for water quality. A story map is not predictive, but it can guide researchers on areas where they might want to do further sampling."
Curry-Johnson feels that this is one of the most rewarding projects she has contributed to at Vanderbilt. "The high school students really embraced the story mapping. They enjoyed working on a project with a meaningful, tangible purpose—in hopes of helping this community get some answers," she said.
Vanags, one of the co-founders of Vanderbilt's School for Science and Math, said that the Grundy County partnership is a prime example of how the university helps promising high school students learn how to do research and then translate those skills into a project addressing a societal problem. "Among the skills they learned is how to design a research electronic data capture survey in a way that gathers information without biasing opinions or behaviors," Vanags said.
While waiting on Institutional Review Board approval to go forward with research, Ackerly and her faculty colleagues spent the past year developing the project design, doing preliminary water analysis around Grundy's creeks and strengthening valued community relationships. Now that IRB permission has been granted, participating faculty and staff are ready to move full steam ahead.
"We are not trying to scare people who live here, but if we find the source of the concentrations and frequencies of cancer, hopefully it can be fixed," Rymer said. "At the very least, we will raise awareness of the problem. Many of our residents don't have access to health care. They don't get regular checkups. Part of our mission with the Grundy County Cancer Research Organization is to encourage people to have early screenings."
From the perspective of participating Vanderbilt faculty, one of the project's most important goals is providing Grundy County residents the tools to be able to monitor resources such as the water themselves.
"This is a stunningly beautiful area that Nashvillians and others from near and far travel to for enjoyment," Ackerly said. "So it's worrisome that a place beloved for its natural resources might be a source of toxicity for the people who make it their home. If we can help the residents pinpoint some of the sources and address them, or at least rule out something, then residents and visitors can live their lives with much more confidence in their surroundings.