Media Inquiries
Latest Stories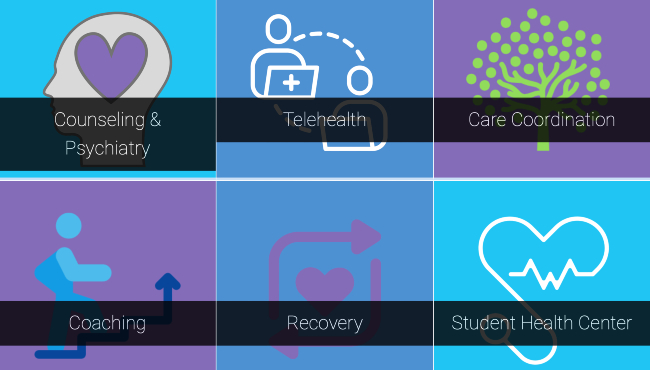 As the new semester begins, Vanderbilt's Student Care Network is highlighting the robust resources available to support undergraduate, graduate and professional students. The SCN is a holistic network of services and resources pertaining to health and wellness available to all Vanderbilt University students who are charged the Student Health Fee. The primary offices of the SCN are Student Care Coordination, the Center for Student Wellbeing, the University Counseling Center and the Student Health Center.
Student Care Coordination
SCC's job is to help students navigate and connect with campus and community resources that will best address challenges that may relate to academic, personal, emotional, medical, financial or any other needs. If you are interested in scheduling an in-person or virtual appointment with a student care coordinator, please visit SCC's website for more information.
SCC also offers Drop-in Care Coordination meetings so that students can meet quickly with a care coordinator to discuss any immediate needs. Drop-in Care Coordination for the spring semester began Jan. 17. Additional information can be found on SCC's website.
University Counseling Center
The University Counseling Center provides mental health assessment, support and treatment. New appointments for UCC services, including therapy and medication management, are managed through Student Care Coordination. UCC Drop-in Consultations are also available as a quick and informal way to connect with a counselor and are a good fit for students who:
are not sure about counseling and wonder what it's like to talk with a counselor;
are not interested in ongoing counseling but would like the perspective of a counselor;
have a specific problem and would like to talk it through with a counselor; or
have a concern about a friend and want some thoughts about what to do.
To note, UCC Drop-in Consultations are not meant for urgent mental health concerns. Instead, students are encouraged to connect with UCC Urgent Care for support in the event they are experiencing a mental health crisis.
The UCC also offers workshops and groups that offer a supportive and affirming space for students to develop coping skills and build connections. Visit the Groups and Workshops page for a full list of current offerings.
Center for Student Wellbeing
The Center for Student Wellbeing is a central part of Vanderbilt's Student Care Network. The mission of the CSW is to create a culture that supports the personal development and academic success of students using an integrative, holistic framework.
The CSW offers skill-building workshops, weekly well-being practices, coaching, the Peer Guide Program, recovery support and training opportunities to identify and respond to student needs.
Student Health Center
The Zerfoss Student Health Center serves the primary care needs of the Vanderbilt student community. There are no office co-pays for routine visits, and all registered students are eligible for care, regardless of insurance coverage. Learn more about available services and schedule an appointment through the SHC's website.
Self-directed tools and telehealth
The SCN offers a variety of self-directed tools and telehealth services to supplement campus resources. Vanderbilt Telehealth by AcademicLiveCare (VTALC) allows you to attend behavioral and physical health appointments on a smartphone, computer or other mobile device.
Vanderbilt students can access a free Headspace account. Headspace is a research-backed digital tool for mindful living with more than 1,200 hours of themed meditations, sleep content, mindful movement exercises and focus music.
My Student Support Program (My SSP) is a free, 24/7 confidential support program available to all international students. My SSP provides free access to confidential counseling services as well as a variety of well-being resources. Learn more about these resources on the self-directed tools page.
Satellite services
Satellite services are offered by the Student Care Network and other offices across campus. These services include resources to consult on a current concern, explore support options and establish connections with staff members.
Click here to view the Satellite Services schedule.
Crisis resources
Vanderbilt students can also connect with the following crisis resources:
Vanderbilt UCC – daytime and after-hours crisis support, 615-322-2571
Crisis Text Line (24/7) – text VANDY to 741741
Lifeline Chat (24/7) – org/chat
Vanderbilt Behavioral Health (24/7) – 615-327-7000
Suicide and Crisis Lifeline (24/7) – dial 988
Tennessee Centerstone Crisis Care Line (24/7) – 800-681-7444
Students of Color: Crisis Text Line – text STEVE to 741741
LGBTQ students under 25 years old: Trevor Lifeline – 866-488-7386
Trans Lifeline – 877-565-8860