Media Inquiries
Latest Stories
By Jenny Abrams
Nicole Joseph, associate professor of mathematics education at Vanderbilt Peabody College of education and human development, has been named associate dean for equity, diversity, and inclusion (EDI). Joseph takes over the role from Frank Mayborn Professor Duane Watson, in the Department of Psychology and Human Development, who was recently appointed associate provost in the Office of the Vice Provost for Faculty Affairs.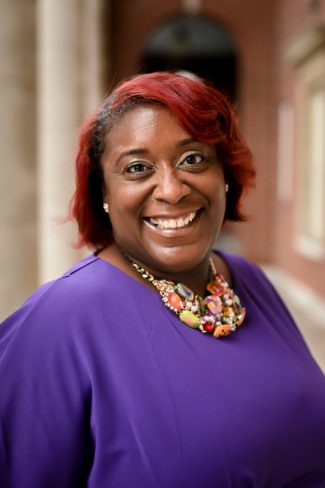 "I am looking forward to continuing the great programming already established by Duane Watson and Hasina Mohyuddin, assistant dean of equity, diversity, and inclusion," said Joseph. "I have a plan to incorporate program evaluation and research to assess efforts towards increasing equity, diversity, and inclusion for the Peabody community. Conducting this research will contribute to courageous conversations needed to be had as they relate to systems and structures that uphold hegemony in the ivory tower."
Joseph, who also directs the Joseph Mathematics Education Lab (JMEL), teaches in the Department of Teaching and Learning and has a vested interest in the topic of diversity. Her research explores Black women and girls' experience and identity in mathematics and how their underrepresentation in mathematics is shaped by whiteness and white supremacy. In 2019, Joseph won Vanderbilt's Chancellor's Award for Research on Equity, Diversity, and Inclusion.
"Nicole Joseph's commitment to students, research, and leadership within Peabody College make her a natural fit for this position," said Camilla P. Benbow, Patricia and Rodes Hart Dean of Education and Human Development. "We are very excited for Nicole to step into this role. We also extend our gratitude for all the accomplishments made by Duane Watson during his time as Peabody's first associate dean for equity, diversity, and inclusion."
Through educational programming and resources and by expanding opportunities for underserved populations, the mission of the Peabody Office of Equity, Diversity, and Inclusion is to co-create an equitable and inclusive culture to ensure that all students, faculty, and staff feel welcomed, supported, and part of the Peabody community.
A Meet and Greet event to welcome Dean Joseph to her new position will take place on Wednesday, January 25 from 3-4:30 pm in the Cohen Memorial Fine Arts Gallery, in conjunction with a Peabody Professional and Graduate Student Social. All Peabody faculty and staff are invited.