Media Inquiries
Latest Stories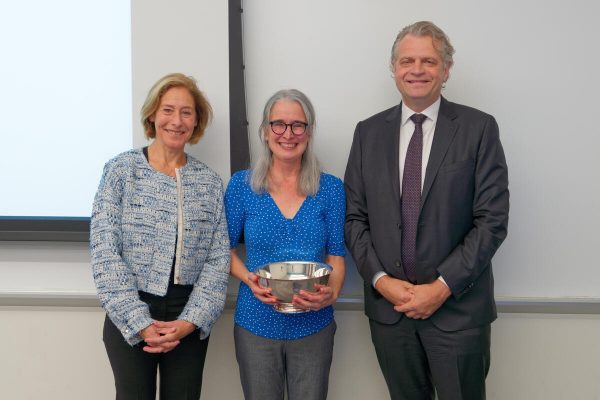 Megan Saylor, professor of psychology and human development at Vanderbilt Peabody College of education and human development, has been awarded the 2022 Chancellor's Cup for her remarkable teaching and mentorship of undergraduate students.
Chancellor Daniel Diermeier presented Saylor with the award on Nov. 29 during a surprise visit to her Language Development class.  Also in attendance were Provost and Vice Chancellor for Academic Affairs C. Cybele Raver, Vice Provost for Faculty Affairs Tracey George, Vice Provost for Undergraduate Education Tiffiny Tung and Camilla P. Benbow, Patricia and Rodes Hart Dean of Education and Human Development at Peabody College.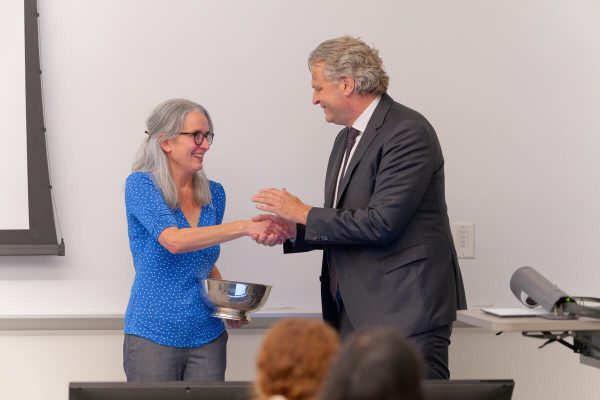 "We proudly recognize Professor Saylor's well-deserved reputation as an undergraduate teacher and mentor," Diermeier said. "Through her teaching, she has enhanced our undergraduate experience, and, by connecting so many students with faculty mentors, she has helped make discovery and the generation of knowledge something that everyone at Vanderbilt can do."
Saylor, who joined Peabody in 2001 after earning her doctorate at the University of Oregon, has advised 19 students on their senior theses. For four years, she has led her department's efforts to match majors with research mentors and served on all honors theses committees. Last year, she mentored 33 undergraduate students. In addition, she directs the Peabody Scholars Program, the highly selective undergraduate honors program.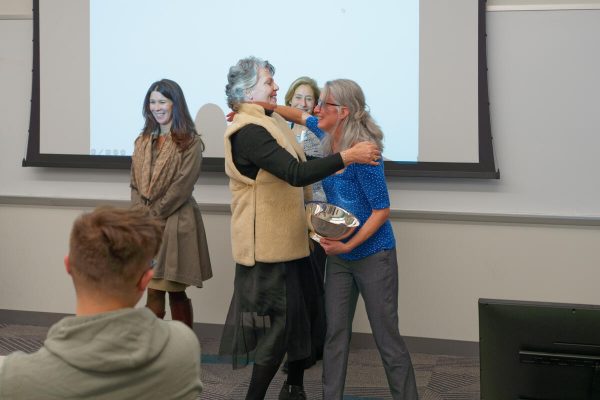 "Meg Saylor models well the qualities we hope to find in a university professor. She is an adept scholar who advances knowledge, but crucially, she also is committed to teaching students, supporting their intellectual and personal growth and advocating for their success," said Benbow, who nominated Saylor for the award.
Saylor focuses her research on how children learn about language and the mind. In recent studies she has looked at the intersection between language and representation. She was elected as a fellow in the Association for Psychological Science in 2020. Other previous honors for Saylor include the Ellen Gregg Ingalls Award for Excellence in Classroom Teaching, the David Schleyer Faculty Award for Outstanding Mentoring of Undergraduates, and the Peabody Award for Excellence in Classroom Teaching.
She is associate editor of the Journal of Experimental Psychology and serves on the editorial board of Cognition and Development.
Established by the Nashville Vanderbilt Club in 1963, the Chancellor's Cup is awarded annually for the greatest contribution outside the classroom to undergraduate student-faculty relationships in the recent past. The faculty member's contribution is one of educational importance, relevant to the central purpose of the university.
Saylor expressed gratitude for the award, which includes a cash prize contributed by the Nashville Vanderbilt alumni chapter, an engraved pewter cup as a permanent trophy and one year's custody of the Tiffany and Co. silver bowl that bears the names of past Chancellor's Cup recipients.