The Vanderbilt University MoveVU program received the Tennessee Sustainable Transportation Award at a special ceremony Nov. 9 during the Tennessee Sustainable Transporation Forum and Expo.
The expo is an annual event organized by the Tennessee Department of Environment and Conservation, the Tennessee Department of Transportation and Tennessee Clean Fuels.
"Vanderbilt is well on its way to meeting its sustainability goals, and the MoveVU initiative plays no small role in that," said Eric Kopstain, vice chancellor for administration. "We are honored to be recognized by the state of Tennessee for our sustainable transportation efforts, which provide options and resources for our employees to reduce their—as well as our collective—carbon footprint."
On Earth Day 2019, Vanderbilt committed to achieving carbon neutrality by 2050. MoveVU aims to give commuters more options to choose from when making their daily decision about how they will travel to and from campus. In part due to MoveVU initiatives, the university's latest annual sustainability report for fiscal year 2022 shows that Vanderbilt's greenhouse gas emissions have dropped 19 percent overall and 23 percent per square foot since fiscal year 2020, among other goals.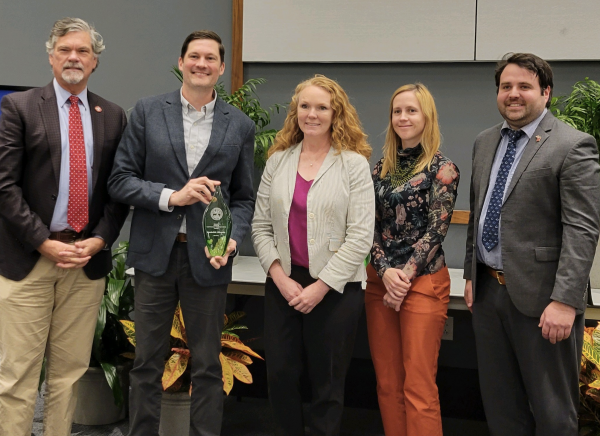 Vanderbilt Director of Mobility Michael Briggs and Janey Smith Camp, research professor of civil and environmental engineering and director of the Vanderbilt Engineering Center for Transportation and Operational Resiliency, accepted the sustainable transportation award Nov. 9.
"As the largest private employer in the Nashville region, Vanderbilt continues to lead in sustainable transportation programs," Briggs said upon accepting the award. "Our commuters will be pleased to see that our mobility programs continue to thrive thanks to support from the Tennessee Department of Transportation. MoveVU is setting the example for other employers across Middle Tennessee."
Elements of the MoveVU program recognized by the TSTA award include:
About MoveVU


MoveVU is Vanderbilt's strategic transportation and mobility plan that falls under the FutureVU comprehensive campus planning efforts and is a highly collaborative partnership between Vanderbilt's School of Engineering and the Division of Administration. The vision of MoveVU calls for a transformation in how the Vanderbilt community commutes to campus, with less reliance on single-occupancy vehicles and parking lots and a greater focus on sustainable commute modes, green spaces and a forward-thinking use of limited downtown space. Visit the MoveVU website to learn more about the university's strategic transportation and mobility plan as well as commute concierge services that are available to assist the Vanderbilt University community with daily travel decisions and help reduce personal carbon footprint.