Media Inquiries
Latest Stories
by Amy Wolf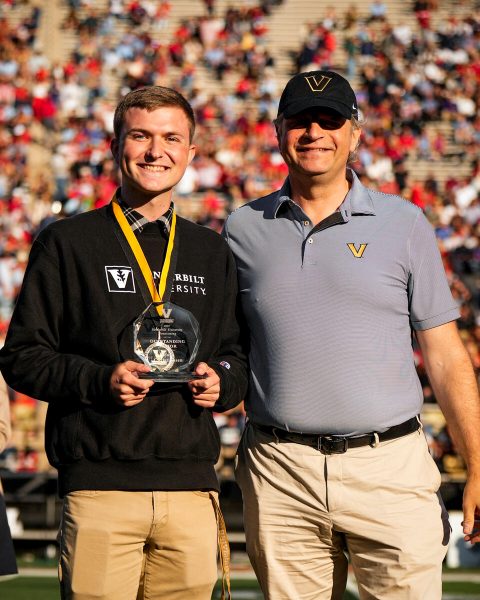 Chemical engineering major Blake Christiansen has never met a stranger. Within minutes of introducing himself to someone, the resident adviser and Naval ROTC leader is already looking to build a meaningful connection, asking them questions about themselves and sharing a laugh or two as he gets to know them.
This talent for cultivating fellowship and belonging helped earn Christiansen this year's Outstanding Senior award, one of Vanderbilt's highest undergraduate student honors. The award recognizes a senior who exemplifies the values of the university community through leadership, service and passion.
Christiansen was among 10 finalists for the award who were honored during halftime at the Homecoming football game on Oct. 8.
"I was shocked when I was nominated, because I'm not the head of a student organization or someone who has the ability to make sweeping changes across campus," Christiansen said. "But I work hard to interact with individuals and see people as human beings. I think trying to make one person feel included could be a sweeping change in that person's life."
"I think trying to make one person feel included could be a sweeping change in that person's life."
"Blake is the most upbeat and optimistic person I know," said Kane Jennings, professor of chemical and biomolecular engineering. "I think he really focuses on the positive aspects of life, and he is truly a pleasure to work with."
FINDING COMMUNITY
Christiansen, who grew up in the rural town of Hazel Green, Alabama, admits that he initially struggled with culture shock at Vanderbilt and contemplated transferring in his first few weeks. He reconsidered, however, after forming a friendship with an RA on The Martha Rivers Ingram Commons.
"It was really a pivotal moment, because thanks to that RA, I was able to find an initial circle of friends that made me feel safe," he said. "And she inspired me to apply to be an RA myself."
Christiansen has worked enthusiastically in residential housing since his sophomore year and is now head resident of Gillette House on The Ingram Commons.
"I fell in love with The Commons all over again. That's where I think campus happens and where community is the strongest," he said.
CHEMICAL ENGINEERING CAMARADERIE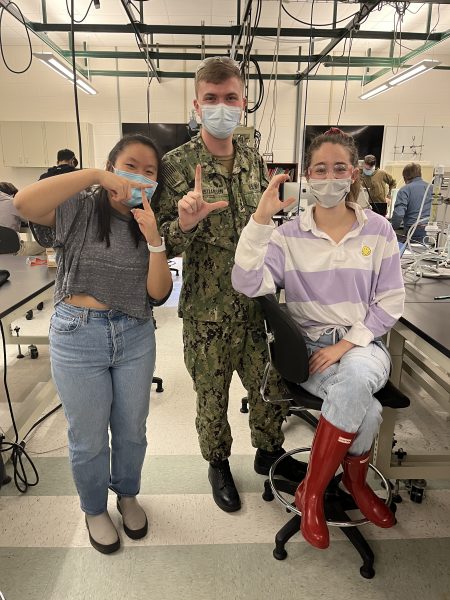 Christiansen credits his high school AP chemistry teacher with igniting his enthusiasm for chemistry. As he has worked through challenging courses and research at Vanderbilt, that enthusiasm has continued to grow thanks to the community he has found among his fellow chemical engineering majors.
"We're a loud, rowdy and probably annoying bunch, and we all just like each other and support each other," he said, laughing.
Christiansen has been working in the Jennings Lab at the School of Engineering for two years. Before he graduates, he will be a second author on a paper that looks at a way to pull energy from plants.
"Blake and his graduate student mentor have been developing a new way to combine photosynthetic proteins from green plants with conducting polymers for biohybrid solar energy conversion," Jennings said. "Blake is a good experimentalist and is also strong with data analysis and number crunching."
NAVAL COMMUNITY
When Christiansen isn't in the lab or helping first-year students, he is busy serving as the battalion executive officer of the Naval ROTC on campus. The role entails running the day-to-day operations of the unit.
"I've been wearing a Navy uniform since freshman year of high school," he said. "I don't know much about corporate America, but I doubt there are many organizations like the military where you work and live so closely together and care so much about each other."
After graduation, Christiansen will become an officer in the U.S. Navy and train to be a nuclear engineer. He anticipates that living on a massive aircraft carrier will be somewhat like being in a residence hall, providing opportunities to meet new people and form connections.
Beyond the Navy, Christiansen said a dream job would bring him back to Vanderbilt someday.
"I might need to become a college professor back at Vandy," he said, "because I would absolutely love to be a faculty head of house."