M. Eric Johnson, who has led the Owen Graduate School of Management through a period of momentum and growth in innovative programs, research collaborations, world-class facilities, alumni engagement and more, will not seek renewal as dean when he finishes his second term of service in June 2023.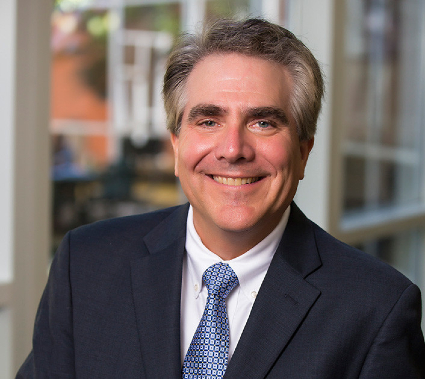 Johnson, Ralph Owen Dean and Bruce D. Henderson Professor of Strategy, will return to the faculty in 2024 after a sabbatical.
"Under Eric Johnson's skillful leadership, the Owen School has flourished and risen in national stature while maintaining a uniquely caring and collaborative community," Chancellor Daniel Diermeier said. "We are grateful for his commitment to providing a world-class business education that is distinguished by its focus on individual student development."
Johnson first joined Vanderbilt in 1991 and taught at the Owen School for eight years, the last three of those as a tenured associate professor of operations. He won the Dean's Teaching Excellence Award twice. Johnson then spent 14 years at Dartmouth College in leadership roles with the Tuck School of Business before returning to Owen as its seventh dean in 2013.
Johnson has received high marks for his ability to work across disciplines and schools to forge new collaborations. In 2017, he helped launch a trans-institutional undergraduate minor for business study, with Owen faculty teaching a core set of business fundamentals.
Perhaps the most visible of Johnson's accomplishments has been the $55 million renovation and expansion of Management Hall, the first donor-led building project in Vanderbilt's history. With the new facility opening this fall, the school's space has grown by 50 percent, adding flexible learning spaces and gathering areas that provide more opportunities to connect with the Nashville business community. Johnson also oversaw major donor-funded renovations of the Walker Management Library and the H. Laird Smith Courtyard. The endowment during his tenure grew by more than 60 percent, reaching $450 million.
Under Johnson's leadership, Owen has maintained an upward trajectory in national rankings of business schools, including a consistent top-25 ranking by U.S. News & World Report. The school continues to demonstrate strong employment results, with a U.S. News listing of No. 21 for graduates employed at graduation and No. 18 for graduates employed three months after graduation.
"Eric Johnson has played such an important role in placing Owen and Vanderbilt on a strong upward trajectory—he has been a terrific partner in collaborating with me, with other deans, faculty and alumni in growing Owen's academic programs and collaborations across disciplines and schools," said C. Cybele Raver, provost and vice chancellor for academic affairs. "He has demonstrated deep dedication to training the next generation of business leaders through Owen's degree-granting programs, and our Owen alumni success is a testament to his legacy as a foundational dean for Owen and Vanderbilt."
Johnson has worked to recruit stellar faculty and expand faculty diversity across a variety of research areas and levels of seniority. He also oversaw the launch of the Vanderbilt Master of Marketing degree program, which is designed to put graduates on a fast career path in companies of all sizes, and more than doubled the enrollment in Owen's Young Professional Programs over the past five years.
Three of Owen's four research centers originated during Johnson's deanship. The Turner Family Center for Social Ventures, founded in 2015, brings graduate students together from across the university to develop market-based solutions to alleviate poverty. Both the Center for Health Care Market Innovation, which conducts research related to the business of health care, and the Center for Entrepreneurship, which creates the structure and resources necessary for students to pursue their entrepreneurial goals, were established in 2016.
Johnson's teaching and research have focused on the impact of information technology on the extended enterprise, meaning an organization's network of partner relationships. He has a strong research-based interest in the role of information technology in improving health care quality and reducing its cost. Johnson has authored patents on interface design and testified before Congress on information security. He also anchors a video series on business and blogs about leadership.
"Leading the Owen School—a special community noted for its can-do spirit and collegiality—has been a tremendous honor for the past decade," Johnson said. "And in recent weeks, I have been especially gratified to be able to welcome new and returning students and alumni to our spectacular new spaces for learning and discovery. The dividends from our continued investments in people and programs ensure a bright future for Owen, and I am excited for the school's next chapter."
Johnson earned a doctorate in industrial engineering and engineering management from Stanford University in 1991. He also earned a master of science and a bachelor of science from Pennsylvania State University, where he graduated with honors.
Johnson has written for research and scholarly journals that include Harvard Business Review, Health Services Research, Management Science, Production and Operations Management and Journal of the American Medical Informatics Association. His writing and expert commentary have been featured in global media outlets such as The Wall Street Journal, USA Today, Associated Press, The New York Times and Bloomberg News.
He currently serves on the board of the Greater Nashville Technology Council and the advisory board of Nashville Capital Network.
In the private sector, Johnson has worked for Corvette America Inc., General Motors, Systems Modeling Corp. and Hewlett-Packard. He has consulted with global companies that include Accenture, Nike, Nokia, Oracle and Philips Healthcare.
Details on an international search for Johnson's successor will be announced later.