Media Inquiries
Latest Stories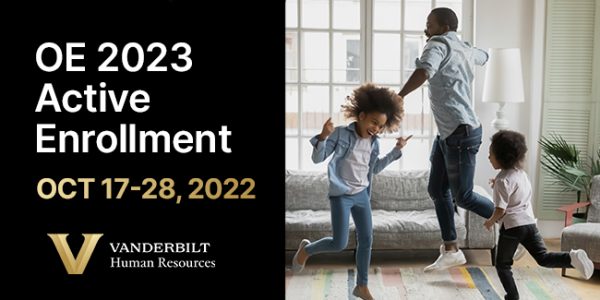 Open Enrollment is the annual opportunity to elect the benefits that best meet the needs of you and your family. All benefits-eligible employees must complete Open Enrollment for calendar year 2023 benefits. 
Enrollment is open now and ends at 11:59 p.m. CT on Oct. 28. Elections will take effect Jan. 1–Dec. 31, 2023, and cannot be changed after the enrollment period closes, unless you have a qualifying life event.  
This year, all eligible employees must elect a health plan or waive coverage. If you do not complete the enrollment process, you will be defaulted into the Choice Consumer-Driven Health Plan (Choice CDHP) at your current individual or family coverage level. 
Enroll during the first week for a chance to win a prize
Full-time benefits-eligible faculty and staff who make less than $100,000 per year are eligible to win a gift up to $100 in value. Winners will be randomly selected after Open Enrollment is complete.  
Log in to MyVU Benefits to elect, make changes to or waive coverage for: 
Health, dental and vision insurance

 

Accidental death and dismemberment (AD&D) insurance

 

Health care flexible spending account (FSA), which reimburses eligible medical expenses for you and your dependents

 
Dependent care FSA, which reimburses eligible dependent-care expenses

 
NOTE: You can only select the 2023 benefits described above during Open Enrollment (or within 30 days of a qualifying life event, such as getting married or having a baby).  
 You must log in to MyVU Benefits to: 
Confirm current elections

 

Confirm dependent and beneficiary information

 
Attest to whether you and your covered family members are tobacco-free (eligible employees can save $20 per month on health care premiums)

 

Attest to whether your spouse is eligible for coverage elsewhere. If you carry coverage for your spouse who has access to health insurance through another employer—including Vanderbilt University Medical Center—you will pay a spousal fee of $100 per month in addition to the monthly premium.

 
We are here to help
If you need help enrolling using the My VU Benefits portal, check out the how-to-enroll guide. 
On-campus lab
The Benefits team will be on campus at Sarratt Room 189 on Thursday, Oct. 20, from 7 a.m. to 5 p.m. CT to assist with answering your benefits and Open Enrollment questions.  
Learn more about Open Enrollment and sign up for 2023 benefits at vu.edu/oe.