U.S. Sen. Marsha Blackburn (R-TN) and Congressman Mark Green (R-TN07) visited Vanderbilt University recently to learn more about the Army Futures Command Pathfinder Program partnership with Fort Campbell, research and education related to Latin America, and university efforts to educate and employ veterans.  
Chancellor Daniel Diermeier hosted Blackburn and senior leaders from Fort Campbell, including Col. John Lubas, deputy commander for operations of the 101st Airborne Division, on Vanderbilt's campus. Organized by the Office of Federal Relations and in partnership with the Office of the Vice Provost for Research and Innovation and Vanderbilt Communications and Marketing, the visit built on prior meetings on Capitol Hill related to Vanderbilt and the University of Tennessee's growing partnership with Army Futures Command and Fort Campbell.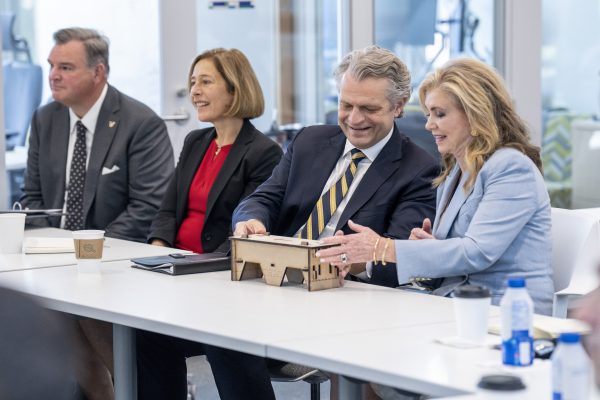 The campus visit gave Blackburn a more robust, in-depth look into the Pathfinder-funded research taking place at Vanderbilt in close coordination and collaboration with partners at Fort Campbell, including the 101st Airborne Division, 160th Special Operations Aviation Regiment and 5th Special Forces Group. Hosted at the Wond'ry, Vanderbilt's Innovation Center, with an introduction to the facility from Evans Family Executive Director of The Wond'ry David A. Owens, the visit also demonstrated how Pathfinder-funded and soldier-inspired innovations are transitioning into the commercial marketplace. 
"Having Sen. Blackburn and her staff on campus, alongside representatives from Fort Campbell, was a powerful display of the types of collaboration happening right here in Tennessee," Vice Chancellor for Government and Community Relations Nathan Green said. "Sen. Blackburn has been a great champion for this program and a great partner to Vanderbilt in advancing soldier-inspired innovation. We look forward to working with her and her office to advance this partnership." 
Participants in the visit included Vice Provost for Research and Innovation Padma Raghavan; Douglas Adams, Daniel F. Flowers Professor and Distinguished Professor of Civil and Environmental Engineering; Kevin Galloway, research assistant professor of mechanical engineering and director of making; Tonia Rex, professor of opthalmology and visual sciences; Jason Valentine, associate professor of mechanical engineering and deputy director of the Vanderbilt Institute of Nanoscale Science and Engineering; and Karl Zelik, associate professor of mechanical engineering, biomedical engineering and physical medicine and rehabilitation and chief scientific officer and co-founder of HeroWear.  
This visit built on one earlier in the summer by the national security teams for Blackburn and Sen. Bill Hagerty to see Pathfinder-funded research. 
Following the technology demonstrations and discussion, Diermeier and Blackburn participated in a press availability attended by news outlets including NewsChannel 5 , WKRN and the Nashville Post.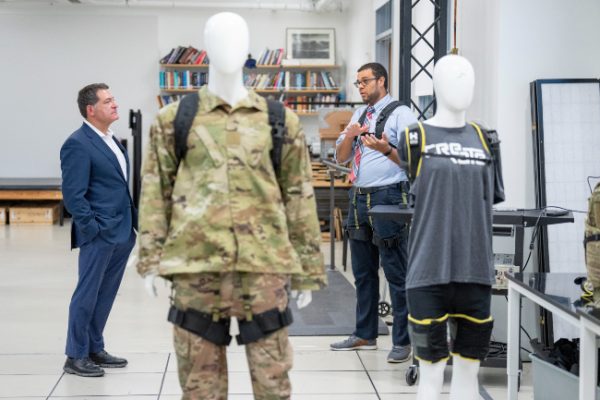 On the heels of that visit, the Office of Federal Relations hosted Congressman Mark Green (R-TN07) and his Chief of Staff Stephen Siao, BA'13, on campus to connect Green with the same researchers heavily involved with the Army Futures Command Pathfinder partnership. Green has a military background and serves on the House Armed Services Committee.  
OFR highlighted additional ways Vanderbilt is engaging with Fort Campbell as well as veterans more broadly, both as an institution of higher education and an employer of choice through the Department of Defense SkillBridge program and partnerships with organizations such as the Nashville Area Chamber of Commerce.  
Given Green's role as the ranking member of the House Foreign Affairs Subcommittee on the Western Hemisphere, Civilian Security, Migration and International Economic Policy, OFR connected him with faculty involved in research and education related to Latin America through the Center for Latin American, Caribbean and Latinx Studies and LAPOP.  
"We're always excited to connect policymakers with campus-based experts and information," Associate Vice Chancellor for Federal Relations Christina West said. "Given Rep. Green's committee assignments, we want him to be aware of the research and outreach our professors do related to Latin America and how we can serve as a resource. His district's proximity to Fort Campbell, plus his own military background, lend themselves to a strong partnership with him on defense- and veteran-related priorities." 
Other participants in Green's visit included Provost and Vice Chancellor for Academic Affairs C. Cybele Raver; Raghavan; Adams; graduate student in neuroscience Amy Stahl; Josh Caldwell, professor of mechanical engineering and Flowers Family Chancellor's Faculty Fellow; Ralph Shulz, president and CEO of the Nashville Area Chamber of Commerce; Bass Military Scholars program director Ret. Gen. Scott Brower; former Bass Military Scholar and former 160th SOAR Craig Kuphall; current Bass Military Scholar Lucas Hodge; CLACX Executive Director Avery Dickins de Girón; LAPOP Director Elizabeth J. Zechmeister; LAPOP Associate Director Noam Lupu; Claudia Bergheger, manager of executive projects in the Office of the Chancellor; SkillBridge program manager Lydell Francis; and additional faculty involved with the Pathfinder program. 
Vanderbilt's main campus will be located in Tennessee's 7th Congressional District beginning in January 2023, where Congressman Green currently holds a seat.