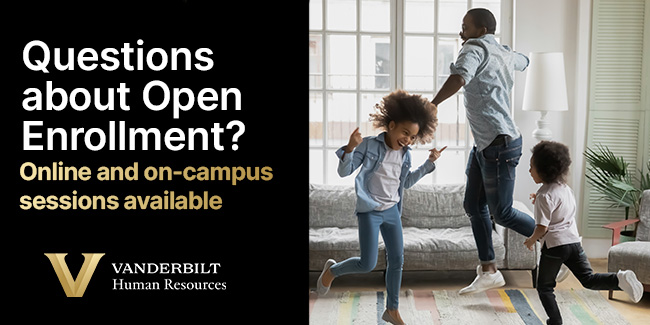 Open Enrollment is the annual opportunity to elect the benefits that best meet the needs of you and your family. All benefits-eligible employees must complete Open Enrollment during October 2022 for calendar year 2023 benefits.
Enrollment begins at 8 a.m. CT on Oct. 17 and ends at 11:59 p.m. CT on Oct. 28. Elections are effective Jan. 1–Dec. 31, 2023, unless you have a qualifying life event.
We are here to help
If you need help enrolling via the My VU Benefits portal, check out the how-to-enroll guide.
Online enrollment labs
Due to health and safety concerns and Human Resources staff working remotely, we will be offering virtual one-on-one meetings. Please see the schedule below. To register for a 15-minute slot, sign up here. In order to meet the needs of all faculty and staff, we ask that you review the Detailed Enrollment Guide and come prepared with your specific questions. Note: These sessions are meant to help answer benefits-related questions, not to walk you through the enrollment process or site.
Tuesday, Oct. 11, 8 a.m.–noon
Wednesday, Oct. 12, 10 a.m.–2 p.m.
Thursday, Oct. 13, 1–5 p.m.
On-campus lab
The Benefits team will be on campus at Sarratt 189 on Thursday, Oct. 20, from 7 a.m. to 5 p.m. to assist with answering your benefits and Open Enrollment questions.
Learn more about Open Enrollment and sign up for 2023 benefits at vu.edu/oe.