Media Inquiries
Latest Stories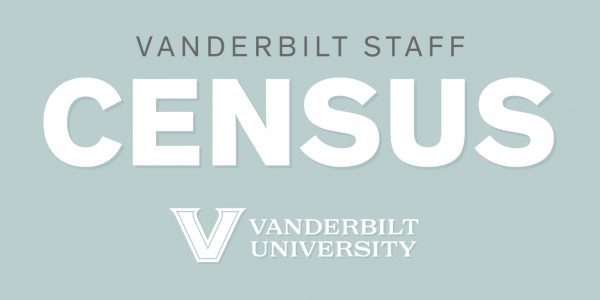 Vanderbilt University wants to expand its understanding and support of the campus community by encouraging staff members to participate in the staff census now through Oct. 31. The census typically takes about 10 minutes to complete.
Fifty staff who complete the census early by Oct. 21 will be randomly selected to win $100 each. Winners will be contacted in early November.
The census is a priority initiative of the university's Future of Work committee, which has brought staff together from across the university to develop strategies to recruit and retain outstanding staff members and help them reach their full potential as employees. Other Future of Work projects so far include expanded paid parental leave and university-wide exit surveys.
The census is divided into two parts, with participants first being asked to confirm and supplement existing demographic data, and then to answer additional questions in a voluntary and anonymous supplementary survey. The anonymous questions in the supplementary survey are not connected to staff members' records in any way. A full instruction guide for completing the census can be found on the census website.
The Future of Work committee realized that a targeted effort to improve the accuracy of staff data was needed to ensure that university decisions are based on complete and up to date information about Vanderbilt staff. The census was also motivated by the recognition that data should reflect inclusionary best practices.
In the new census, gender options have been updated to reflect a broad range of identities. It will soon be possible to have your preferred name on your Commodore Card, and this census is the first step in that process. Those with non-U.S. citizenship can share their citizenship if they choose. Certain groups such as veterans are not easily identified in the existing employee data, making it difficult to support these groups and track the impact of initiatives.
All new items are optional, but additional data will help provide a more accurate understanding of the university community. Staff will also have the option to learn more about the Office of Equity, Diversity and Inclusion and provide their contact information if they are interested in their programming. More information on name changes for faculty and staff can be found on the EDI website.
"We want to know our staff better so we can improve their overall work experience," said Eric Kopstain, vice chancellor for administration. "By filling out this census, staff can help us more accurately represent our true community, including chosen affiliations and self-identification."
After the census, summarized, aggregated information will be shared publicly.
"Your responses will contribute to a better understanding of Vanderbilt's full diversity to build a stronger community of belonging," said Dr. André L. Churchwell, vice chancellor for equity, diversity and inclusion and chief diversity officer. "The results of the census will allow us to identify whether there are lesser-known groups and consider how we can best celebrate and support the full diversity of Vanderbilt's population, including through additional affinity groups and activities coordinated with the Office of Equity, Diversity and Inclusion."
Staff who do not have regular access to a computer can fill out the census with their managers during Open Enrollment in late October and receive in-person assistance during the Open Enrollment lab on Oct. 20, from 7 a.m. to 5 p.m., in Sarratt Room 189.
The census is being managed by the People Data and Analytics Strategic Framework working group, within the Future of Work initiative. This group is charged with improving Vanderbilt's strategic data and analytics about employees to increase the value of these data for decision-making purposes. The committee includes campus partners from multiple areas, including Administration, Compliance, IT, Human Resources and the Office of Data and Strategic Analytics.