Media Inquiries
Latest Stories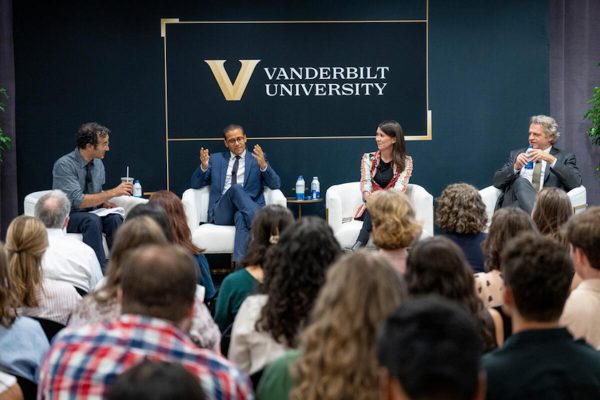 Academic experts and university leaders came together with the VUcept peer mentor group for a candid conversation about freedom of expression at Vanderbilt University on Aug. 22. The discussion, held on The Martha Rivers Ingram Commons, centered on the importance of open discourse in providing the necessary conditions for transformative education and pathbreaking research.
The conversation featured Chancellor Daniel Diermeier, Vice Provost for Undergraduate Education Tiffiny Tung and free speech expert Jacob Mchangama. Jad Abumrad, founder of Radiolab and Distinguished Research Professor of Cinema and Media Arts and Communication of Science and Technology, moderated the hourlong discussion.
"We are members of a unique living-learning community, and we should treat each other with respect and understand that we can see things differently, even on issues that we feel passionately about," Diermeier said during the discussion. "That means being willing to listen and having an openness to see the possibility that somebody else may have an argument or a set of data that you haven't considered. I think deep down this is at the core of what a transformative education is all about."
Tung talked about learning the skills needed to engage in tough discussions in a healthy and productive way.
"We as faculty work really hard to make sure that you have the space to communicate and share ideas and disagree with a professor or with your peers," said Tung, who is also the Gertrude Conaway Vanderbilt Professor of Social and Natural Sciences and professor of anthropology.
The panelists took questions from students in the audience on topics such as activism, campus protests and debate around marginalized communities. Mchangama brought a perspective about what he calls the current "free speech recession."
"I'm particularly concerned about the danger of taking free speech for granted," said Mchangama, founder and executive director of Justitia, Denmark's first judicial think tank, and author of Free Speech: A History from Socrates to Social Media. "Free speech in many ways is the most powerful engine of human equality that humankind has ever stumbled upon. And that's why I think that it's incredibly important that we hold on to it."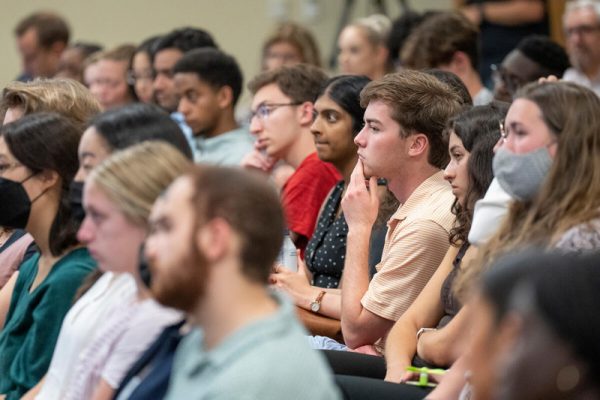 The event was held during Welcome Week for incoming undergraduate students, and the VUceptor leaders in the audience will continue the conversation from the panel with their first-year Visions groups this fall.
As Abumrad noted to the students in the audience, "You will inevitably find yourself in uncomfortable conversations because that's part of what college is about, exploring other people's minds and growing."