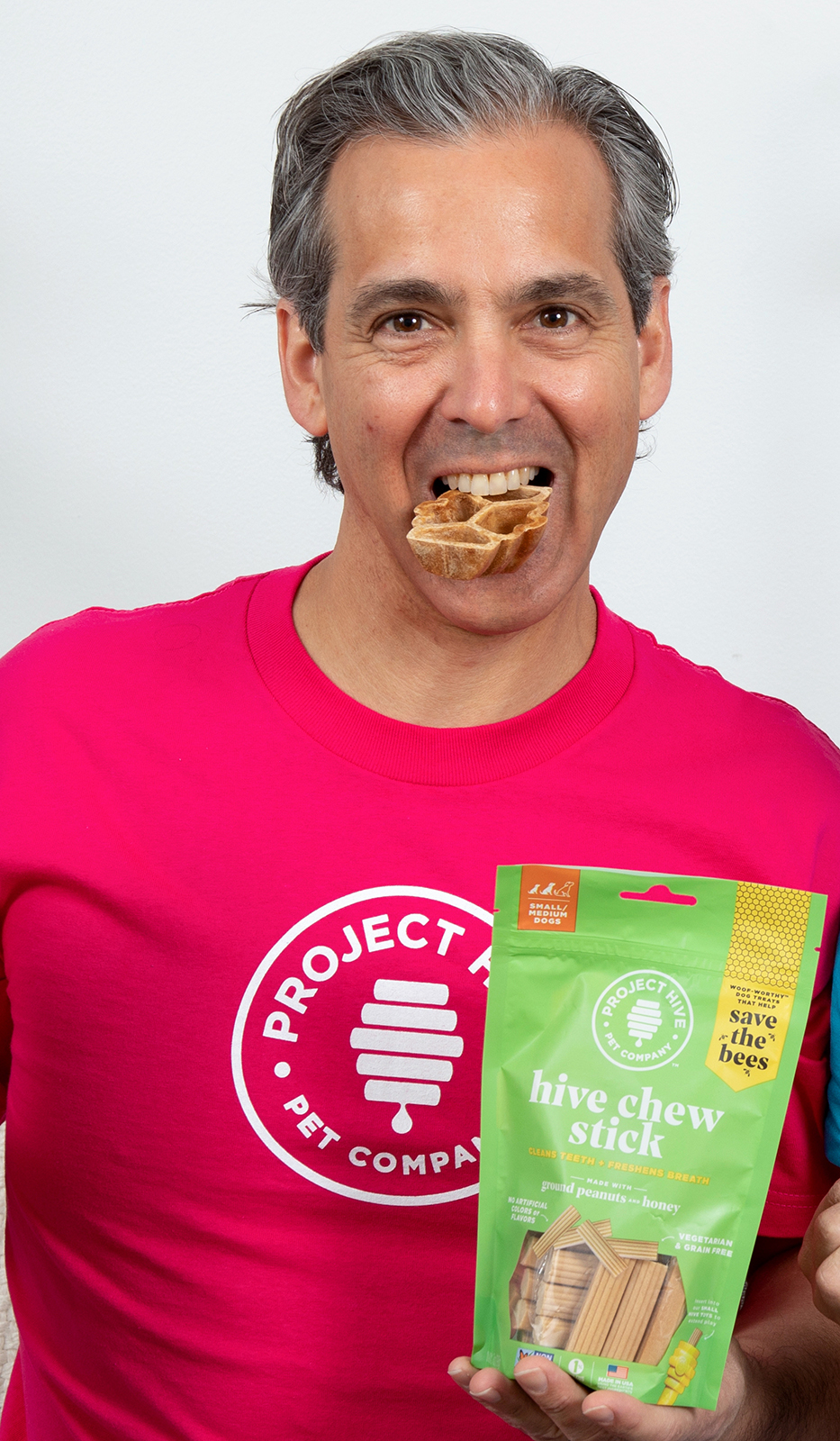 Jim Schifman and his wife, Melissa, launched Project Hive Pet Company last year, but the inspiration for their business, which sells dog toys and treats that directly contribute to rebuilding bee habitats, stretches back to 2008. That's when they read an article about bees that still resonates with them today.  
"The article mentioned that bees were the most important species on our planet and that one-third of our food supply is dependent on them," says Schifman, who played baseball at Vanderbilt and was a human and organizational development major. "Unfortunately, it went on to explain that bee populations were declining drastically due to things like monoculture farming, overuse of pesticides and climate change."  
Project Hive's beehive-themed dog toys are sustainably manufactured in the United States and are 100 percent recyclable, and its vegetarian dog treats are Non-GMO Project Verified and made with organic honey. The company donates 1 percent of gross sales to the Bee and Butterfly Habitat Fund, which works with private, public and corporate partners to help establish and manage pollinator habitats on their lands. To date, nearly 46 acres of land have been converted into healthy pollinator habitats. The company hopes to grow that to 1,200 acres by 2025. 
In building Project Hive, Schifman has relied on years of experience in retail marketing. During the past few decades, he helped launch some of the biggest household brands, including Seventh Generation, Honest Teas and Kleen Kanteen, by getting them on the shelves at Target.  
"I got to sit next to the CEOs of these companies when they were still small and had only a handful of employees," says Schifman, who lives in Minneapolis. "What I learned from them is that launching a business that is focused on sustainability is easier when you have a clear definition of your values and what you stand for." 
For Project Hive, a public benefit company that is currently applying to be a certified B Corp, that means sourcing materials and ingredients more sustainably, manufacturing in the United States, and keeping the environment top of mind, from the paper the products are packaged in to the carbon footprint of their operations.  
While Project Hive, with its mission-driven business model, might be an outlier in the $100 billion pet industry now, Schifman says it's only a matter of time until other brands catch up.   
"A transformation is underway, and companies are soon going to be forced to disclose their environmental impact," he says. "People want to purchase with a purpose, and especially when it comes to their pets, they want to know that they're helping make things better, not worse." 
Schifman also hopes Project Hive resonates with his two teenage daughters. "I want them to see that they have the power to make change," he says. "I hope they see that it is possible to do something about a problem that seems too big to solve."  
—Lena Anthony, BS'03