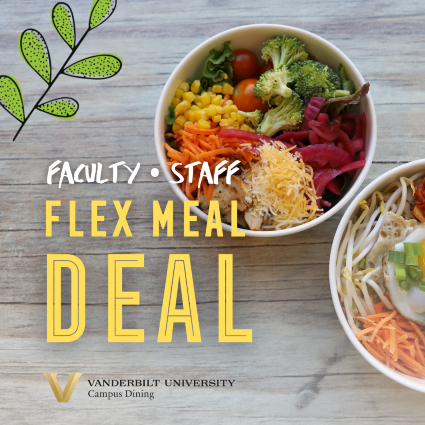 Vanderbilt Campus Dining is offering its popular Flex Meal Deal for the fall 2022 semester. This limited-time offer is available to Vanderbilt faculty, staff and graduate and professional students. A convenient option for those who wish to dine on campus, Flex Meals allow for quick and easy meal payment across Campus Dining's award-winning network of dining halls, markets and cafés.
New this academic year, The Martha Rivers Ingram Commons is launching an all-you-care-to-eat format rather than offering items à la carte. Guests at the Commons Dining Center may swipe in using their Commodore Card, mobile Commodore Card or the new VisionPass biometric scan option to access a full range of cuisines.
Flex Meals may be purchased in blocks of 10 meals and are regularly $100 (plus tax) per block. During the fall 2022 Flex Meal Deal, faculty, staff and graduate and professional students will receive three additional bonus meals per block of 10 at no additional charge. There is no limit to the number of meal blocks that may be purchased.
The promotion begins Monday, Aug. 15, and runs through Sunday, Aug. 28. Meals may be purchased online at meals.vanderbilt.edu.
For a current listing of menus and Campus Dining locations, visit vu.edu/menus.