By Elizabeth Cook Jenkins, BS'99
Photos by Zach Hyman
Megan Piphus Peace, BA'14, MSF'15, knows a valuable piece of real estate when she sees one. After earning her master's in finance from Vanderbilt Owen Graduate School of Management in 2015, Peace had a successful career underwriting and financing billions of dollars' worth of real estate deals, most recently as the director of residential development for Nashville-based Elmington Capital. Yet there's one New York City property that, modest as it is, she could never assign a price to: the two-story brownstone at 123 Sesame Street.
With its signature stoop, green double doors and old-fashioned lamppost, the iconic streetscape—which is actually housed within Kaufman Astoria Studios in Queens—may be make-believe, but that's why it's so special to Peace and generations of children around the world.
Like many young (and not-so-young) adults, Peace grew up watching the long-running television program Sesame Street on PBS. Her interest in the show, however, extends well beyond casual fandom. In addition to having worked in real estate investments, the Cincinnati native is an accomplished ventriloquist and puppeteer who has performed in front of audiences across the nation, including on The Tonight Show and America's Got Talent.
Two years ago, Peace realized one of her lifelong dreams when she successfully auditioned to train as a puppeteer on Sesame Street. In taping her first episode last September, she made history as the first Black female puppeteer to work on the show—a milestone she was not even aware of until afterward.
"I would have cried like a baby on the 123 steps if they had told me beforehand," admits Peace, who plays the role of Gabrielle, a 6-year-old Black Muppet, on the show. "The sets of Sesame Street are like walking into a fantasy. To be there is really something."
WATCH: Vanderbilt alumna, ventriloquist and real estate developer
AN AVENUE OF EXPRESSION
Peace traces her initial interest in puppetry and ventriloquism to watching TV programs such as Sesame Street and Lamb Chop's Play-Along as a child. Like most young viewers, she "believed the characters were real and didn't know that someone was operating them."
Peace's first true exposure to both art forms, however, came at age 10, when she accompanied her Vacation Bible School teacher Dorothy Smith and 19 other children on a weeklong excursion to Illinois for a puppetry conference.
Peace describes herself as a shy child, except when she was on stage. Taking inspiration from her father, Freddie, a talented singer and musician who's also the lead pastor of her family's church, Zion Global Ministries, Peace always has enjoyed singing and dancing. "Performing was a creative outlet for me," she explains, "because I could plan out what I wanted to share, as opposed to being forced to think of things to say."
After the puppetry conference, Peace's mother, Marsha, encouraged her daughter's new passion, driving to public libraries all over Ohio to check out VHS tapes of ventriloquists for her to study. "My mom was really supportive," she says. "She saw it as an opportunity for me to express myself." Her mother even purchased a ventriloquist doll of Charlie McCarthy, the famously monocled, wise-cracking character created by entertainer Edgar Bergen, so Megan could practice in front of the mirror.
"What I consider the magic of ventriloquism is getting to share that experience with someone else and have them believe that our conversations are real," she says. Peace first performed at her elementary school for students from kindergarten through sixth grades. "I realized what an impact the writing could have on the audience, and that every age could learn something from the show," she says. "From then on, my goal was to have a theme, like perseverance, woven into every performance."
As a teenager, Peace made appearances at daycares, schools, churches and festivals, both locally and out of state. At 15, she was even featured on The Oprah Winfrey Show's "World's Smartest and Most Talented Kids" episode.
It was around this time that Peace began thinking about college. Her older sister, Fredrica, attended Tennessee State University, participated in a summer program at Vanderbilt and earned her MBA from Lipscomb University. During one trip to Nashville, Fredrica encouraged Megan to tour Vanderbilt. "The school moved to No. 1 on my list after that," Peace recalls. "However, I watered down my expectations of being able to get in and being able to afford the school," she says. "I knew I needed financial aid or a scholarship."
Peace wasn't expecting to hear from Vanderbilt until spring 2010. But over the winter, she received a surprise email from the university informing her that she'd been awarded a Cornelius Vanderbilt Scholarship. "I remember jumping up and screaming," she says. "I was so overwhelmed that I got in and that they saw enough in me to award me that scholarship."
Near the end of her senior year at Princeton High School in Cincinnati, Peace received more good news. She finished at the top of her class and was asked to speak at commencement. "I was already the ultimate nerd graduating first in class. I didn't want to be even dorkier going up there with a puppet," she says, laughing. "But my principal and teachers insisted that I perform with one." Her speech went viral on YouTube, and Peace, then 17, was soon known across the internet as the Valedictorian Ventriloquist.
Although she brought a couple of puppets with her to college, Peace hoped to fly under the radar initially. "At the beginning of my college career, I wanted people to know me as Megan, not as 'the ventriloquist,'" she says. That plan was foiled during orientation, when then-Chancellor Nicholas S. Zeppos mentioned a few standout students in the incoming class, including her. From then on, she was known by a new nickname: the Vanderbilt Ventriloquist.
An economics major, Peace stayed busy at Vanderbilt, serving as a resident adviser for three years, a member of Delta Sigma Theta sorority, secretary of the Black Student Alliance, and a producer for Vanderbilt Television. She was also a student field reporter covering the Southeastern Conference for the ESPNU sports channel.
Meanwhile, she continued finding opportunities to make the most of her talents as a performer. At 18, she founded Color My Dream, an initiative that uses mentoring, ventriloquism, puppetry and music to encourage youth to reach for their dreams. At 19, she was crowned Miss Black Tennessee, and at 20, she appeared on The Tonight Show with Jay Leno.
During spring break of her senior year, Peace flew to Las Vegas to attend boot camp for Season 8 of America's Got Talent. Half of the participants were given an opportunity to perform for the judges; the others were sent home. Peace was one of the lucky ones. She got four yeses from the judges after her initial ventriloquist act but was eliminated after her second performance. Afterward, judge Howard Stern, who was impressed that Peace attended Vanderbilt, pulled her aside.
"Off camera," she recalls, "he said to me, 'I get told no all the time in my career, but failure is not a no. Sometimes, your failures get you to the next place you're meant to go.'"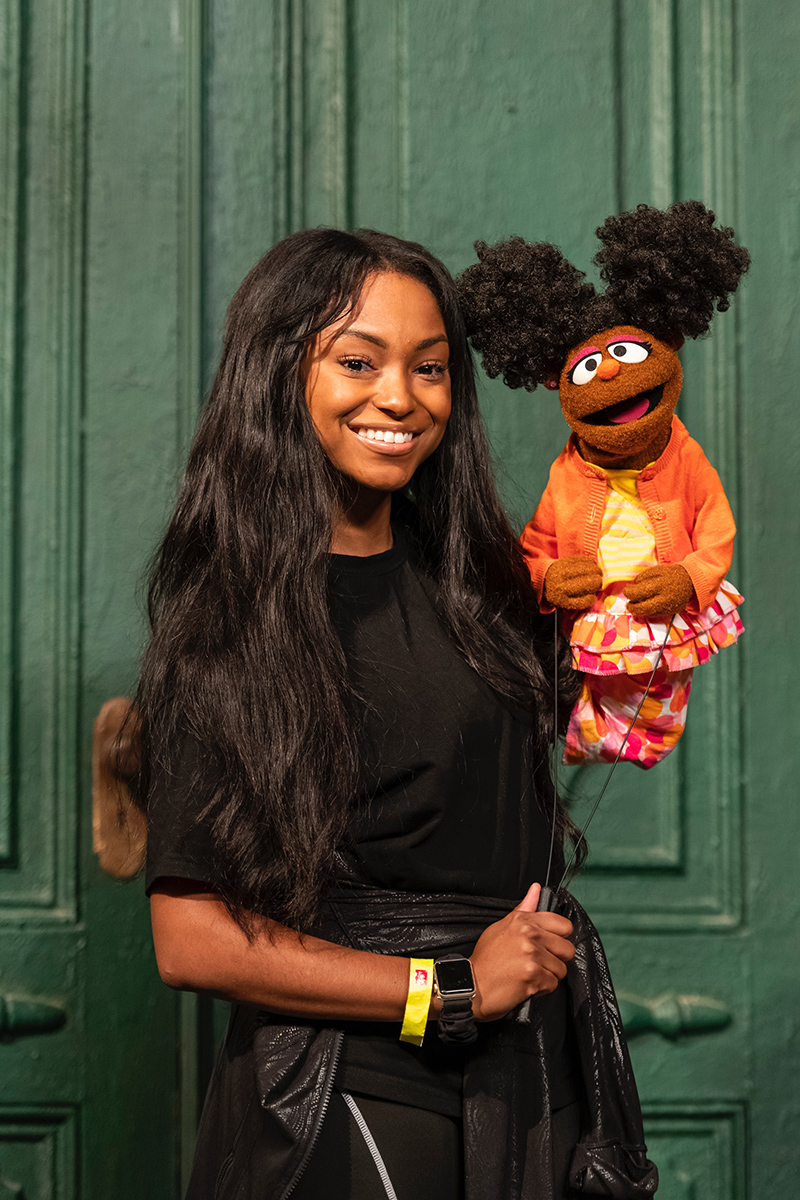 BALANCING ACT
In 2014, Peace graduated with honors and immediately began the MS Finance program at the Owen School. By then, her interests had shifted to real estate investments. Once at Owen, Peace secured an internship doing market research at Charles Hawkins Co., a commercial real estate firm in Nashville.
Her first career move after business school depended on several factors, including where her husband, Dr. Wesley Peace, matched for his medical residency. The newly married couple had met at the Miss Black and Gold pageant, a scholarship competition hosted by Alpha Phi Alpha fraternity, while Wesley Peace was a student at Meharry Medical College in Nashville. "As a fourth-year med student, you have to go through the match program, and you don't know where you're going for your residency," she explains.
When her husband matched in San Antonio, Peace asked Lewis Agnew, MBA'12, her internship coordinator at Charles Hawkins, for help finding a job. Agnew, now an adjunct professor at Owen, connected her with USAA Real Estate in San Antonio. Peace's first interview was on her wedding day, under the dryer, while she was getting her hair done. "My second interview was on my honeymoon," she says, laughing.
USAA made her an offer, and she worked there for four years, in acquisitions. "It was an incredible experience," Peace says. "I would go from underwriting office properties in San Francisco to high-rise, multifamily buildings in NYC." During her stint, the company acquired more than $2 billion of real estate. "Megan is very smart and very technically capable," Agnew says. "What she did at USAA is remarkable."
In 2018, the couple had their first child and moved back to Nashville to be closer to family. Agnew once again helped Peace make a connection, this time at Elmington Capital Group, where she primarily focused on build-to-rent properties. 
Meanwhile Peace has found opportunities to combine her diverse talents. In 2019, she collaborated with the University of Cincinnati and PBS to develop $martPath, series of videos that use puppetry to teach elementary school children about finance. "That meant a lot to me because I didn't have any financial literacy growing up," says Peace, who won two Emmys for the project. Currently, she is working on six additional videos for the series.
Yet, the experience on Sesame Street remains the highlight of her puppetry career so far. Peace submitted her audition tape for the show in 2017, and in 2018 connected with Leslie Carrara-Rudolph, a puppeteer best known for playing Abby Cadabby, the pink, pigtailed "fairy-in-training" Muppet. However, it wasn't until the start of the pandemic, in March 2020, that Peace received an email from Matt Vogel, the show's puppet captain, asking if she'd like to learn Muppet-style puppetry via a virtual workshop online.
"It takes time to go through video submissions, but once we do, we earmark people that we'd like to invite to a workshop where we see their skills as a puppeteer and actor in person," explains Vogel, who performs the roles of Big Bird and Kermit the Frog. "Zoom is not an ideal way to conduct a workshop, but we made the best of it and Megan was game to learn."
At the time, Sesame Workshop was creating the racial justice initiative Coming Together that included a special called The Power of We. The producers needed someone to play the Muppet character Gabrielle. "Megan was our choice from the beginning," Vogel says. "She already had lip sync skills from her abilities as a ventriloquist, but she did not know the monitor work, which is harder than it looks."
Peace learned the necessary skills through the Zoom workshop, and before long it was apparent that she had the right chemistry for the show. "We needed authentic representation, and Megan is incredible," says Carrara-Rudolph, who had championed Peace for the previous two years. "She's got a light inside her."
While Peace says she's fortunate to have a role on Sesame Street—as well as a husband and two young sons at home—juggling it all requires careful planning and expert execution, skills she developed in school. "Vanderbilt is where I learned how to balance totally different experiences—classes and ventriloquism," she says, "and how to rebalance if something wasn't right."