Building on their shared vision for serving dedicated young musicians in the Middle Tennessee region, the Vanderbilt University Blair School of Music and the Nashville Symphony have announced an expansion of their partnership in the Curb Youth Symphony. Beginning with the 2022–23 school year, Nashville Symphony Associate Conductor Nathan Aspinall will serve as conductor and artistic director of the ensemble. 
This alliance will build an even stronger connection between the Nashville Symphony and Vanderbilt Youth Orchestras program within Blair Academy, the precollegiate and adult division of the Blair School. The partnership will build on the foundation for youth orchestra opportunities historically created by both organizations, while giving students even greater access to the resources of Nashville's GRAMMY®-winning orchestra.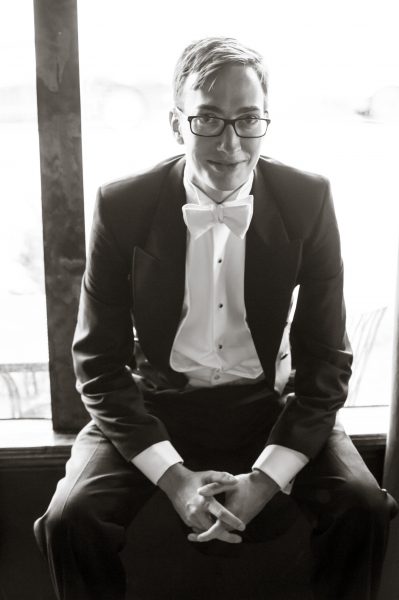 "This partnership highlights an important part of the Blair School's mission to transform lives, build community and change our world for the better—through the arts, with the arts, and in the arts," said Lorenzo F. Candelaria, Mark Wait Dean's Chair of the Vanderbilt Blair School. "Vanderbilt's work with the Nashville Symphony models a deeply collaborative relationship that is essential for the education of our next generation of professional musicians and indispensable for the future of the American symphony orchestra."  
Students in the Curb Youth Symphony have worked with Nashville Symphony musicians in sectional rehearsals and master classes and in the annual Side-by-Side Concert at Schermerhorn Symphony Center. Aspinall's leadership on the podium will provide students with opportunities to learn from an orchestra professional who has conducted across the globe, and it will help to develop the Curb Youth Symphony into an even stronger ensemble poised for wider recognition in the youth orchestra field.  
As artistic director, Aspinall will draw on his experience programming and performing a broad range of repertoire, with the objective of deepening students' understanding of orchestral music and inspiring them to strengthen their proficiency and their artistry. 
"I am thrilled to be a part of this partnership between two of Nashville's leading institutions," Aspinall said. "My own path as a conductor was formed by the experiences I had as a student, and I look forward to working with some of the most gifted young musicians in our region—and to providing them with opportunities to learn, grow and envision what their own paths as performing artists might look like." 
Aspinall's role will be supported at Blair by the new full-time director of the youth orchestras program, Craig Madole, who previously directed two of the Vanderbilt Youth Orchestras—the Nashville Youth Repertory Orchestra for students in grades 6–12 and the Philharmonia Orchestra for those in grades 8–12. Madole, an adjunct senior artist teacher of orchestra at Blair since 2012, has taught extensively in Williamson County Public Schools and Metro Nashville Public Schools. 
The partnership between Nashville Symphony and Vanderbilt Youth Orchestras will create opportunities for musicians from the orchestra to work directly with students in settings designed to build their skills, their musicianship and their understanding of orchestral repertoire.  
"Deepening our partnership with the Blair School will pave new pathways for students to excel in the arts," said Alan D. Valentine, president and CEO of the Nashville Symphony. "Providing access to arts education is at the heart of our mission, and we are thrilled that we have redesigned the Curb Youth Symphony in such a way that students will be able to work closely with our associate conductor. Nathan Aspinall represents a promising new generation of rising conductors, and I feel confident that he will bring that same spirit of promise and possibility to his work with the youth orchestra." 
The re-envisioned Vanderbilt Youth Orchestra program, which will launch this fall, will expand opportunities for partnerships already in place at Blair, including programs developed in collaboration with Vanderbilt's Peabody College of education and human development and the National Museum of African American Music. Expansion and cultivation of music education and musical audiences is key to Blair's mission.  
"The partnership between the Blair School and the Nashville Symphony strengthens the ties between Vanderbilt and Nashville's vibrant and diverse music scene," said C. Cybele Raver, provost and vice chancellor for academic affairs. "In formalizing those relationships between Blair and the Symphony, Dean Candelaria provides both Vanderbilt and our city with exemplary leadership in the arts and arts education."