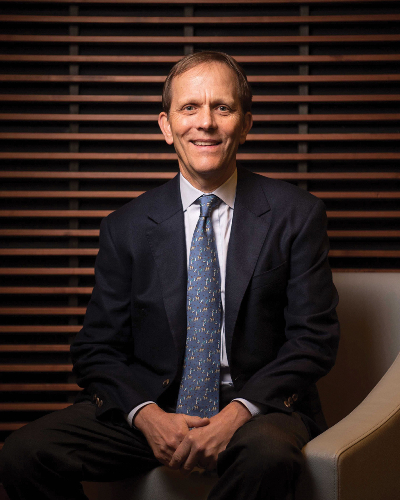 A longtime university benefactor whose generosity continues to shape the historic Vandy United campaign, Vanderbilt Board of Trust member John R. Ingram, MBA'86, will be honored this week as the Tennessee Sports Hall of Fame's Tennessean of the Year.
Ingram will receive the award, presented to an individual who "has made significant contributions to society through sports or other methods," during a July 23 banquet at the Omni Nashville. The event also serves as the induction ceremony for the 2022 Hall of Fame class that includes the late David Williams II, former Vanderbilt vice chancellor for athletics and university affairs and athletic director, and former Vanderbilt golf and football standout Toby Wilt.
"John Ingram is deeply deserving of this honor from the Tennessee Sports Hall of Fame; he embodies Vanderbilt's strong connection with the vibrant city that our students, faculty, staff and so many alumni call home," Chancellor Daniel Diermeier said. "In carrying on the Ingram family's proud tradition of philanthropic service, John remains an indispensable advocate for our university, and particularly Vanderbilt Athletics. Nashville SC's passionate fan community and success on the field are proof of his commitment and innovative leadership in redefining what is possible for athletics and its powerful impact on communities."
For more than two decades, Ingram has been an unwavering advocate for growth and opportunity through athletics at Vanderbilt and in the Nashville community. As chairman of Vanderbilt Athletics' efforts as part of the Shape the Future campaign, he helped steward a project that raised more than $1 billion across the university and more than $50 million for critical facilities upgrades to Hawkins Field and Memorial Gymnasium. He also was named the National Association of Athletic Development Directors University Division Donor of the Year in 2000–01.
As majority owner of Nashville SC, Ingram was instrumental in the city being awarded a Major League Soccer franchise in 2017. In 2021, the club reached the Eastern Conference semifinals in just its second MLS season. Earlier this spring, Nashville SC opened Geodis Park, the largest soccer-specific stadium in the United States.
His support for Vanderbilt Athletics is no less transformational. When Diermeier and Candice Lee, vice chancellor for athletics and university affairs and athletic director, publicly launched the Vandy United campaign in March 2021, Ingram's $10 million lead gift served as the cornerstone of the unprecedented $300 million commitment.
"John Ingram very much deserves this wonderful honor," Lee said. "He has long been a staunch advocate for the transformative power of Vanderbilt Athletics. His generous lead gift to the ongoing Vandy United campaign is one of many examples of how John is committed to ensuring that our student-athletes have the tools to reach their potential. Vanderbilt and the Nashville community are fortunate to have him."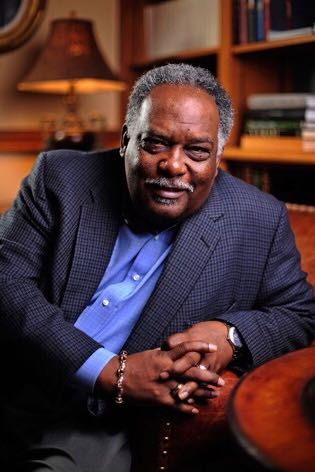 Hall of Fame inductee Williams II, a trailblazer who served as the university's first Black vice chancellor and was the SEC's first Black athletic director, oversaw an era of success on and off the field.
Vanderbilt won its first four team national championships under his direction: bowling in 2007 and 2018, baseball in 2014 and women's tennis in 2015. He was a true advocate for excellence beyond the field, championing the expansion of academic and experiential opportunities for student-athletes and the entire Vanderbilt community. In recognition of his efforts, the university renamed the David Williams II Recreation and Wellness Center in his honor.
Williams additionally served the university as a law professor and as general counsel and secretary, and he was a tireless proponent of studying the impact of sports on society. Described by former Chancellor Nicholas S. Zeppos as "one of the most important people in Vanderbilt's history," Williams helped the university recognize and celebrate the accomplishments of pioneers like Perry Wallace, the SEC's first Black basketball student-athlete, and acknowledge and learn from its own rich and often troubled history during the civil rights movement.
Fittingly for someone who also championed women's athletics throughout his career, the Tennessee Sports Hall of Fame will also celebrate the 50th anniversary of Title IX by recognizing the milestone with the David Williams Historical Achievement Award, renamed after Williams several years ago.
"David Williams was an invaluable mentor and a dear friend to me," Lee said. "But more than that, David's unique gift was to be a mentor and friend to the entire university and the Nashville community he made his home. He made all of us better. Whether serving student-athletes, staff, alumni, supporters or his friends and neighbors, he opened doors and brought people together. He taught without judging and encouraged without asking for anything in return. I am professionally and personally grateful to see him honored. Any organization dedicated to recognizing those who shape our community through athletics is made immeasurably better by his presence."
The Hall of Fame also will recognize the 2020 and 2021 classes of inductees during this year's banquet, the first held since the start of the COVID-19 pandemic. Among the 2020 honorees is Vanderbilt baseball head coach Tim Corbin. Corbin has led the VandyBoys to two national championships and five College World Series. Also honored is former women's basketball student-athlete, current Black and Gold Club co-chairman and 2021 inductee Cathy Bender, who was the first Black woman to receive a full athletic scholarship at Vanderbilt.