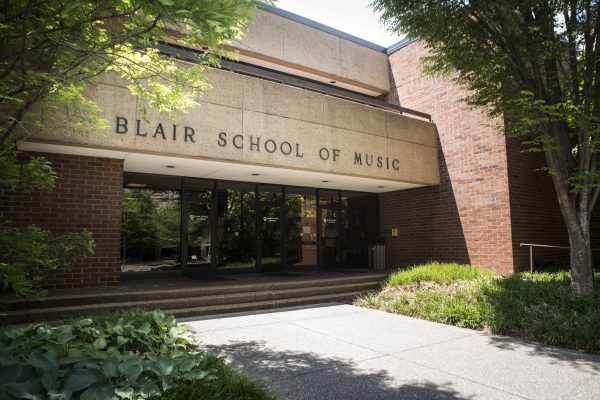 A pilot program launching at Vanderbilt Blair School of Music this summer will teach middle and high school students how to create music scores for video games.  
The program, called Music Tech, is designed to pave pathways to Blair, particularly for students in underserved communities who may not otherwise visit campus or interact with the music community.  
A $50,000 gift from the Valere Blair Potter Charitable Trust is funding the creation of the program, which will begin with a cohort of 12 students coming to Blair on July 12–13 for the inaugural camp.  
Blair faculty member Pascal Le Boeuf and guest Steven Pardo will take part in the immersive experience.  
Music Tech is one example of Blair's efforts to broaden programming and engage with diverse groups of students—and to demonstrate that music careers can take many shapes, said Lorenzo F. Candelaria, who holds the Mark Wait Dean's Chair  at the Blair School of Music. 
Seats in the camp are being donated, and the students enrolled so far come from some of KIPP Nashville's schools, Montgomery Bell Academy, the W.O. Smith Music School and others.
"We are grateful for this gift that will enhance our distinctive approach to the study of music on so many levels," Candelaria said. "This camp supports Blair's mission, which is to transform our world one community at a time—through the arts, with the arts, in the arts." 
The chance to work with Le Boeuf and Pardo brings a unique learning opportunity for students. Le Boeuf, a visiting assistant professor in computer music and technology at Vanderbilt, is a Grammy-nominated jazz pianist, composer and electronic artist whose work fuses classical technique with production-based technology. One of his recent projects, imaginist, is an album-length collaboration between JACK Quartet and the Le Boeuf Brothers. As a keyboardist, he has toured with Australian pop artist Meg Mac (opening for D'Angelo and Clean Bandit), Allan Harris, gospel-funk band Jesus on the Mainline and his piano trio Pascal's Triangle, featuring bassist Linda May Han Oh and drummer Justin Brown. 
Pardo is a composer/multi-instrumentalist and interactive audio designer for games, a co-founder of audio production house SkewSound, game developer at The Pardo Brothers and audio director at Authentic Artists. With a background in jazz and a professional career that began with legendary music-game studio Harmonix Music Systems, he melds his professional background in generative audio with his love for inventive soundtracks for games. He has led the audio team for games such as Rock Band VR, Dance Central and Super Beat Sports. 
"The goal is to unlock passion and potential in students who might one day enter the field of creating music scores. We hope that this camp inspires students to pursue a career in music scores and to return to campus one day to pursue a higher education," said Seth Soloway, associate dean for presenting and external relations at Blair.   
Music Tech is the latest effort from Blair to foster stronger ties in the Nashville community through music and to cultivate new and diverse audiences for various art forms. Other community engagement opportunities are in development.