In April, I had the honor of being formally invested as Vanderbilt's ninth chancellor—a role that I have held since the summer of 2020. While the pandemic prevented us from holding the investiture ceremony at the start of my tenure, the opportunity to celebrate the occasion at this time—with the community that I now know well—was profound. The ability to share reflections on how far we have come in the past two challenging years made the event uniquely memorable.
Investitures are opportunities to look forward and to reflect on our past; they give us a chance to consider how far we have come since our founding as an institution. In the aftermath of the Civil War, Cornelius Vanderbilt believed that the best way to heal our divided nation was to bring diverse people and ideas together to build an esteemed university—like those in the northeast—right here in Nashville. Vanderbilt was born through his vision to create a great university of the South, but this is a title that we have now outgrown. Today, as a global research institution with a reputation that is distinct from any of our peers, we are emboldened with a new ambition: Together, we are building The Great University of the 21st Century.
When our Class of 2022 graduates marked their own milestone at Commencement, I imparted to them a similar message. Quoting our motto, Crescere aude—Latin for "dare to grow"—I asked them to consider what this will mean for their own lives and for our society. In a time of complex global problems and within a nation that is, once again, starkly divided, I urged them to always find the courage to remain open to new perspectives, people, challenges and ideas.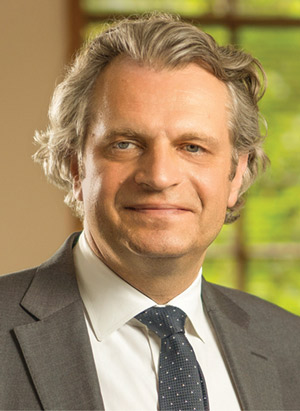 The spirit of "daring to grow" is inherent to our Vanderbilt way of life, and it extends to every member of our community. It is behind every groundbreaking discovery made by our faculty members, whether in the laboratory, clinic or conference room or within a single line of music or stroke of paint. It lives among our coaches and student-athletes as they continually raise the bar for their own accomplishments. It is exemplified by our staff members, whose dedication to our collaborative culture of excellence helps to create the environment in which we all thrive. And it is especially present among our alumni as they help one another to strive for, and achieve, new ambitions. At Vanderbilt, we learn for life.
The stories in this issue poignantly remind us of the great potential that can be realized when we "dare to grow." From the trailblazing legacy of the poet Kate Daniels—who never shies away from difficult subject matter—to the extraordinary lessons of forgiveness in the unique class shared between Vanderbilt Divinity students and death row inmates, these are tales of remarkable courage. Here, we find people who are willing to walk toward human suffering to discover and deliver grace.
No matter where you may be in your own lifelong journey, I hope you will find inspiration in these pages. May the photographs of our celebrations this spring bring back fond memories and remind you of the enduring ties that bind our community. It is my great privilege to have joined you as chancellor, and I look forward to all the ways in which we will grow together in the years ahead.
—DANIEL DIERMEIER,
CHANCELLOR