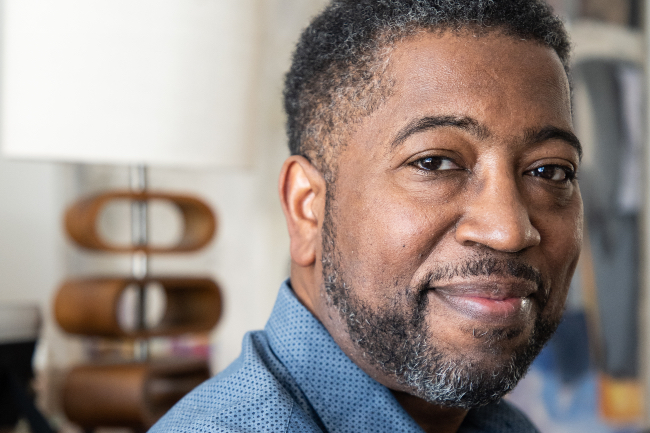 Major Jackson leads extraordinary MFA program into bright future
Last fall, as Kate Daniels was preparing to retire from teaching, she transitioned her leadership of the MFA Program in Creative Writing to Major Jackson, an accomplished poet and essayist whom she had helped recruit to Vanderbilt. Jackson, who joined the faculty in January 2021, is now working closely with the College of Arts and Science leadership to develop the program's roadmap for the future.
"The Vanderbilt MFA is distinguished by an almost 'guild-like' quality with faculty support that propels early career success for our graduates," says Jackson, Gertrude Conaway Vanderbilt Professor of English. "In addition, I've always applauded the diversity of the writers that emerge from the program. It is something to celebrate and continue."
With three former directors of the MFA program retiring within the past two years—Mark Jarman, Lorraine López and now Daniels—Jackson has made a priority of recruiting new faculty.
Guggenheim recipient ZZ Packer, whose fiction was included in the New Yorker magazine's 20 Under 40 collection and is author of the acclaimed short story collection Drinking Coffee Elsewhere, and Pushcart Prize-winner Lydia Conklin, whose Rainbow Rainbow story collection will be published in June, will join the program this fall.
In addition to adding new faculty, Jackson says he wants to expand nonfiction writing. "I think about the excellent work of Margaret Renkl, Peter Guralnick, Camille Dungy, the late Randall Kenan and other nonfiction writers who have taught as visiting professors over the years," he says. "Literary nonfiction intersects with so many areas of our lives. It would be wonderful to be able to expand our MFA program with a permanent hire to teach nonfiction."
Undergraduate students have also become increasingly interested in creative writing, with strong demand for classes in both fiction and nonfiction.
"We need to pay attention to this," Jackson says, "as creative writing has become an important vehicle by which today's generation actively addresses issues that matter to them."