Media Inquiries
Latest Stories
Amanda Lea, assistant professor of biological sciences, has been named to the 2022–24 cohort of the Canadian Institute for Advanced Research Azrieli Global Scholars in recognition of her outstanding early-career research and interdisciplinary work. Lea's research interests span evolutionary biology, genomics and human health. 
"As a biological anthropologist and geneticist in academia, my day-to-day interactions are focused on my discipline and the specifics of projects I am pursuing with students and collaborators. However, interdisciplinary interactions have been extremely important for sparking creativity and broadening the scope of my science," Lea said. "Some of my most meaningful and impactful projects have been highly interdisciplinary, and were inspired by conversations with diverse scientists that led me to think about new questions or new ways of addressing long-standing questions."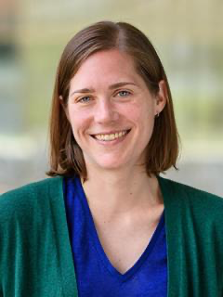 The CIFAR Azrieli Global Scholars program provides funding and support to help early-career researchers develop into the next generation of research leaders. Lea and the 17 other scholars in the cohort will each receive CA$100,000 in unrestricted research support in addition to mentorship from a senior researcher within a CIFAR research area, global networking and collaboration opportunities, and professional skills development.  
The 2022–24 cohort was selected from more than 200 eligible applications from 32 countries and will represent institutions in Canada, Chile, India, South Africa, the United Kingdom and the United States. The scholars will be contributing to research programs in bio-inspired solar energy, child and brain development, gravity and the extreme universe, learning in machines and brains, quantum information science, and quantum materials.  
A major goal of Lea's research is to understand the molecular mechanisms that connect environmental challenges experienced during development—social or nutritional stress, for example—with compromised health later in life. Her initial work in both laboratory and statistical methods development was motivated by interdisciplinary interactions with a molecular biologist and a statistician, respectively.  
"While it is relatively rare for biological anthropologists to do the kind of methodological work I do, I have found this work to be valuable to my own research as well as my community," Lea said. "Importantly, I would likely not have started down this road without the formative interactions I had with interdisciplinary scientists." 
"Some of my most meaningful and impactful projects have been highly interdisciplinary, and were inspired by conversations with diverse scientists that led me to think about new questions or new ways of addressing long-standing questions." – Amanda Lea
Lea's research focuses on small-scale, subsistence-level populations that are currently transitioning to more urban and market-integrated lifestyles. These groups are of interest because they experience socioecological variation representative of human evolutionary history and because they provide opportunities to investigate how major, ongoing environmental shifts—namely urbanization and market-integration—impact health. Lea intends to continue pursuing research through interactions with global leaders in governmental health services, journalism, child health, health care and health equity. This is the second early-career award Lea has received; she was named a Searle Scholar in May. 
"Humanity faces many complex and pressing challenges, from income inequality to climate change. We need creative and talented scholars and scientists, especially the next generation of investigators, to contribute to the global effort to address these challenges and exciting science questions. It is of utmost importance to provide opportunity for this next generation of innovative thinkers," said Alan Bernstein, O.C., president and CEO of CIFAR in a release. "That is why programs like the CIFAR Azrieli Global Scholars program are so important for both advancing science and enabling positive change in the world." 
About CIFAR
CIFAR is a registered charitable organization supported by the governments of Canada, Alberta and Quebec, as well as foundations, individuals, corporations and Canadian and international partner organizations. Since its founding in 1982, CIFAR has evolved and grown from a small group of Canadian academics to a leader in the global research community. More than 1,000 researchers from over 30 countries have contributed to CIFAR research programs as fellows, advisers, Canada CIFAR AI Chairs and CIFAR Azrieli Global Scholars over the years. The community of CIFAR researchers is regularly recognized with major research awards including the Breakthrough Prize, the Turing Award, the Körber European Science Prize and the Nobel Prize. Every year, CIFAR welcomes over 3,000 international policymakers, scholars and citizens to its workshops, symposia and public events.