Media Inquiries
Latest Stories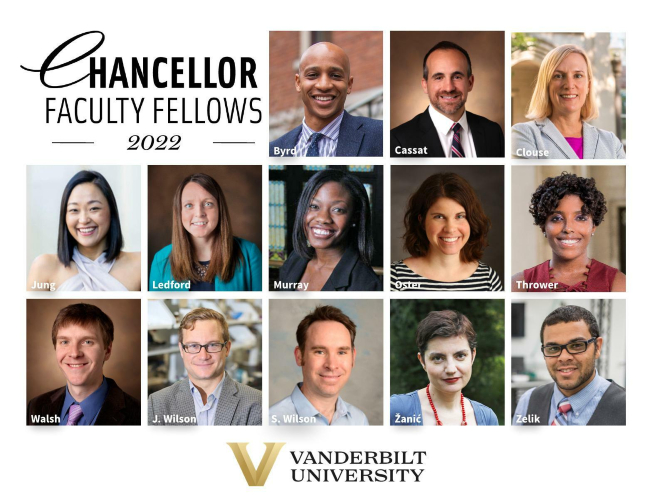 Thirteen outstanding faculty members from across the university have been selected for the 2022 cohort of Chancellor Faculty Fellows. This group is composed of highly accomplished, recently tenured faculty from a wide variety of disciplines and areas of expertise.
"Vanderbilt's faculty drive the pathbreaking research and transformative education that set our university apart," Chancellor Daniel Diermeier said. "The Chancellor Faculty Fellows program empowers our already-accomplished scholars to pursue their most ambitious and collaborative goals to date, ultimately raising the bar for Vanderbilt and our impact on the world."
The selected faculty members will meet as a group during the course of their fellowships to exchange ideas on teaching and research, building a broader intellectual community that advances collaborative scholarship, as well as to engage in academic leadership development events to increase their leadership capacity.
"I'm proud to congratulate our thirteen new fellows, whose bold and rigorous research has set an inspiring example across their fields and throughout our community," Provost and Vice Chancellor for Academic Affairs C. Cybele Raver said. "They are excellent ambassadors for Vanderbilt and the value of higher education in solving the world's most complex problems."
The 2022 Chancellor Faculty Fellows are:
"By investing in these remarkable faculty, we are creating additional opportunities for them to share their knowledge, pursue interdisciplinary collaboration and train the next generation of leaders," said Jeffrey Balser, president and CEO of Vanderbilt University Medical Center and dean of the School of Medicine. "Together, this year's cohort can make profound contributions to research, teaching and innovation at Vanderbilt."
The Chancellor Faculty Fellows program was launched in September 2014 under the Trans-Institutional Programs, or TIPs, initiative to support outstanding faculty who have recently received tenure. This year, Chancellor Faculty Fellow candidates were nominated by their deans or deans' designees.
The Chancellor Faculty Fellows Review Committee, comprising past fellows with collaborative oversight by Tracey George, vice provost for faculty affairs, and Jennifer Pietenpol, chief scientific and strategy officer for VUMC, reviewed all the nominations and made recommendations to Diermeier, Raver and Balser, with the chancellor making the final selections.