Media Inquiries
Latest Stories
Vanderbilt University School of Nursing Assistant Professor Alvin Jeffery is one of 12 nurse scientists accepted into the third cohort of the Betty Irene Moore Fellowship for Nurse Leaders and Innovators. The fellowship program, funded by a $37.5 million grant from the Gordon and Betty Moore Foundation, recognizes early- to mid-career nursing scholars and innovators with high potential to accelerate leadership in nursing research, practice, education, policy and entrepreneurship.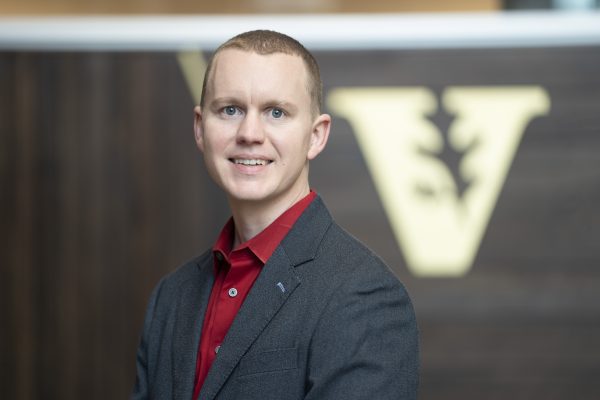 As part of the three-year program, fellows receive $450,000 to conduct an innovative project or study that has the potential to address a gap in knowledge, meet a vital need, alter care delivery or design a new solution to advance health. Jeffery, who is also assistant professor at the Department of Biomedical Informatics at Vanderbilt School of Medicine, will soon begin his fellowship project, "Improving electronic health record usability with a novel customization process."
Vanderbilt School of Nursing Dean Pamela R. Jeffries congratulated Jeffery on the fellowship, which will expand his work in data science—one of the school's signature areas of research.
"The role of data science and informatics continues to grow exponentially in health care delivery," said Jeffries, the Valere Potter Distinguished Professor of Nursing. "New methods and discovery have the potential to impact large groups of patients, health care providers and health systems. Dr. Jeffery's work with electronic health records, one of the most intrinsic and beneficial systems in health care, will advance usability for all health care providers and, ultimately, improve patient care."
Adam Wright, director of the Vanderbilt Clinical Informatics Center and professor of biomedical informatics at Vanderbilt University School of Medicine, will serve as Jeffery's mentor for the fellowship. "Alvin is a brilliant innovator in informatics. He has outstanding training in nursing, informatics and data science, and so he's often able to imagine and create especially clever solutions to hard informatics problems," Wright said. "I'm so proud of him, and I can't wait to see what he accomplishes as a Moore Fellow!"
Jeffery, who completed a Medical Informatics Post-Doctoral Fellowship with the U.S. Department of Veterans Affairs after earning his Ph.D. at Vanderbilt, currently serves on the Board of Directors for the American Association of Critical-Care Nurses. He joined the Vanderbilt faculty in 2017.
"I'm honored to be selected for this fellowship program that will advance my leadership journey at the national and international levels," Jeffery said. "With the generous financial support, I'm also excited to begin the research activities, which involve creating a new method for designing and evaluating decision support tools used by nurses and other clinicians."
The fellowship program is made possible by Betty Irene Moore's passion to advance nursing with the goal of better outcomes for individuals, families and communities. The foundation seeks to prepare nurses as collaborative leaders with the skills and confidence to inspire others, enact change and challenge the status quo. With the creation of the Betty Irene Moore Fellowship for Nurse Leaders and Innovators, the foundation supports nurse leaders who take ideas to scale that advance high-quality, high-value care and optimal health outcomes.
Applications for the 2023 cohort of nurse leader fellows open Sept. 23 with a submission deadline of 5 p.m. PT on Dec. 1. To learn more, visit the UC Davis School of Nursing website.