Reid Hoffman, who played integral roles in founding the companies PayPal and LinkedIn, called on Vanderbilt University's Class of 2022 to invest in true, substantial and enduring friendships as they set out on the next phases of their lives.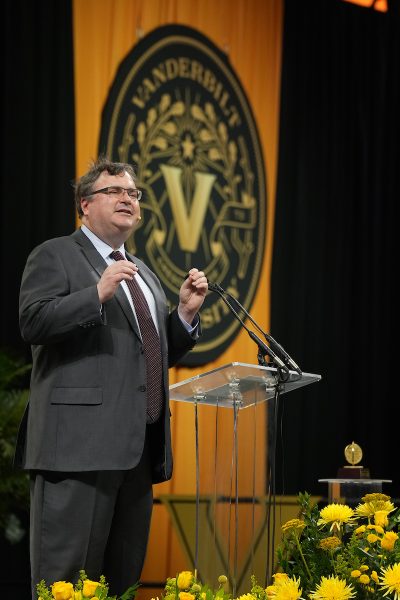 The entrepreneur, executive and philanthropist delivered the Graduates Day keynote address in Memorial Gymnasium on May 12, part of a two-day event celebrating the university's Commencement.
"Alongside your family, making, cultivating and keeping close friendships may be your life's most important work," Hoffman said. "Our connections, and especially our friendships, are where we thrive and how we move forward and upward."
Hoffman is the 2022 recipient of Vanderbilt's prestigious Nichols-Chancellor's Medal, one of the highest honors at the university.
"Reid Hoffman has been a relentless innovator throughout his career, helping usher in a digital future that has fundamentally changed how the world lives and works," Chancellor Daniel Diermeier said. "Your words today have inspired all of us to keep learning with courage, with curiosity and with compassion."
Hoffman shared a series of anecdotes to illustrate how integral friendships shaped the trajectory of his personal and professional lives.
"First, decide to make friendship a priority. Making an active choice that friendship matters to you is your best first step to ensure its place in your life," Hoffman said.
"Second, make friendship a conscious practice because it's something you can work on," he said. "Establish rituals such as having a weekly call, a monthly breakfast … talk with your friends about what the friendship means to you and how you'd improve it."
"Third, as you go forward, realize that less time doesn't have to mean less friendship. Life is going to make a lot of demands on you, including many good things like partners, careers, hobbies, kids," Hoffman said. "Life is most fulfilling as a team sport because we achieve more and feel better together."
THE NICHOLS-CHANCELLOR'S MEDAL
Recipients of the Nichols-Chancellor's Medal are individuals who define the 21st century and exemplify the best qualities of the human spirit. It was created and endowed by Vanderbilt Law School graduate Ed Nichols and his wife, Janice, in honor of Edward Carmack Nichols and Lucile Hamby Nichols.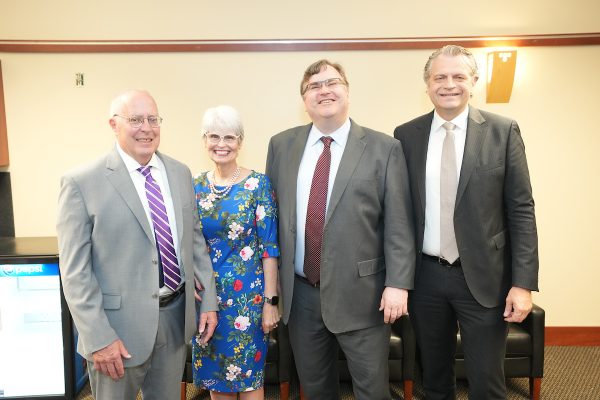 Previous honorees include Dr. Anthony Fauci, Caroline Kennedy, Toni Morrison, First Lady Laura Bush and other distinguished speakers.
Hoffman plans to donate his $100,000 cash prize for the Nichols-Chancellor's Medal to Management Leadership for Tomorrow, an organization that creates a network of diverse leaders with a goal of closing the racial wealth gap.
INTERFAITH AND ALUMNI COMMUNITY WELCOME
Provost and Vice Chancellor for Academic Affairs C. Cybele Raver introduced representatives from the Vanderbilt Interfaith Council, Vanderbilt Student Government, Seniors Give Back Fund and Vanderbilt Alumni Association to deliver words of support and prayers for members of the Class of 2022.
The speakers included:
Interfaith Council President Madelynn Roche
Hindu faith student speaker Vitrag Patel
Judaism faith student speaker Alex Grace
Islam faith student speaker Mariam Nadi
Christian faith student speaker Dylan Kistler
Alumni Association President Tim Warnock, BA'84

Senior Class Fund President Lilley Salmon
Graduate and professional student representative Carcia Carson
Student Government President Hannah Bruns
Watch the full Graduates Day address here. >>