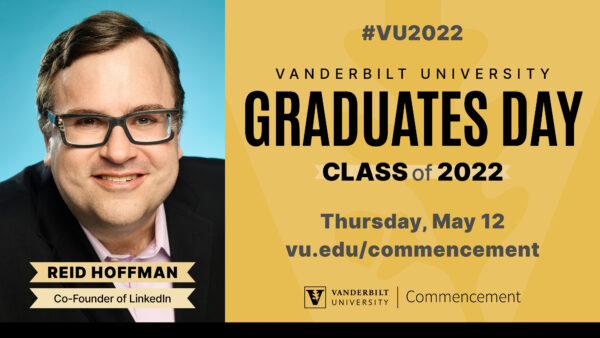 Reid Hoffman, an accomplished entrepreneur, executive, investor and philanthropist who has played an integral role in building many of today's leading consumer technology businesses, will receive Vanderbilt University's prestigious Nichols-Chancellor's Medal when he delivers the Graduates Day address to the Class of 2022 on May 12.
"Reid Hoffman has been a relentless innovator throughout his career, helping usher in a digital future that has fundamentally changed how the world lives and works," said Chancellor Daniel Diermeier. "He now brings that pioneering vision and remarkable capacity to make an impact to the realm of global philanthropy. We are honored to present him with the Vanderbilt Nichols-Chancellor's Medal and look forward to his remarks at Graduates Day this year."
The Nichols-Chancellor's Medal is one of the university's highest honors and is awarded to individuals who define the 21st century and exemplify the best qualities of the human spirit. It was created and endowed by Vanderbilt Law School graduate Ed Nichols and his wife, Janice, in honor of Edward Carmack and Lucile Hamby Nichols.
In 2003, Hoffman co-founded LinkedIn, the world's largest professional network that today has more than 700 million members. He also served as executive vice president and founding board member at PayPal, and he is currently a partner at Greylock, a leading venture capital firm.
He is the co-author of four bestselling books: including The Start-Up of You, The Alliance, Blitzscaling and Masters of Scale. He is the host of the original podcast series Masters of Scale.
As a philanthropist, Hoffman strives to help build and strengthen networks and platforms that broaden individual access to opportunity. For example, he's the founding donor and long-time board member at Opportunity@Work, an organization that seeks to eliminate the opportunity gap and open broader pathways to higher-paying jobs and careers for millions of skilled Americans without bachelor's degrees.
In 2020, Greylock created an ongoing partnership and investment in Management Leadership for Tomorrow (MLT) to get more Black, Latinx and Indigenous people into tech startups.
Hoffman serves as a board member for multiple nonprofits, including Kiva, an international nonprofit with a mission to expand financial access to help underserved communities thrive, and Endeavor, which builds entrepreneurial ecosystems in emerging and underserved markets around the world by supporting the most promising entrepreneurs to dream bigger, scale faster and pay it forward.
Hoffman earned a master's degree in philosophy from Oxford University, where he was a Marshall Scholar, and a bachelor's degree with distinction in symbolic systems from Stanford University.
Recent past recipients of the Nichols-Chancellor's Medal include Dr. Anthony Fauci, Caroline Kennedy, Venus Williams, Amal Clooney, Toni Morrison, Tom Brokaw and First Lady Laura Bush, among others.
Hoffman will speak to the Class of 2022 and their families on Graduates Day in Memorial Gym on May 12 as part of the university's Commencement celebrations. The event will also be livestreamed. Graduates Day celebrates all graduates and traditionally occurs the day before the university's Commencement ceremony, which is scheduled for May 13.