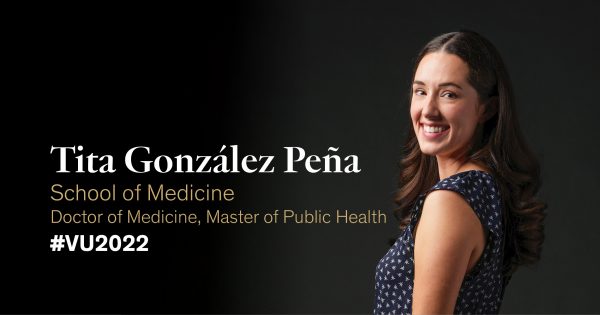 By Amy Wolf
Compassion and community have been touchstones for graduate student Tita González Peña as she has taken on multiple challenges to bring empathetic and equitable health care to the socially disadvantaged.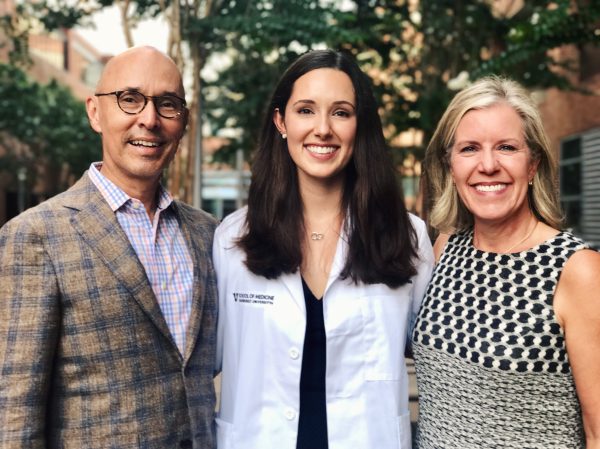 The Texas native, who is earning both a doctor of medicine degree and a master of public health degree, was co-director of the Shade Tree Clinic, which provides free health care to Nashville's uninsured community and is run by Vanderbilt medical and nursing students. Her leadership and collaboration helped the clinic adapt during the height of the COVID pandemic so that patients could continue care.
"I love being at Shade Tree," she said. "I found belonging there because I think we all had this common goal of service as well as learning and teaching each other, since people work there with all different subspecialties like ophthalmology, gynecology, orthopedics and more. Ultimately, we have that same overarching goal of caring for those in need."
BILINGUAL CARE
Her work with primarily Spanish speakers at the clinic, seeing the endless barriers that patients with limited English proficiency face in the American health care system, and an upbringing in a bilingual Mexican-American household inspired González Peña to rethink communication in medical settings. She partnered with classmates Nicole Kloosterman and Carolina Gomez Grimaldi, and Dr. Adriana Bialostozky, assistant professor of pediatrics and director of the Spanish Language Clinic at the Monroe Carell Jr. Children's Hospital at Vanderbilt, to develop a proposal for a medical Spanish certificate program.
"The ultimate goal is to build a larger workforce of health care professionals who are bilingual and trained in medical Spanish to really bridge that gap in a medical setting," González Peña said. "I think this will help bring more compassion to medicine. You're not just this physician trying to get to the bottom of their diagnosis or treatment. You're listening to their stories and really connecting with them as an individual."
RETHINKING RESEARCH
González Peña's life and work have also driven her to be an advocate for racial equality. In 2018, she was part of a task force of medical students, residents and faculty to spearhead the removal of race as a variable in a common test of kidney function.
That experience inspired her to join the medical school's Racial Equity Task Force, which was put together by Vanderbilt School of Medicine and Vanderbilt School of Nursing to address racial inequities. She participated in a special group examining how race and racism can impact health care research.
"We looked at how are we using race as a variable in research. How does racism impact research? How can we do better in our work looking at race as a social construct, not a biological variable?" she said. "It was a really unique opportunity to work with a lot of researchers, faculty and fellow students at Vanderbilt. And I think it says a lot that they valued us as students and our input."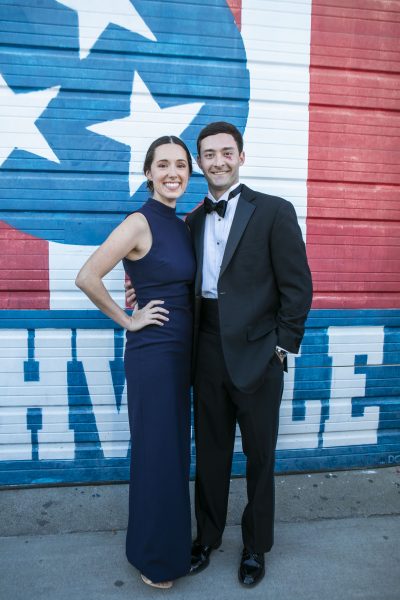 OPEN TO LEARN
González Peña will continue helping those in the Nashville community as she begins her residency in obstetrics and gynecology at Vanderbilt University Medical Center.
She said success comes from always being open to learning from others. It's an attitude that led her peers to nominate her into the Gold Humanism Honor Society, a nationwide society of medical students, physicians and other leaders who champion the human connection in health care.
"I think a big strength that we all should have is being able to ask questions curiously and say, 'Why do we do this? Why don't we try this way?' When you're thinking about long-term implications and how it may affect patients, especially those who are already disadvantaged, we need to always be trying to do more," she said.