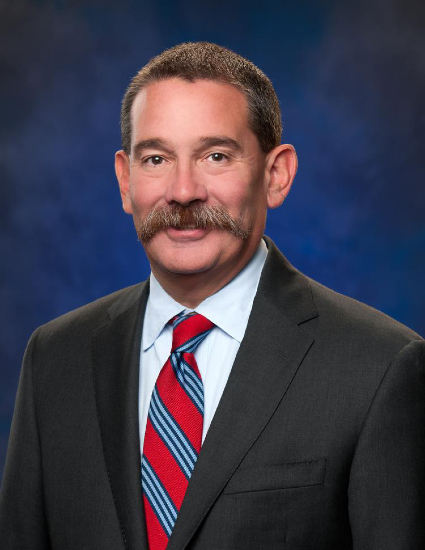 The Vanderbilt University Board of Trust elected Tim Warnock, BA'84, to a two-year term as alumni trustee at its April 22 meeting. Warnock, an attorney at Loeb & Loeb in Nashville, is the outgoing president of the Vanderbilt Alumni Association Board.
"Alumni commitment is foundational to Vanderbilt's success for preparing the next generation of leaders through education and groundbreaking research," Chancellor Daniel Diermeier said. "We look forward to Tim Warnock's broadened engagement in our One Vanderbilt community through his board service."
Warnock's practice is focused almost exclusively on commercial and intellectual property litigation in federal and state courts. As an adjunct faculty member at Vanderbilt Law School, Warnock has taught advance evidence and trial advocacy. He is a member of the Forum on the Entertainment and Sports Industries and Intellectual Property Law sections of the American Bar Association. He was a member of the inaugural class of the Tennessee Bar Association's Leadership Law. In addition, he belongs to the Nashville Bar Association and previously chaired its Intellectual Property and Entertainment and Sports Law committees.
"I look forward to working with Tim, our new alumni trustee, who is already invested in Vanderbilt as an adjunct law faculty member and active alumnus," said Bruce Evans, chairman of the Board of Trust. "Tim's expertise in intellectual property, entertainment, sports and media law as well as his previous teaching at the Law School make him a valuable addition to our board."
Warnock, who earned a bachelor of arts in English, has served in a variety of alumni roles, including Giving Day ambassador, chapter steering committee member, Opening Dores volunteer, Sarratt Society chair for the Class of 1984, and CoRPs volunteer for undergraduate admissions. Warnock, and his wife, Maryglenn McCombs Warnock, BA'93, have supported the Sigma Alpha Epsilon Building Fund and the College of Arts and Science. Through a bequest, they intend to establish the Maryglenn and Tim Warnock Family Scholarship in the college to provide need-based support for deserving students, with preference given to English majors.
In other board action, the Governance Committee approved a one-year deferral of Somto Dimobi's term as Young Alumni Leader at her request, due to professional obligations. Dimobi, BE'19, is employed by Bain and Company and completing a three-year term on the Alumni Association Board. Her two-year board term will begin July 1, 2023.
Board members also paid tribute to three trustees whose terms are ending. They are: Dan Lovinger, BA'87, who served a two-year term as alumni trustee; Damonta Morgan, BA'17, who served a two-year term as Young Alumni Leader; and Jon Winkelried, who served two five-year terms.
"We are grateful to Damonta, Dan and Jon for their board service and dedication to Vanderbilt," Diermeier said. "In particular, we want to thank Jon for his strong leadership as board vice chair and many other key roles—including chairing the Medical Center Advisory Committee during the transition of Vanderbilt University Medical Center to a fully independent entity. In addition, Jon and his wife, Abby Winkelried, worked to enhance the undergraduate experience through their involvement with the Parents Leadership Committee."
Among those speaking to the board were Tiffany Lawrence Givens, president of the University Staff Advisory Council, and Dr. Mark Magnuson, chair of the Faculty Senate. Magnuson is also the Louise B. McGavock Professor and professor of molecular physiology and biophysics.