The origins, realities and effects of the world's most pressing threats are the focus of the inaugural Vanderbilt Summit on Modern Conflict and Emerging Threats scheduled for May 4-5.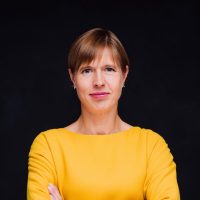 The summit will feature a fireside chat with Kersti Kaljulaid, who served as president of the Republic of Estonia from 2016 to 2021, on May 5. As Estonia's first female president, she made an impact in both her homeland and in the international arena.
"We are looking forward to hearing President Kaljulaid's timely insights as an internationally renowned expert on cybersecurity, cyber defense and the implications of international law on modern conflict," Vanderbilt Chancellor Daniel Diermeier said. "The role of cyberattacks and technology in the invasion of Ukraine by the Russian military dramatically emphasizes the urgency of confronting challenges of modern conflict." 
Prior to her presidency, Kaljulaid served as a member of the European Court of Auditors, advising Prime Minister Mart Laar and holding top-level positions in the energy, investment banking and telecom sectors. A genetic engineer and economist by education, she has been a member of the supervisory board of the Estonian Genome Center and served as the council chair of the University of Tartu from 2012 to 2016.  
In summer 2021, United Nations Secretary-General Antonio Guterres appointed President Kaljulaid to a two-year term as global advocate for the "Every Woman Every Child" strategy on the health and well-being of women, children and adolescents around the world. She was also the first Estonian to be featured in Forbes World's 100 Most Powerful Women list. 
President Kaljulaid joins a host of internationally recognized leaders participating in the Vanderbilt Summit on Modern Conflict and Emerging Threats, including keynote speakers: 
 For a full list of speakers, panelists and session chairs, please visit the summit website.  
Conference participants will examine the subjects of cyber conflict, artificial intelligence, peer competition and emerging threats and will explore complex topics such as threats from state actors and violent extremist organizations. The interdisciplinary gathering, designed to be an exploration of the differences behind planning and strategizing for kinetic vs. nonkinetic scenarios, will convene experts in computer science, infrastructure engineering, political science, law, policy and human behavior with the goal of creating an approach that furthers understanding of and response to some of the most pressing issues our nation faces today.   
In-person attendance at the Nashville event is limited. To inquire about in-person attendance, please email modernconflict@vanderbilt.edu. The event will be livestreamed for virtual viewing. For virtual registration and a full schedule of events, please visit vu.edu/summit.