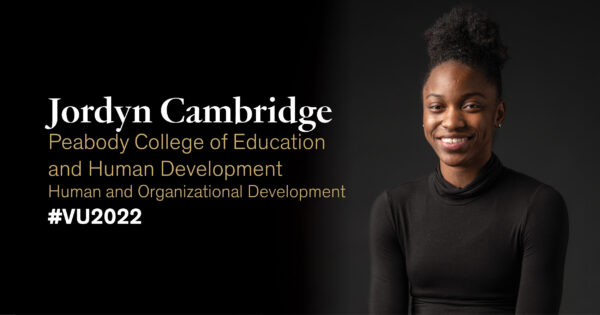 By Graham Hays
On the basketball court, Jordyn Cambridge excels at making those around her better. A point guard who played the most minutes for a team that reached the third round of this season's Women's National Invitation Tournament, she finished third in assists in the mighty SEC.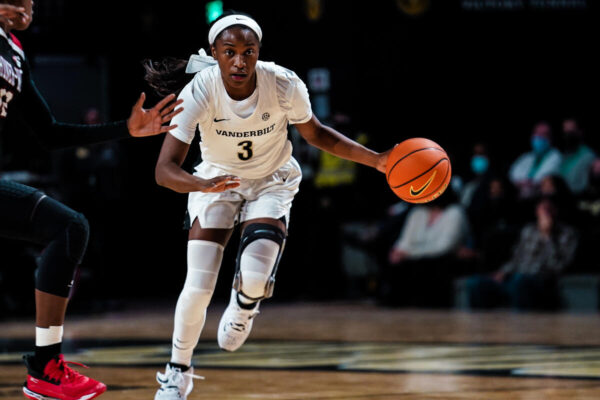 It's little wonder that the Nashville native gravitated toward human and organizational development at Vanderbilt. For as long as she has played basketball, she has studied the subtleties of human interaction.
"I get to work in a group every day," Cambridge said. "I get to go through conflict with my teammates, with coaches, with everything. And you learn how to work through those things because that's what happens when you work in a group. That's what happens when you have new ideas and people thinking about things in different ways. We all have different perspectives."
Her perspective was shaped by an intensely personal and challenging journey of self-discovery. Cambridge tore the ACL in her right knee before her senior year of high school, and her recovery then was slowed by the discovery of a rare joint disorder. She made it back, only for another knee injury to take away the 2020–21 season. As each physical setback tested her, she focused on the reasons she played the game—family, opportunity, teammates and a passion to compete.
Attuned to understanding others, she began to understand more about herself. The stronger she was on her own, the stronger she could make her community on and off the court.
"I have a lot of confidence on the basketball court that, when I first got to Vanderbilt, I didn't have in the classroom," Cambridge said. "Learning to take that confidence into the classroom made me more vocal in my groups, more willing to speak up and answer questions and participate in my groups, and just really be more engaged in the classroom."
Her experiences also gave her the confidence to run for president of the Student-Athlete Advisory Committee, a group that acts as the voice of student-athletes on campus. Among the projects she led as president is a SAAC-produced video reminding fans and students of the dangers of driving under the influence. As someone whose family was directly affected by the issue, it's an opportunity to stand up for something intensely important to her. It's also one more assist to the community, to make sure everyone gets home safely from the games.
"When I'm no longer at Vanderbilt and no longer playing, I'm going to be able to look back and know I made this happen," Cambridge said of her time as SAAC president. "That's going to be one of my biggest accomplishments, honestly."