Media Inquiries
Latest Stories
Max Mona and Adam Jace, graduate students at the Owen Graduate School of Management and co-founders of ESG Impact, won first place at the 2022 SEC Student Pitch Competition.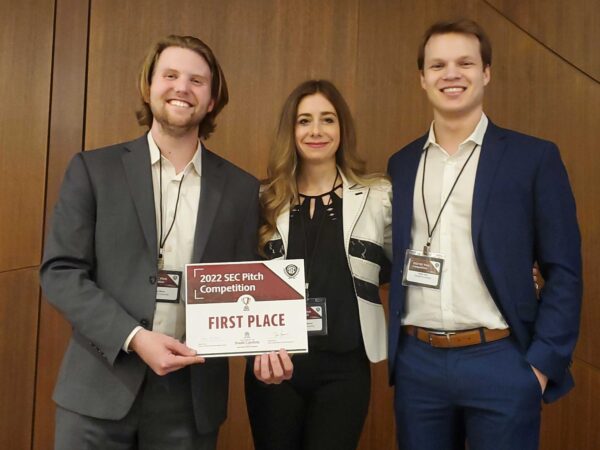 The event, which was April 4 at the Darla Moore School of Business at the University of South Carolina, provides undergraduate and graduate founders from SEC schools a platform to showcase their ideas for groundbreaking products and services to a panel of judges who work primarily in the business sector.
This is the first time Vanderbilt has participated in the competition in person and only the second time participating overall. As part of their prize, the ESGi co-founders received $5,000.
Each SEC university can send only one team to compete. After a round-robin pitch event, finance master's students Mona and Jace were among three teams chosen to pitch their startup to a live audience.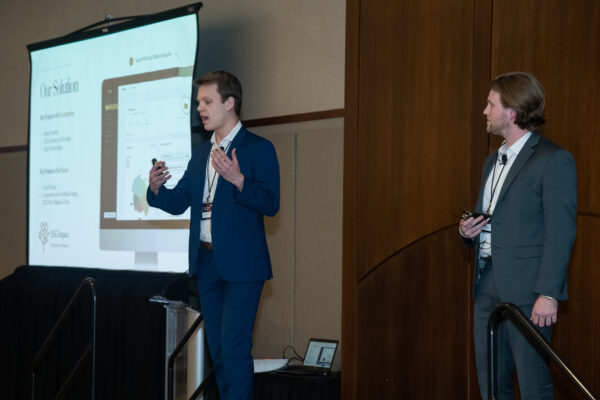 "We have been building this project in stealth mode for eight months in combination with our master's program, so to see all of these startups and be a part of this ecosystem to share our progress is just amazing," Mona said in an article published by the SEC.
ESGi is a web application that helps companies and funds assess, educate and integrate themselves with environmental, social and governance best practices. The startup's data-driven ESG tools reduce "greenwashing" and maximize value through the development of ethical business practices that balance impact and profit. They work with private equity and venture capital funds, as well as their portfolio companies, to track ESG performance and produce deliverables that can be communicated to stakeholders.
"Our goal is for companies to be transparent with their stakeholders on ESG matters—whether it's their GHG emissions that year, engagement with local communities or strategies for hiring," Mona said.
"We understand that founders are frustrated with the changing and complex structure of ESG. Thus, we have synthesized the frameworks for what matters most for their company and sector, guiding them along the way," Jace said. "While ESG consultants take months of back-and-forth emails, we take two hours of your time on a guided platform. Our final deliverables are recommended projects, a Sustainability Impact Report PDF, investment and M&A slides, and our ESG Impact Ethics Certification."
ESGi's start has roots at the Wond'ry, Vanderbilt's Innovation Center. The co-founders are Builder program participants and have presented during Innovation Open Mic. The team has also gone through Owen's Launching a Venture course and took first place at the November 2021 Firestarter Pitch Competition held by the Center for Entrepreneurship at Owen.
"Max and Adam's singular focus on creating a platform that helps other businesses operate responsibly and their savvy in leveraging Wond'ry resources available to the Vanderbilt community have been a delight," said Deanna Meador, director of entrepreneurship at the Wond'ry. "From their presentation at Innovation Open Mic through their win earlier this month, Max and Adam have demonstrated their dedication to solving a complex issue and their ability to communicate the impact of ESGi in a way that has resonated with both judges and audiences. We are excited to see where Adam and Max take ESGi after their upcoming graduation."
"I've been impressed with the team's ability to simultaneously juggle their Vanderbilt graduate programs, build ESGi's initial product and actively engage customers. They move quickly, learn from user feedback and are building from an area of strength, which is a potent combination," said Billy Whalen, BA'08, a Wond'ry Mentor to ESGi. "The market opportunity is significant with ESGi's strong team and … increasing focus across virtually all industry sectors. I look forward to watching the team and business really take off."
The ESGi team also includes Owen graduate student Matthew Pianka (BA'21) as well as software engineers and venture capital scouts around the country.